Meet Stephanie, Salesforce MVP, founder of Salesforce Saturday, ATX Girly Geeks, and co-founder of PepUp Tech
Like so many others, I come from humble beginnings. A college education was a luxury I was unable to acquire. Somehow I found my way to Dell computers as a sales rep. At the time I did not know how to turn on a computer, much less use one. Despite this, my career in technology was born. I was even fortunate enough to work at Apple while Steve Jobs was still at the helm!
How did you first get into Salesforce?
I'm an Accidental Admin. After almost 9 years at Dell, I went to work for a small startup as their Sales Support Manager. The VP of Sales & Business Development encouraged me to learn Salesforce and my role evolved into managing the company's Salesforce org. The rest is history.
How did you get to where you are?
Through hard work, resourcefulness, and a sense of responsibility! And of course, with the help of a community made up of friends, family, professional peers, and mentors. The Salesforce Ohana has empowered me to do more than I had imagined for myself. They have become like family to me.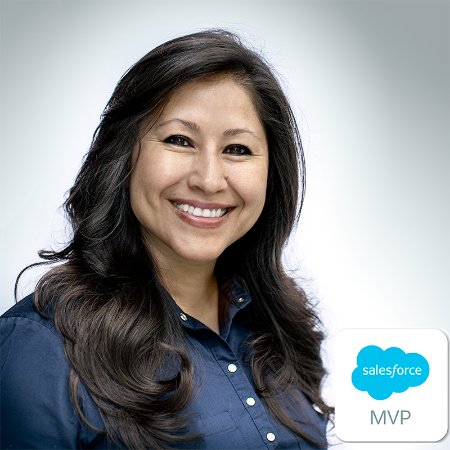 Your past does not have to define your present. The opportunities within the Salesforce ecosystem are endless. You can blaze whatever path you like.
How do you use your skills to give back to your community?
In January 2014, I started the first ever Salesforce Women in Tech Chapter in Austin. In March 2015, I started going to my local coffee shop on Saturday mornings to focus on learning Salesforce. Eventually others started joining and Salesforce Saturday was born. Salesforce Saturdays are now happening in communities throughout the US, India, and Netherlands! (#SalesforceSaturday on Twitter) I'm a board member for Merivis Foundation which helps Vets transition from a career in the military into Salesforce. I am also a Co-Founder and Board member for PepUpTech, a non-profit dedicated to enabling community-based organizations to offer computer science and technology programs to marginalized groups.
What does being a Trailblazer mean to you?
Honor, privilege, and responsibility. I feel a great sense of responsibility to give back to my community. I'm lucky to be in a place where I can share my journey with others and help them succeed. Being a Trailblazer means blazing a trail ahead and opening as many doors as possible for those behind you.
Who are you most inspired by?
I'm inspired by other people's journey on the Salesforce platform - where they started and how they overcame obstacles to get to where they are today. Through this, I've learned that your past does not have to define your present. The opportunities within the Salesforce ecosystem are endless. You can blaze whatever path you like.
What advice do you have for new Trailblazers?
Be engaged. Be fearless. Don't doubt yourself, follow your instincts! You don't have to be an "expert" to take that next step in your career or to help people. You just need to have the passion to learn and share what you've learned.