Meet Sadahiro, multi-certified consultant, Lightning Champion, and Salesforce MVP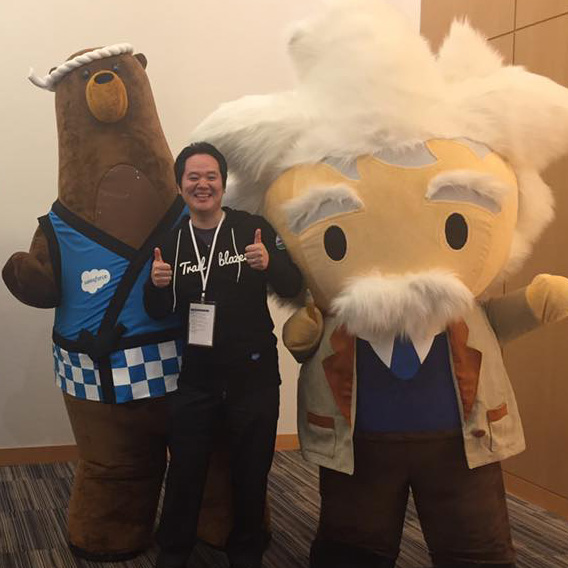 The joy I find myself having on Trailhead reminds me of when I first started learning to code over 10 years ago.
How long have you worked within the Salesforce ecosystem? What's it like?
I was one of the founding members of a Salesforce consulting business seven years ago. During those seven years, I have attended World Tours, various user group events, and kept active within the online Trailblazer Community. Being a part of this community means more than staying current on Salesforce's latest features, it means making great friends and challenging yourself to learn more. After being a consumer of all of the generous information being shared, I decided to give back and teach others what I have learned. I share my expertise on my blog, the Trailblazer Community, and at my local user group. As a Lightning Champion, I support the spread of Lightning Experience in the Japanese market. Especially for NPOs, I provide my know-how through Pro Bono support. Check out this Japanese
blog post about me.
What's the most important skill for an Admin to hone on Trailhead?
The most important skill for an Admin is probably the ability to communicate. It's important for Admins to question requests, understand the impact range of their work, and to effectively communicate with all stakeholders. Trailhead has great content to teach these skills for Admins. Particularly in the
Learn Drucker School MBA Essentials
trail which teaches Admins executive vocabulary and the framework for understanding how the work of an Admin impacts the organization's overall performance.
Do you have any advice for the other Trailblazers out there?
Please don't be afraid of innovation. This is important for everyone but especially Salesforce Admins. You can learn so much on Trailhead and you should not shy away from implementing your new skills at work. You should become the Salesforce subject matter expert at your company. Some end users might be resistant to change; however, as Trailblazers we need to persuade them about the value of Salesforce's new features. We need to lead the way. Admins should be brave and arm themselves with the resources from Trailhead to educate their teams on what's best for the road ahead.
What does being a Trailblazer mean to you?
Being a Trailblazer means being a positive influence on the people around me and helping to lead the way.
What keeps you coming back to Trailhead?
Trailhead is fun. I didn't expect to find Trailhead as fun as I do. The joy I find myself having on Trailhead reminds me of when I first started learning to code over 10 years ago. That sort of excitement for something new is just a great feeling.
What message do you have for people that are considering checking out Trailhead?
Just do it! There is so much to learn on Trailhead, whether it's the technical skills or soft skills like career development, organization management, and workplace equality. It's amazing that this information is free and available to everyone regardless of whether they are a paying customer.