Meet Jessica, MVP, Admineveloper, and community group organizer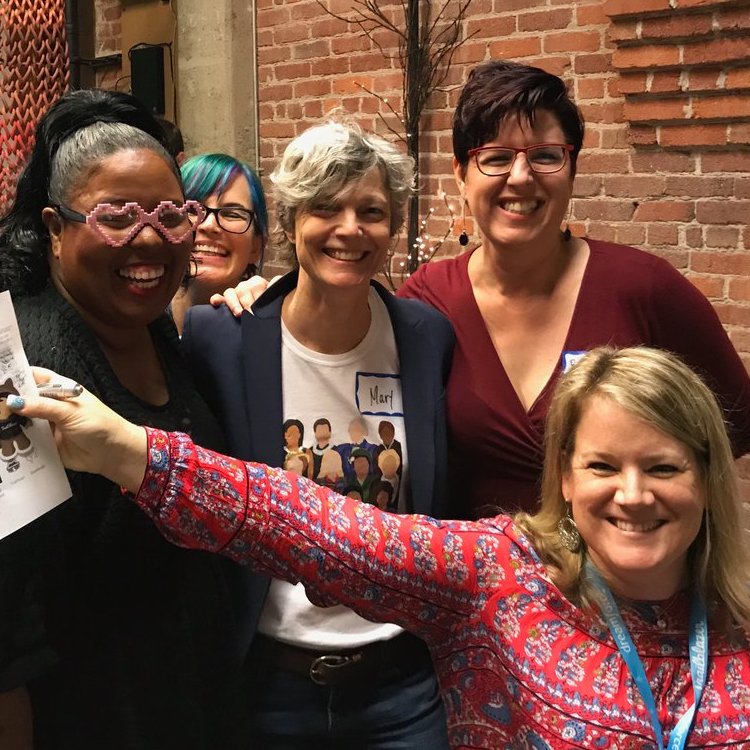 ...trailblazers, pioneers, and innovators aren't always people who make new things. They are people who take existing resources and put them together in new ways.
Did you always want to work in technology?
I'm trained as a sign language interpreter and translator. I earned a Master's in Education thinking that I would one day earn a PhD and become a college professor. When I graduated, the job market was not great. It was so discouraging that couldn't find a promising job in my field. But then on day, I met Sheena Smith from Women Who Code Phoenix. I had known some developers, but she was the first woman developer that I had ever met. After talking to Sheena I thought to myself, "well maybe I should do this!" I went home and started teaching myself HTML, CSS, and Javascript. I also joined my local chapter of "Girl Develop It", a nonprofit which teaches women to code.
How did you first learn about Salesforce?
In 2015, I ended up at a local Salesforce event, supporting my friend who wanted to attend. I didn't expect to be interested in the event but as Chris Duarte started talking about Salesforce and explaining Trailhead, I started thinking "this sounds interesting...oh, that sounds interesting too" I had brought my own computer to do some work while at the meeting and wouldn't you know? I ended up putting my computer away so I could give Chris my full attention.
What one thing did Trailhead help demystify for you?
Trailhead demystified Lightning for me. When I started working with Salesforce in Classic, there was a big push to learn Lightning. I had heard whispers about Lightning but I needed a real education. The
Get Started with Lightning Experience
trail was so helpful, I worked through it before attending the Lightning Now Tour and it gave me a solid foundation. Now, I'm tackling
SalesforceDX
and Trailhead will demystify that for me too.
How do you use Trailhead to give back to the community?
I use Trailhead to help others in a few of ways. The first is the Phoenix Salesforce Saturday group which I co-founded with Rachel Watson and Paula Nelson. We meet every Saturday to work on our skills, learn on Trailhead, and troubleshoot together. The second is Saasie Tech Socials which helps people network within the tech and startup space. For people searching for their place in tech, it is an excellent way to introduce them to Salesforce and Trailhead. Thirdly and most recently, Rachel Watson and I became co-leaders of the Women Who Dev user group, which is a virtual user group. At the beginning of 2018, I spearheaded the 100 Days of Code challenge. The goal is for members to spend 100 Days attaining and improving skills through Trailhead and other coding resources. Through our monthly virtual and biannual live meetings, we hope to provide not only networking opportunities but ways for women to see code. Seeing good code is one of the best ways to become a better developer and lot of people starting out benefit from seeing what others are doing, otherwise, they are just working in a silo.
How has your background in education helped you give back through Trailhead?
From my understanding, trailblazers, pioneers, and innovators aren't always people who make new things. They are people who take existing resources and put them together in new ways. For me this has meant putting together my past and my present. I am a language teacher, so when some people are learning code and technology it's a lot like learning a new language. When I welcome new people to our Salesforce Saturday group, one of the first things I have them check out on Trailhead is either
Learn CRM Essentials for Salesforce Classic
or
Get Started with Lightning Experience
. Because if I were to teach you American Sign Language today, I would start with vocabulary. These trails give newbies the skills needed to start speaking and understanding the language of Salesforce. The sooner they get those basics the sooner they can really start to take in all of the conversations happening around them.
What's one of the great things that Salesforce community has done for you?
So many things! But one would be the Phoenix Salesforce Saturday group. We are the second oldest Salesforce Saturday group. Not only has being a part of Salesforce Saturday been a great motivating force for my own learning, but I attribute Salesforce Saturday to inspiring me to get certified. In the latter part of 2016, I was suffering from a case of imposter syndrome and thought I wasn't ready for certification. Fortunately, Rob Alexander was in my Salesforce Saturday group, and he encouraged me to go for it. He told me I was ready and I guess I needed that external validation. In 2017, I ended up taking the Salesforce Certified Platform App Builder exam first and passed. I've since become a Salesforce Certified Administrator, Salesforce Certified Platform Developer I, Salesforce Certified Sales Cloud Consultant, and a Salesforce Certified Advanced Administrator.
What inspires you to stay so involved in the Salesforce community?
Attributes like support, empowerment, encouragement, equality, giving back/paying it forward and lifelong learning are some of the reasons that I stay involved in the community. I am here because I believe that the only way to make the world better is to be an example of these attributes both in words and actions. I am still here a little more than two years later because Trailhead has made a concerted effort to put equality first by creating a trail to
Cultivate Equality at Work
. I'm so impressed by that. There are two glorious trails to help nonprofits
manage fundraising
and
volunteers
better. I'm so touched the writers created that material. Trailhead even made the Salesforce managerial training public in the
Manage the Salesforce Way
trail. I live my life in a way that I hope makes the world a better place and it's so great to work in the ecosystem of a company that believes the same.
What message do you have for other Trailblazers?
We all have busy lives, do not put this off. Carve out some time for yourself and go for that goal you want to accomplish. Get on Trailhead. Head to your local Salesforce Saturday and User Group. Find yourself a mentor in the community, even if it's a virtual long-distance relationship. There are so many things to learn and specializations to choose from, reach out to the community for support so you don't feel alone. There is literally a group on the Trailblazer Community for mentors called
Mentorship Central
, go to it and let people know you are looking for a mentor. But mostly, go for your Salesforce dreams.