Meet Charly, Solution & Technical Architect, 16x certified Salesforce MVP, and LadiesBeArchitect Trailblazer Community group co-lead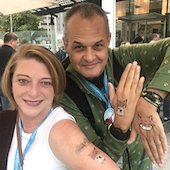 I'm part of a wonderful group called "Ladies Be Architects." We support each other, we have study groups, we get together...we just empower each other to walk this journey.
Did you always want to work in technology?
I was going to be an actress or a doctor or a marine biologist. So I really didn't have an idea, but it was not going to be technical. I never had a computer growing up! I didn't understand anything about computers and I had no interest in them whatsoever. I went on to study nursing but I was a really bad nurse, so I went into medical research where I had to start learning computers. That's when I started working with Salesforce!
How do you use Trailhead to skill up on Salesforce?
I still go to Trailhead every day and I do my badges. There are so many lessons on Trailhead at all levels, from beginner to expert, and they keep on adding more. Salesforce also has seasonal releases which are updates to the products, which are the result of improvements and innovations. Trailhead is a great place to discover the highlights of what's new from the latest release.
Has Trailhead ever taught you something you can directly attribute to a success at work?
The short answer is yes, every day! I recently completed the
Manage the Salesforce Way trail
, and each of the modules, from Accountability to Culture, have really had an impact on how I live my best life every day.
Have you ever used Trailhead to solve on boarding issues?
For our new hires, I developed a 5-day "Salesforce Pro in a Week" course consisting of just Trailhead modules! In the old days, we had to create the content manually, and it used to be out of date the minute we finished it. This way, we train our practitioners using only the best material.
How are you involved in the Trailblazer Community?
I'm part of a wonderful group called "Ladies Be Architects." We're a group of wannabe Technical Architects, but it's not just for ladies—it's for men, too. We support each other, we have study groups, we get together, we meet at Dreamforce, we text each other when we go for the exam, we share notes... We just empower each other to walk this journey. And, if we've got 1,200 members already and we get all of them certified, just think of the massive growth in the Technical Architect community!
What message do you have for Admins interested in becoming Technical Architects?
I get asked the question, "How can you be an Architect if you can't code?" And that's a really good question because although I can code a little bit, I'm not the best coder in the world. But, as an Architect, you don't have to be a fantastic coder. All you need to be able to do is read the code and understand it. You need to understand the best practices and how code patterns work, essentially the theory surrounding coding. And that's what you learn through Trailhead and your certification journey. So the short answer is no, you don't have to be able to code in order to become a Technical Architect.