Skip to main content
Meet Elie, Trailhead Ranger and winner of the Apple and Salesforce Mobile App Challenge at TrailheaDX '19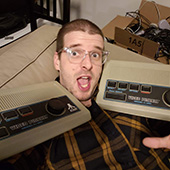 No mountain is too high, no road is too long; we're able to get to our destination no matter what and I'll help you get to yours.
What is one of the more impactful skills you've learned on Trailhead?
I was able to learn about native iOS app development on Trailhead even though it's not part of my job requirement. I never used XCode or touched MacOS but using the power of the cloud and following Trailhead's instruction, I was able to complete the Apple and Salesforce Mobile App Challenge from TrailheaDX '19 and win a Macbook Pro! Adding native iOS development to my list of skills had a direct impact on my job, as I can now be involved in mobile application projects that I couldn't be involved in before. The Salesforce Mobile SDK for iOS has kickstarted my app development journey as it provides the core framework to build apps on iOS. By adding this to my Salesforce Platform knowledge, I'm now confident I can build any mobile application I dream of!
How has learning on Trailhead impacted your team?
Because of Trailhead, nobody at Nubik is afraid of anything related to Salesforce. Every single aspect of Salesforce can be learned on Trailhead. Instead of having to refer to formal product documentation, we now have this interactive tool that will actually teach us how to use features properly.
Prior to Trailhead, what were your biggest work or career challenges?
One of the hardest struggles I found before Trailhead was learning how to properly combine two technologies using best practices — let's say creating a web page that needs to consume data off Salesforce. No longer do you have to build a web page that queries Salesforce API, accidentally go over the API limit and go down for almost 24 hours. Now there are Trailhead modules about
Heroku
and
Heroku Connect
and it will explain why you should not consume the API on a client action.
How have you been inspired to tell others about Trailhead? Have you shared your knowledge or love of Trailhead at work or with friends?
I have a couple of friends that were having a rough time finding careers. They had limited education, weren't employed, and overall there wasn't a lot of positive stuff going around. Under my guidance, they went to Trailhead, learned the basics of Salesforce development, and were able to score jobs in the Salesforce ecosystem and turn their lives around.
What does being a Trailblazer mean to you?
Being a Trailblazer means leading the way; opening new paths in unforeseen directions. No mountain is too high, no road is too long; we're able to get to our destination no matter what and I'll help you get to yours. A Trailblazer is a guide that will show you the way while also teaching you a thing or two while walking the path by your side.
What message do you have for people considering learning Salesforce skills?
Go at your own pace and let passion guide you. Trailhead will show you the basics. Then it's up to you to dig as much as you wish in whichever area you are having the most fun in.