Create a Plan and Skill Up
Learning Objectives
After completing this unit, you'll be able to:
Identify resources to skill up for your next Salesforce role.
Learn how to get connected to the Salesforce community.
Create an action plan for preparing for your next role.
Create Your Action Plan
Now that you've identified one or two target roles that you're interested in pursuing, it's time to make a concrete action plan for what you need to do to prepare for that role.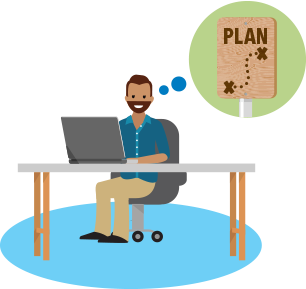 There are three main areas to consider in developing your career plan.
Learning: What are the skills you need to acquire, and where can you learn them?
Earning: What credentials do you need for this role and how can you demonstrate your skills to employers?
Connecting: What are ways to connect and network with others in the field?
Learning
For most skills and roles, you can find many options for learning—from self-paced online learning to instructor-led classes, events, and even formal degree programs.
What type of learning you choose to do depends on your time, learning style, and budget. Sometimes what works best for you is a combination of different learning programs. There's no one right way. It's up to you to choose the adventure that works best for you.
Learn Online
One of the best ways to skill up for Salesforce career paths is through Trailhead—the fun, free, hands-on way to learn.
If you're new to Trailhead, here are a few recommendations on where to start.
Learn from Others
If you are skilling up for a Salesforce career path, another great way to learn is to get answers and tips from fellow Trailblazers by joining the Trailblazer Community.
Here you can engage with and get answers from a passionate community of customers, partners and Salesforce experts. Whether you're tied together by geography, industry, role, or product, there are a variety of ways to connect with people who really get you.
Check out a few resources to get you started.
For developers, there are some additional resources and ways to connect to the thriving community of more than three million Salesforce developers.
The Salesforce developers discussion forums are an important resource to get answers to your questions. It's not uncommon for project managers, developers, and other research and development staff to contribute.
On the Salesforce Stack Exchange, get expert guidance from an active developer community featuring some of the most prominent developers from across the globe.
Get Yourself to Dreamforce
Have you been? We highly recommend it. Dreamforce is a great place to learn, network, and connect. Visit the Dreamforce website to see featured videos and keynotes from last year's event, and to stay up-to-date with plans for our next event. 
For curated sessions from Dreamforce and other global events, be sure to bookmark Salesforce Live and check back often. 
Attend a Local Event
Can't get to Dreamforce? Attend an event the next time we roll into your hometown. These events give you the chance to attend great keynotes, learn firsthand from leading customers how to be successful with Salesforce, and get up close and personal with our entire suite of products. You can also find Salesforce User Groups in cities around the world that meet regularly to network and learn.
Here are a few resources for finding in-person events.
Find a Mentor
Finding and working with a mentor can be another great step to building your career. Mentors can help you identify skills to make that next step or provide valuable feedback. Or consider building your leadership skills by becoming a mentor yourself.
In either case, the Trailblazer Connect Mentorship program helps pair up mentors and mentees and can be a good starting point. The program provides guidance for mentors and mentees to complete check-ins over a 30 day period and helps mentees prepare for their job search and interviews. 
Grow Your Resume with Skill-Based Credentials
Credentials like badges and certifications are a great way to demonstrate to employers that you have the skills for the role you are seeking.
As you learn with Trailhead, you'll automatically collect badges and points for everything you learn. As you level up your skills, earning superbadges and Salesforce certifications will show you've got what it takes to crush complex real-world challenges—and give you industry wide recognition of your expertise.
Get Experience by Helping Others
If you need more experience to step into that next role, nonprofits are looking for volunteers to help with Salesforce projects. Apply your skills for a cause you're passionate about and build your portfolio and expertise at the same time.
Here are few ways to find a volunteer opportunity.
VolunteerMatch.org: Search for Salesforce administrator or developer volunteer opportunities by location and cause. Or find marketing and fundraising opportunities.
LinkedIn for Volunteers: The LinkedIn Volunteer Marketplace connects professionals to nonprofit volunteer opportunities.
Get Involved in the Community
Blogging, helping on forums, and speaking at events are more great ways to build your reputation and expertise and take your career to the next level. See the Public Speaking Skills module for tips.
For Salesforce developers or aspiring developers, hackathons and challenges are another way to build your resume. Check the Salesforce Developers home page frequently, to find new challenges, hackathons, and other opportunities to show your skills.
Create Your Plan
Now that you know a little bit more about the resources that are available to support your career development, it's time to set some specific objectives and commit them to paper.
Complete the career plan worksheet from the Career Development Resource pack you downloaded.
The format for this plan is similar to the one that Salesforce uses for goal planning called the V2MOM. For more in-depth information about the V2MOM see the Organizational Alignment (V2MOM) module .
Next Steps
Now it's time to start implementing your plan. Here are some tips for making career development happen.
Block out time each week on your calendar to focus on your development.
Set a time on your calendar to review the status of your goals and readjust your career plan as needed.
Participate in some kind of networking every month.
If you are currently working, schedule time at least quarterly to talk about career development with your manager.
Resources