Plan for Service Cloud Voice
Prepare Your Team for Service Cloud Voice
Maria knows that adding multiple channels is the second stage of the general setup process for Service Cloud. (See the Service Cloud for Lightning Experience module for a refresher.)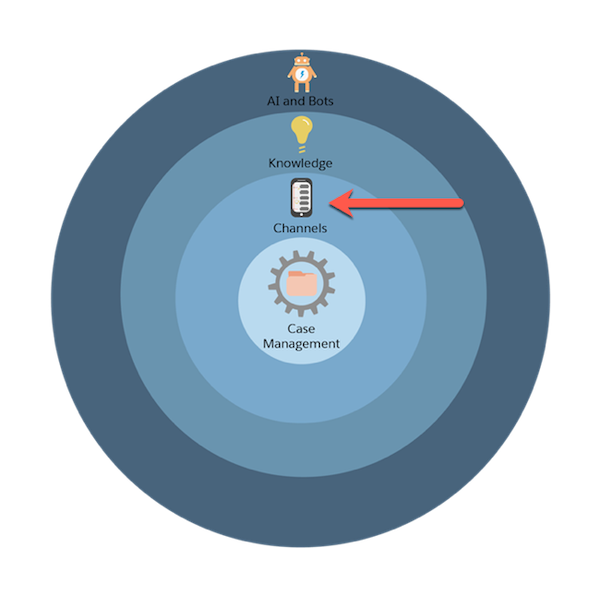 Having set up case management features for Ursa Major Solar—the first stage of the general setup process for Service Cloud—Maria understands why it's best if an admin doesn't set up Voice or other channels first. If the right case fields, notifications, assignment rules, and routing processes aren't implemented, it doesn't matter if agents engage with customers over the phone because they'll be too busy trying to figure out how to capture the right information and determine who should work on each case.
Before Maria sets anything up, she meets with Ursa Major Solar's service team to learn how it operates. Here's a list of questions she asks to get all the right information from her team to move forward on a customized Voice setup.


Question
Answer
Which phone system are you using today?
We are using Salesforce Call Center with a phone system from Cisco, and an Open CTI package to support the integration.
How many call centers do you have?
One in the Southwest near Phoenix, but we are hoping to grow in Latin America, and we might add a call center there, too.
Do you have a list of all phone numbers that you want to use in the new phone system?
No, but Ryan De Lyon, our customer service manager, can track those down.
Do we know how many licenses we need to purchase for agents, managers, or others who will need access to our new Service Cloud Voice system?
At this point, we know 20 of our employees use Salesforce Call Center, so we can start with 20 licenses for Service Cloud Voice and purchase more as needed.
Do we need to build any special reports or dashboards to see metrics on calls?
Because Service Cloud Voice gives us greater access to data with Einstein Analytics, we definitely want to track some new metrics. With Salesforce Call Center, it was easy to run simple reports on basic call and case data, but now we'll have access to more integrated data from records beyond calls and cases.

Voice also includes a contact center dashboard that automatically includes metrics, such as call volume, average handle time, average speed to answer, call resolution percentage, and more.
Could we use a telephony partner other than Amazon Connect?
Yes, Voice is available in different configurations so we can select the solution that's right for us:



Service Cloud Voice with Amazon Connect comes with Amazon Connect natively integrated into CRM and offers ease of setup and a single bill for both Salesforce and Amazon services. We can enjoy real-time transcription, call recording, and more.


Service Cloud Voice with Partner Telephony lets us select a telephony system. We can download a prebuilt managed package from the App Exchange to easily integrate with CRM. Some features, such as real-time transcription may not be available depending on which feature the telephony partner supports.


Service Cloud Voice with Partner Telephony from Amazon Connect lets us leverage a current investment in an existing Amazon Connect instance by integrating our Connect instance with Voice. 


For now, we want Service Cloud Voice with Amazon Connect to take advantage of all the features automatically baked into the telephony partnership between Salesforce and Amazon Web Services (AWS). Plus, we don't have an existing investment in an Amazon Connect instance.
Will we need to create new training for our agents?
Yes, accepting phone calls with the Omni-Channel widget is different—and easier—than accepting phone calls from the Salesforce Call Center softphone in the console footer. And, we should train supervisors and agents how to use and receive coaching in the Omni-Channel widget. Also, we may want to sponsor an executive lunch to show leaders how they can see awesome new metrics about our contact center with Service Cloud Voice and Einstein Analytics.

Sita is excited to make the move to Service Cloud Voice with Amazon Connect. She asks Maria to go ahead and turn it on.
Train Your Agents
Maria understands that turning on Voice doesn't mean everyone knows how to use it correctly. She must make sure that as agents transition to using Voice, they know how to respond to customers in a way that appropriately reflects the company's brand. That means enabling them to consider their word choices and use the right voice and tone when working support lines. As someone who studied business and marketing, Sita knows they must train any employee who interacts with customers or they risk tarnishing the brand they worked so hard to create.
In preparation for rolling out Voice to agents, Sita tasks her service manager, Ryan De Lyon, to plan the following.
Train agents how to respond appropriately to customers.
Create and standardize responses with call scripts.
Teach agents how to make and receive calls with the Omni-Channel widget.
Refresh the team on the voice and tone that reflects Ursa Major Solar's brand.
With planning for Voice finished, Ursa Major Solar is ready to deliver better, faster service over the phone, and increase agent productivity with a variety of advanced call and AI features. Sita and Maria are excited to make the move to Service Cloud Voice.