Learn to Use Setup and the Object Manager
Learning Objectives 
After completing this unit, you'll be able to:
Identify the navigational features in Setup Home.
Use Quick Find to locate Setup pages.
Use the Object Manager to customize objects.
Take a Tour of Setup Home
You can navigate to Setup from the top of any page in Lightning Experience by clicking 

| Setup.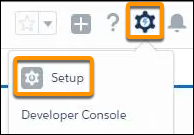 Setup is where you go to customize, configure, and support your org. Setup Home is a launchpad for getting you where you want to go fast. It's all about shortcuts. Here's a quick overview of some important features.
Quick Find (1): Locate Setup pages.
Object Manager (2): Access objects and object settings from a single entry point.
Global Search (3): Find specific Setup records.
The Create shortcut (4): Quickly create users, custom objects, and more.
The Carousel (5): Quickly access other Salesforce sites, such as the Mobile Publisher and the Trailblazer Community.
The Most Recently Used list (6) lets you jump back to a previous record.
Use Quick Find to Locate a Setup Page
Quick Find lets you navigate to any Setup page using a keyword. You can search for pages related to users and data, user interface modification, org security, and more. Quick Find is the best way to find what you're looking for if you know its name. Just start typing in the Quick Find box. As you type, the list shows only the pages that match your search term. Click the name and off you go.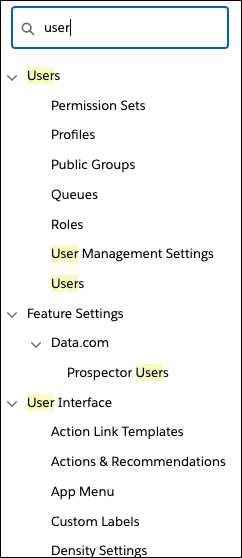 Use the Object Manager to Customize Objects
The Object Manager is a one-stop shop for managing all objects in your org. It lists standard objects, such as Account and Contact, and custom objects that you or another admin created. Access all objects and their related settings—such as fields, layouts, record types, buttons, links, and so on—from a single entry point. 
To access the Object Manager, from Setup, click Object Manager.

To customize an object, select the object name in the list, and then select a specific customization from the left pane. For example, to add a custom field to the Account object, select Account, then Fields & Relationships, and then New.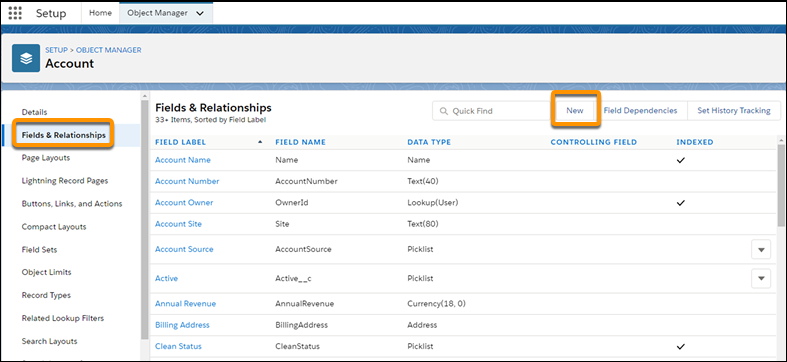 Use the Object Manager to Create and Edit Custom Objects
You can also create a custom object from the Object Manager and edit its required fields. To create a custom object, click Create | Custom Object to open the New Custom Object page.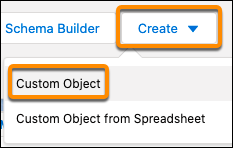 To edit the required fields for a custom object, select Edit from the inline menu for a custom object to open the Edit Custom Object page.
Now that you've mastered the basics of Setup and Object Manager, you're ready to navigate to setup pages and work with object settings in your org!
Resources