Meet Linda, Certified Admin and Transamerica Trailblazer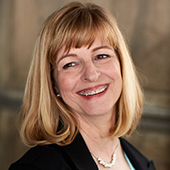 Because my team started learning Salesforce with Trailhead from day one, they never had to struggle to get help or learn.
How did you get started with Salesforce?
Several years ago, I helped our company implement Salesforce. These were the days prior to Trailhead, so I studied on my own and took the ADM-201 course. Later, when we needed to replace our homegrown workflow system, to show the power of Salesforce, I handed our Operations division leader my cellphone in a meeting, asking him to approve a purchase order using an AppExchange app. He was so surprised, approving items from a mobile device was something he had wanted to do for a very long time. This opened his eyes to the power of Salesforce and allowed us to move our workflow system onto Salesforce as well. Little did I know, I would go from our small instance of Salesforce with 15 users, to becoming the go-to Salesforce person with over 30,000 support reps and field agents on the system and growing.
How does your team use Trailhead to skill up?
We use Trailhead across several teams at Transamerica, to include folks on Service Cloud and Financial Services Cloud as well as Communities. So, they've taken advantage of that content on Trailhead. Our programmers across the organization have been asked to learn Salesforce now too, not only the ones that report to me. I've created a Trailhead program for everyone to get on board and start learning.
How has Trailhead helped your team work smarter?
We have some pretty tight timeframes here, Trailhead allowed our teams to get up to speed quickly on Salesforce and learn on their own when it worked for them. All the developers, QA, product owners, scrum masters and admins learned on Trailhead to achieve a proficient level of knowledge so that we could complete some important new projects. We've also had a lot of success with learning analytics with Trailhead. I took all the Analytic trails and was able to create the Analytics apps for Service, Sales, and Event Monitoring. Our lead Analytics "guru" has also created customized apps in Analytics as well!
How has Trailhead changed the way you and your team learn?
I started learning Salesforce prior to Trailhead. It was more difficult back then to find the best learning materials. There were books, online sites, and pdfs, but they weren't as easily accessible and they certainly weren't hands-on. Fortunately, the teams here at Transamerica started after the birth of Trailhead. Because our teams started learning Salesforce with Trailhead from day one, they never had to struggle to get help or learn.
How do you use your skills to give back to your community?
I use my skills to give back to the community through volunteering at Civil Air Patrol, Habitat for Humanity and other non-profit organizations. I give back to my company community by teaching others aspects of Salesforce, Marketing Cloud, Einstein Analytics, etc. wherever needed. I love helping others and seeing the excitement in others as they learn Salesforce too.
What does the Trailblazer community mean to you?
The Trailblazer community is a place to get inspired and to inspire others. It's a community of people with a shared vision with varying purposes. It's a place to ask "how do I?" or "How can I help?" It's a community of people who are open to sharing, inspiring and teaching others.
What does being a Trailblazer mean to you?
To me a Trailblazer is someone who is taking the lead, and inviting everybody else to jump on the bandwagon, to get involved. With Salesforce, that means giving Trailhead a try in an effort to learn and understand the system. Someone who is mentoring others with the system, teaching them where to go and how to do something.
How will Trailhead be a part of the future of your career and of everyone at Transamerica?
Trailhead will always be my first "go to" source for learning Salesforce. Trailhead learning is already so pervasive at Transamerica, I believe it's now a permanent learning tool here. Just this morning, I saw that one employee had 216 badges, way ahead of me! Right now there are 207 badges in progress across teams with almost 2,000 badges earned in total — and it's only going to grow bigger.