Meet Alimali, Trailhead Ranger, Golden Hoodie winner, and System Admin for the Karibu Centre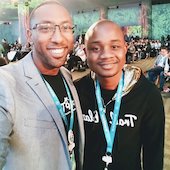 My goal is to learn more through Trailhead, skill up everyday, and, at some point, build a community of Trailblazers across my country.
How did you get started with Salesforce?
Before I became a Salesforce Admin, I was a Tech Intern at the Karibu Centre where I worked with youth in the community and taught STEM education and coding. I had heard about the centre from a friend, just walked in there one day, and asked for a job. I must have been convincing because they gave me an internship! That was the beginning. I've been a Salesforce Admin for the past 2 years, and I was introduced to Salesforce through some of the Salesforce volunteers who came to visit us in Kenya!
How do you use Trailhead to skill up on Salesforce?
Trailhead really helped me learn Salesforce. I had zero knowledge when I started using the app, but thanks to Trailhead, I was able to learn the ins and outs of the platform. When I first encountered Trailhead, I was taking evening classes at my college on top of my full-time job working in the tech department, then I added Trailhead modules to my schedule! My passion for tech pushed me to challenge myself. I had targets in mind, thinking, "It's free knowledge!" Within months, I was a Ranger! Because of what I've learned on Trailhead I've been able to help the Karibu Centre thrive.
Has Trailhead ever created a change at your company either in the culture, the use of technology, or otherwise?
We've learned about organization alignment (V2MOM) and applied the strategies to make us sustainable at our organization! My colleagues and I combine the skills that we learn for the purpose of not only using the Salesforce Platform but also upgrading work ethics, bringing the community around us together, providing trainings, and teaching life skills.
Has Trailhead ever taught you something you can directly attribute to a specific moment of success?
Last September, I got the best birthday present ever! I was not only invited to Dreamforce but also to be a speaker at the Admin Keynote! Getting out of Africa and speaking to an audience of 5,000+ people while on stage for the first time in my life... I was so nervous. I woke up one day, logged in to Trailhead, and searched for a public speaking module. I was amazed that I found one! I used it as part of my prep, and the results were superb. Trailhead helped me seize an important moment and succeed.
How will Trailhead be a part of your future?
My goal is to learn more through Trailhead, skill up everyday, and, at some point, build a community of Trailblazers across my country. Right now, I don't know how many companies use Salesforce around Kenya apart from our organization, but I'd love to share what I've learned and create Trailhead awareness for any organization that incorporates Salesforce and has zero knowledge on how to use the platform.
What impact has the Trailblazer Community had on your Salesforce experience?
The Trailblazer Community is amazing. The fact that total strangers help to show you how to customize and configure some features in the platform moves me! Being part of the Salesforce Ecosystem makes me feel like I'm part of a family, marching in the same direction in the technology world.
What does being a Trailblazer mean to you?
When someone calls me a Trailblazer, it makes me feel like a Maasai warrior—always courageous, always prepared, and always ready to face challenges. A Trailblazer is a person who leads and whom others follow.