Meet Aaron, Trailhead keynote speaker and 3x certified Admin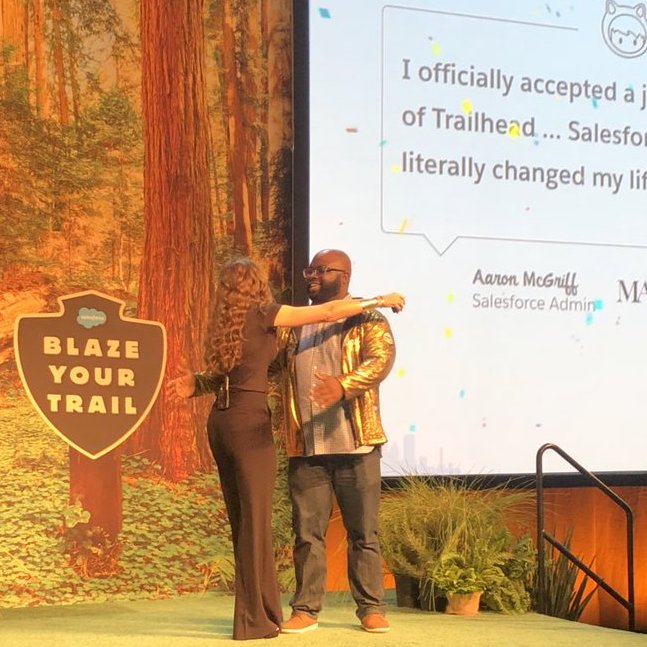 This is the difference 14 months of hard work, determination, and grit can make.
How did you come into the Salesforce world?
I've been a janitor, a security guard, an executive team leader of asset protection (sounds fancier than it really is), a retail district manager, and an operations manager. Then, a couple of years ago—and completely out of the blue—I was laid off. For the first time since I was 16 years old, I was unemployed. I had no idea what I was going to do with my life or where my next paycheck would come from. Fortunately, my cousin Nevea is a tech evangelist at Salesforce. She told me to check out Trailhead and the rest is history!
How has Trailhead impacted your life and career?
Because of what I learned on Trailhead, I was able to earn my Admin Certification. In December 2017, I got certified. Shortly after, my skills landed me a job building Salesforce solutions myself. By September, I was not only at
Dreamforce
but also invited to be a
Trailhead keynote speaker
! That was easily one of the best weeks of my life. Getting the coveted
Golden Hoodie
was the golden, sparkly icing on the cake. This is the difference 14 months of hard work, determination, and grit can make. Who knows what news I'll have to share next (that's not a hint... or is it?).
What does being a Trailblazer mean to you?
To me, being a Trailblazer means that that phrase we all heard as kids, "You can be anything you want to be," actually holds some merit. My background was not technical at all and I never thought it would be. After Salesforce found me the second time (yea, it took me two times to actually listen) and I decided that this was what I wanted to do, I never would have imagined to have come this far in the time that I have. I don't think I'll ever get used to people telling me that I inspire them, but I sincerely hope that the trail I've blazed will inspire and motivate countless others to do the things they never thought possible and blaze trails of their own. Or blaze highways, or freeways, or interstates! (I call dibs on any road-related blazing of the future).
What impact has the Trailblazer Community had on your Salesforce experience?
I was so committed to learning Salesforce and becoming an admin that I decided to chronicle my journey on Twitter. I created an account to talk about where I was and what I was going to do. Next thing I knew, my phone was ON FIRE with notifications. People from all over the world reached out to me with encouragement and advice. That moment taught me what the Salesforce Ohana is all about—it really does mean family. The outpouring of support was overwhelming. I had never felt so wanted and accepted in my past roles before. If I needed any confirmation that this was the place for me, the #SalesforceOhana love was it. (And I wasn't even hired yet!). The Salesforce Ohana is literally like a living, breathing organism. I'm more than happy to be part of it!
What message do you have for people who are considering learning Salesforce skills?
When I lost my job (both times), I thought I would be forever pigeonholed by my degree and my experience, stuck in a career field that I really didn't like. But I am living proof that wherever you are at one point in your life doesn't have to be where you stay. If you want to make a change, you just have to get up and do it.
What do you love most about Trailhead?
I love how engaging Trailhead is from the start. Before Trailhead, when I would typically think about learning anything to do with tech, I pictured myself sitting in front of the screen from The Matrix, trying to decipher a bunch of code (and find out if I was the chosen one). I was SOOO wrong! Trailhead pulls you in, makes you want to learn more, and even gives you the chance to practice your skills and earn points. What's not to love about that?
Which Trailhead badges have been the most useful?
I'd have to say the modules about Custom Object Creation, Workflow Rules, and Process Builder have been my best friends and the most useful, bar none.