Skip to main content
Meet Linda, college student and 3x Salesforce certified developer and administrator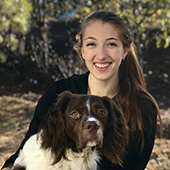 No matter what it is you want to do after college, chances are those industries, companies, or schools use Salesforce to run their business. A great way to get your foot in the door is to have Salesforce skills on your résumé.
How did you start learning Salesforce?
During the summer I met a Salesforce solution engineer and I saw him making demos. He wasn't coding! I asked him to tell me about what he was doing. He told me about Salesforce and about the platform. I had never heard about Salesforce, but once you hear the name you realize how prevalent it is! He also pointed me to Trailhead so I could find out more for myself.
How has Trailhead helped you learn Salesforce?
Trailhead made learning Salesforce more fun and interesting right from the start. Once I was told about Trailhead, I dug in right away because the program made it so interesting to keep going. I found the gamification really rewarding and encouraging; when I was 50% done with a trail, I just wanted to finish!
How has Trailhead helped you transition from school to the workforce?
Because of Trailhead and my Salesforce skills, I now have a job with Arkus, Inc. as a Project Manager. I'm proud to have such a fantastic job before even graduating. Thanks to my profile on Trailhead, I was able to clearly present my willingness to learn and my Salesforce knowledge to recruiters. Since I was new to the workforce, this really helped level the playing field when it came to presenting myself as a candidate.
What certifications do you have?
At the time of this interview, I have three certs! Salesforce Certified Administrator, Salesforce Certified Advanced Administrator, and the Salesforce Certified Platform Developer I. Now that I am working as a project manager at Arkus, I am also preparing for the App Builder, Sales Cloud Consultant, and Service Cloud Consultant exams.
How do you find time to learn on Trailhead?
As a college student it can definitely be difficult to make time for online learning, but I've found that those unexpected, odd-lengths of time while waiting for a bus or friend are great opportunities to knock out a module or two.
What motivates you to keep studying Salesforce?
Trailhead has made studying Salesforce really fun and has provided an organized way for me to move forward with my lessons. I like to follow certification trailmixes or suggested trails to plan out my Trailhead learning path. When I want to study for a certification, I pull up the certification study guide, search each topic on Trailhead, favorite them, and then tackle them one by one.
What message do you have for other college students?
A lot of college students today fear they will have an impossible time finding a job after graduation. No matter what it is you want to do after college, chances are those industries, companies, or schools use Salesforce to run their business. A great way to get your foot in the door is to have Salesforce skills on your résumé. Get to Trailhead ASAP and start earning all of the introductory badges. Learn what Salesforce does and how companies utilize their products, learn to convert a lead into a contact or opportunity, learn how to pull reports and build dashboards. Having these skills on your résumé will help you stand out as a dedicated candidate and ease your anxieties about life after college.
What do you think about Salesforce communities?
I really like being able to reach out and ask questions in the Trailblazer Community. I have joined the WIT groups virtually and have had the chance to attend some of the Salesforce Saturdays and nonprofit user group meetings in my area. It's wonderful to meet fellow Salesforce enthusiasts and work with them to troubleshoot technical issues and understand their creative solutions to various use cases. I've also joined a nonprofit called Availforce and it's been wonderful working with others that are beginning their Salesforce path on Trailhead.
What advice do you have for new Trailblazers?
Trailhead is like unraveling a piece of yarn—you start with one module and then go from there following the thread. There's not a way to go wrong with Trailhead. Start with the individual topics which you think are interesting. Remember, Trailhead is for more than just Salesforce too. For instance, we were learning about Agile software development in school, but I didn't really know what that was, so used Trailhead to brush up on the concept.
If you could master one skill, what would it be?
I would love to master the art of discovery. I believe that in order to solve a problem in the most effective way, you have to fully understand all the variables involved. In order to uncover these, you must learn to ask the right questions, at the right time, in the right way.
My mother. She came here from Belarus, raised me as a single mom, and is supporting me to go Duke. Because of my mom and the sacrifices that she made, I have been able to achieve so much. She definitely blazed an awesome trail for my future and for that she's my hero.
How did you get your big break?
When I was preparing to attend my first Dreamforce (thanks to an incredible Trailhead for Students sweepstakes), I joined a webinar where guest speakers shared some tips for navigating the event. One of the speakers was Justin Edelstein, founder of Arkus. When I attended the Dreamforce job fair later in the week, I had the chance to meet more representatives of Arkus in person and learn about about their unique approach to Salesforce consulting. I admired their approach in which project managers work with a client from scoping through configuration and training. This ensures that they really understand the client's needs directly rather than passing off a project between different roles. Throughout the interview process I understood that this was a great fit for me and I'm very excited to be beginning my career with the Arkus team.