Learn How to Use the Preconfigured Console
Learning Objectives
After completing this unit, you'll be able to:
Point out where key features are within the service console.
Describe the features of Service Cloud Essentials.
How Service Cloud Essentials Features Work Together
The service console is where all the features of Service Cloud Essentials come together. This is your home base for providing excellent customer service, and a great place for us to begin exploring specific Essentials features and how they can work together to help you become a customer service superstar.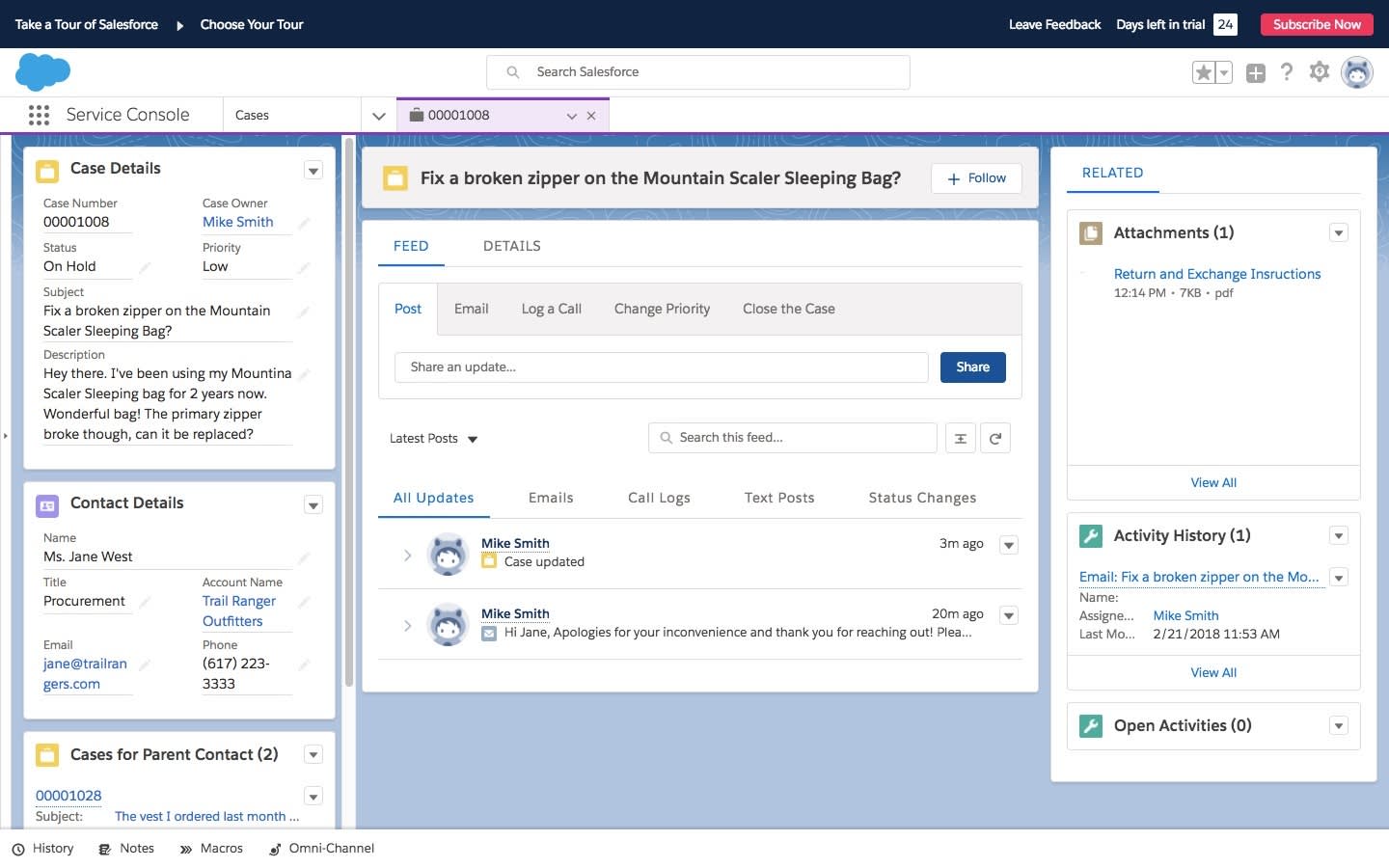 Agent Workspace
The console puts everything you need to know about the customer and their service issue right in front of you. It minimizes the amount of clicking and scrolling needed to help customers, because all the critical background info is conveniently located on one screen. Right out of the box, the agent workspace offers a three-column layout that helps you spot exactly what you need to quickly respond to customer issues.
Case Details
Within the console, case details, contact details, and related cases are displayed, so you can be sure you're looking at the right case and have the appropriate information at hand when you need it. Because the last thing you want when you're helping solve a customer issue is stalling for time while you're fumbling around looking for the right file—that's a recipe for turning a dissatisfied customer into a former customer.
Customer Details
Have you ever contacted customer support and been asked to give the same info twice? It's pretty annoying. Fortunately, the second column of the service console includes a highlights panel that brings the most important customer details front and center. So your whole team is on the same page and speaking in one voice, and customers don't have to repeat the same answers over and over.  
Case Feed
Thanks to the Case Feed, you can see more case updates at a glance. As we discussed in the previous module, this feed ensures that your team is aware of what actions have been taken on each service case, so work isn't being repeated—or more importantly, cases aren't being ignored. It also helps your team prioritize tasks so their energies are being directed toward the customers who most urgently need help. 
Utility Bar
The utility bar is your friend. This customizable bar runs along the bottom of the console and provides a shortcut to all the tools your team needs to provide a smarter, quicker resolution for every customer issue. It's like a Swiss Army knife for customer service, minus all the sharp edges!
How to Get Started with Service Cloud Essentials
If you're a small business looking for a customer service solution, the last thing you want is a technology puzzle that takes weeks of effort to get set up and causes you a bunch of additional headaches. That's why Service Cloud Essentials was designed for easy setup—so you can start solving customer issues right away.  
Our setup command center offers step-by-step tutorials to help you:
Connect and setup support channels, including email, phone, web chat, and social media accounts.
Customize your case view to meet your company's particular service needs.
Setup macros so your team isn't reinventing the service wheel for every customer issue.
Establish multichannel support through one console.
Become a Customer Service Superstar
There's a big difference between customer service that's cobbled together from various sticky notes versus service that's managed professionally and efficiently. Because small businesses are busy tending to everything all at once, Service Cloud Essentials has everything you need to respond to customer cases, all on one screen. 
And Service Cloud Essentials is built to grow with your company, so you can expand your service tools and customizations as your company grows. With Salesforce on your side, you can stop worrying about whether you can keep up with every customer issue and become a customer service superstar.
Resources