Create a Plan to Bring Slack-First Thinking to Your Service Team
Learning Objectives
After completing this unit, you'll be able to:
List four things to consider before you roll out Slack to your service team.
Explain how to use workflow and integration to maximize your use of Slack.
Get Ready to Bring Slack to Your Team
You've seen how much potential Slack has to supercharge your customer service organization and your customer experience overall. But before you begin, remember the old adage: Measure twice, cut once. In other words, plan carefully before you make changes if you want those changes to be effective.
So before you roll out Slack to your team, think about these four things.

Naming conventions. How should you name your channels? How can you organize them so that team members can easily find the right place for the right conversation?
Workflow. What are your highest-priority workflows? How can you bring these workflows into Slack to trigger key events and approvals?
Integration. What third-party systems should you integrate with Slack? How can you support your most important workflows with integrated apps and tools?
Behavior. What user behaviors do you want to encourage? How can you train team members to use Slack consistently and efficiently?
We cover each of these in this unit.
Naming Conventions
As you set up your service channels in Slack, think about how you group and organize conversations. A best practice is to develop a set of channel naming conventions and guidelines that you share across your organization. 
Here are a few examples.
Channel Name

Description


#cx-all-support

Create an all-team channel for your team's conversations and updates.
Use this channel for general information relevant to the entire customer service organization.

#cx-apac

Create this channel (and others like it) if your service organization "follows the sun" and offers service across multiple time zones; having a channel per time zone allows regional teams to collaborate and connect (for example, #cx-apac would be for the Asia-Pacific region).

#cx-project-help-bot

Create this channel for new customer service projects you're starting, like creating a new help bot (#cx-project-help-bot) or a new recognition program for your team (#cx-project-slack-stars).

#cx-customer-feedback

Create this channel to share customer feedback directly with the product organization at your company.
Use this to amplify the voice of your customer, identify product bugs, and get fixes implemented.
Create a workflow that captures feedback submissions in a structured manner.

#cx-customer-escalations

Create this channel to track your overall approach and strategy for escalations and to communicate progress against individual escalations to customer service leadership.
In addition to this general escalations channel, create individual escalation channels to swarm on specific escalations (for example, #cx-customer-medina-p0).

#cx-solar-battery

Create product-focused channels for teams that support each of your products or product lines.
Consistent names help your team find the right channel, and they help new customer service professionals get up to speed quickly. And a consistent prefix, like #cx for "customer experience," means your channels will be grouped naturally in a logical flow.
Workflow
Workflows in Slack let you automate routine tasks. Start by identifying areas with high-priority and high-volume workflows. These are good candidates for streamlining. And consider highly manual processes that cost your service professionals (and therefore your customers) valuable time.
For example, your customer service professionals can use Slack to view Salesforce cases and volunteer where they have special knowledge, get nudges on cases that have been open for too long, or get notified when a top severity case has been created. The team ensures that no cases get left behind, and that every customer gets a follow-up.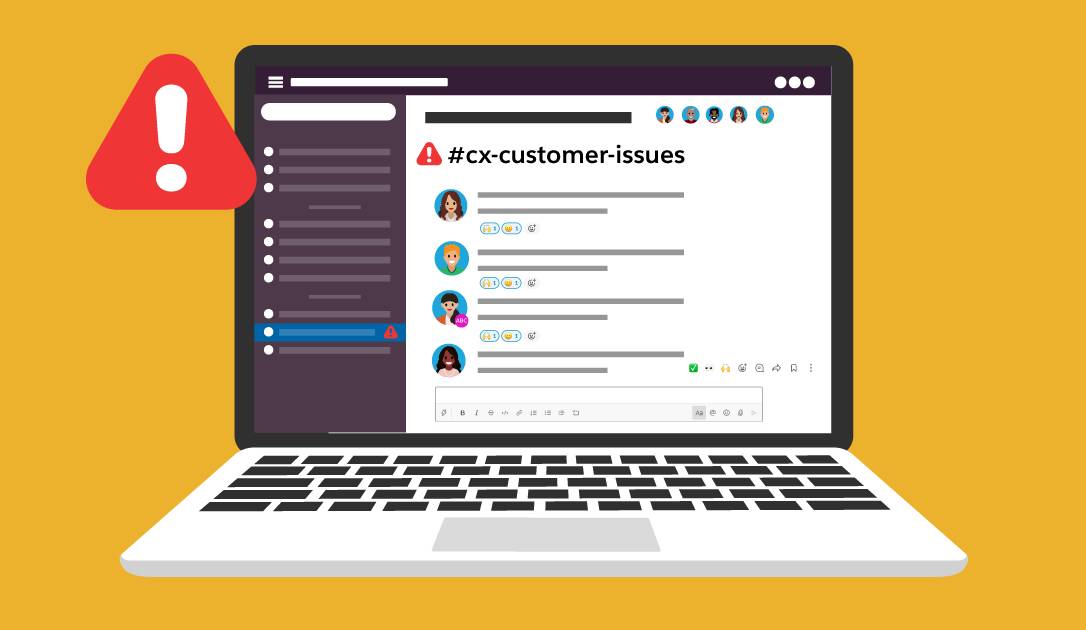 Another benefit of using Slack workflows to handle support inquiries: Everyone on your customer service team gets visibility to the support process. With this setup, your team increases transparency and engagement, and everyone builds knowledge that helps them to resolve complex issues and specialized inquiries.
But let's go beyond automation and workflow, and consider the powerful potential Slack has to help your customer service organization delight and wow your customers via integrated apps and tools.
Integration
Your team can streamline service monitoring and alert notifications to your customer service professionals and engineers, all through integrations built right into Slack.
Consider this example for how you can use integration to monitor performance, manage incident response, and alert teams.
Set up a third-party integration with an online monitoring technology, and configure the necessary rules for the integration to alert in the #cx-customer-issues channel if certain criteria are met.
A customer issue occurs; customers are unable to log in to the self-service customer support portal. The online monitoring technology detects the outage and posts an alert to the channel, notifying both engineering and the customer service team.
The on-duty manager gets the alert and investigates the issue. It's discovered that a recent code change from earlier that day had the unintended consequence of affecting some users' ability to log in to the portal.
The on-duty manager alerts the engineering team in the #dev-team channel. They perform a rollback of the code changes from earlier in the day. The on-duty manager keeps the customer service organization updated on the status of the resolution using the #cx-customer-issues channel.
Once the issue is resolved, the on-duty manager posts an update in the #cx-customer-issues channel, closing the issue and providing root cause analysis (RCA).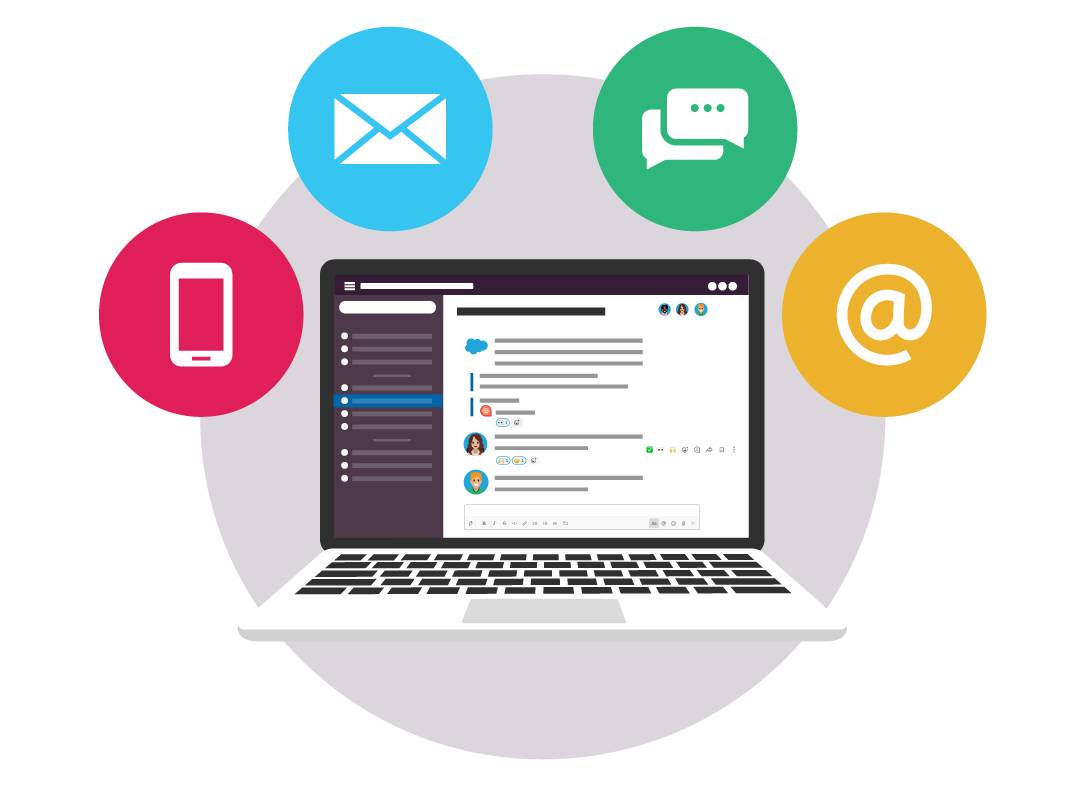 Integrating your existing tools and apps with Slack helps you maximize their value.
Behavior
Channels, workflows, and integrations are key tools for Slack-first service. But tools are only as effective as the people who use them, so work with your team to establish guidelines for interacting in Slack.
Here are a few things your team might agree to do.
React to a message by adding an eyes emoji to say, "I'm looking into this."
Thread replies to posts, rather than posting each comment as a new message in the channel.
For long-form messages, use the Post feature in Slack, so the information can be readily collapsed or expanded on demand, reducing visual clutter and keeping the channel neat and tidy.
Agreed-upon behaviors like these help you communicate with as little friction as possible. For more ideas, check out the Slack Etiquette and Productivity module.
And don't forget that one of the most fun things about Slack is that it helps you celebrate your team's successes and victories. Create a #cx-celebration channel just for celebrating your customer service wins and customer praise. At the end of the day, we all want to be recognized and celebrated for good work, and Slack helps you do just that.
Want to Learn More?
If you're ready to take your Slack-first service skills to the next level, check out Slack for Customer Service. There you'll find more tips and resources for building customer loyalty and making your customers even happier.
Resources