Provide Great Service and Inspire Customer Loyalty
Learning Objectives
After completing this unit, you'll be able to:
Understand the value of Service Cloud.
Describe some ways Service Cloud makes your team more productive.
What Is Service Cloud?
Service Cloud helps anyone on your team provide incredible customer service, 24/7. With your customer data in the cloud, it's available from any place and on any device, and your service agents can work from anywhere to support your customers.
To get help, customers contact you on their favorite communication channels. Or your agents reach out to your customers first with proactive service. See a complete view and history of each customer to personalize responses ASAP. Automation and artificial intelligence (AI) guide you through your team's service processes, and you store and share helpful info in a knowledge base that customers can also access for self-service.
At Salesforce, customer success is a core value. Service Cloud offers you tools to boost your customer success.
Do You Need Service Cloud?
Even if you have the best product or service in the world, your customers judge you by how well they're supported. If they can't get help to solve a problem, or reach someone to answer a question, they take their business elsewhere. The quality of your service determines whether or not your customers stick around.   
Fumbling customers' names?
Can't look up what they've purchased?
Responding a week after they seek help?
Customers are loyal to brands that provide the best possible service, and great service doesn't have to be hard. If your customer data is front and center—and easy to retrieve during each customer interaction—you build loyalty and trust.
Provide your agents easy-to-use tools to help your customers. Make yourself available and show your customers that you care about them. Give your customers a positive, consistent experience no matter where or how they communicate with you, and you'll have customers for life. Let's look at how to do this.    
How Service Cloud Makes Customers Happy
Customers love having their problems solved quickly. Here are some ways Service Cloud makes that happen.
Offer support everywhere and on any device. Connect with customers where they are—phone, email, SMS text, social media, webchat, web communities, messaging apps like WhatsApp, and more. Seamlessly switch conversations to any channel customers prefer to give them the best experience possible.


Send immediate responses to show that you care. Let customers know that you've received their issue by sending them automatic updates and messages. Personalize responses with customizable templates that give customers an ETA on an answer, solution, appointment, or field visit.


Auto-escalate important issues before they become emergencies. Add automatic workflows that flag key customers or concerns and forward them to managers by specific dates or times. Keep track of the status of critical service situations to prevent them from becoming nightmares.
How Service Cloud Improves Agent Productivity
Productive service agents help more customers and make a good impression on your brand. Here are a few ways Service Cloud makes your team more productive.
Support all channels from one screen. No matter how your customers contact you, your agents review and respond to each inquiry from one unified screen called the console. No fiddling with lots of windows. No endless scrolling or clicking to get to the next customer or channel. Everything agents need is right before them so they can focus on customers, not technology.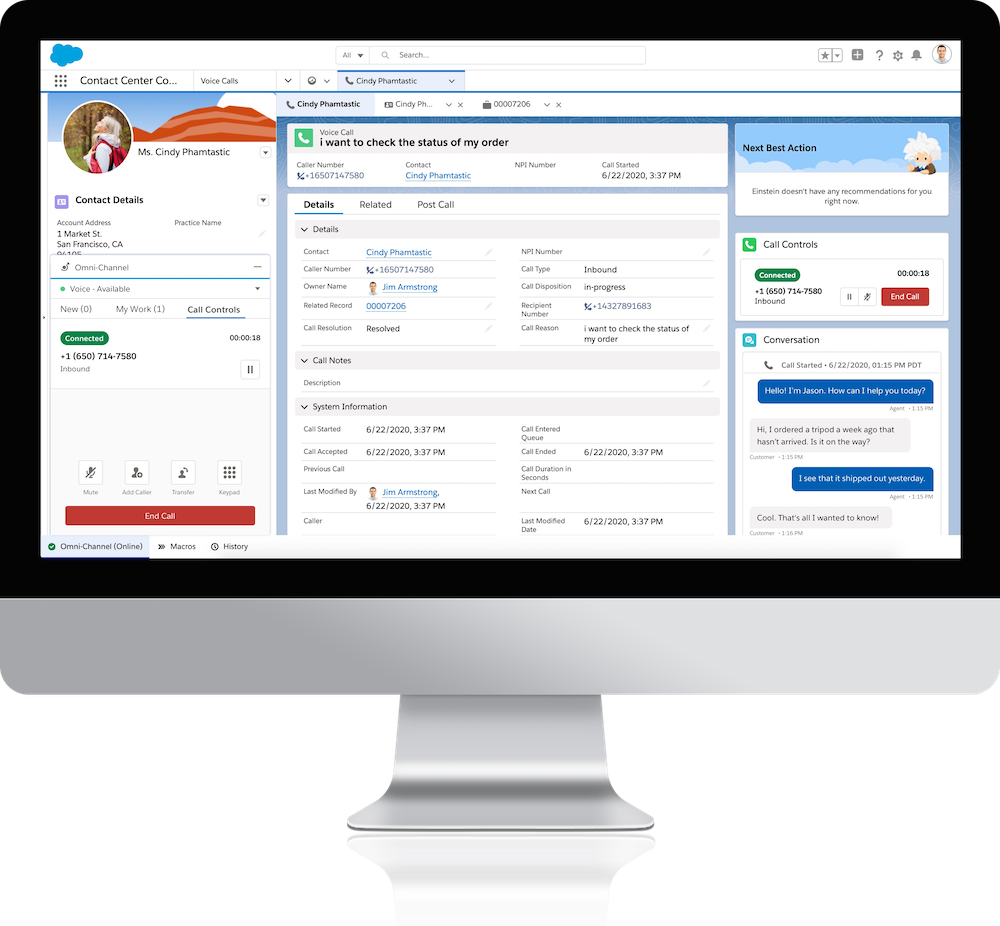 Route issues to the right person. Instead of guessing who should answer each question from which channel, automatically route all customers to the right agents, every time. Also, let integrated processes figure out priorities, workloads, and agent skills before connecting an agent with a customer.


Track key metrics for improvement. To find ways to upgrade your service, view regular snapshots of your team's average first response times, average customer wait times, total customer interactions, and more. Make major and minor service decisions based on data.
Service Cloud gives you the tools you need to wow your customers and make your agents support geniuses. With each customer's data available during any interaction, your team can ensure customer success more easily.
Resources