Take Advantage of Tools and Resources for AppExchange Partners
Learning Objectives
After completing this unit, you'll be able to:
Describe the tool or resource that supports each stage of the AppExchange product lifecycle.
List the types of Salesforce orgs that partners use in the AppExchange product lifecycle.
Get access to your Partner Business Org.
Introduction to AppExchange Partner Tools and Resources
Have you ever been asked to build something for your team, only to find out later that someone else—maybe even a team member—built the same thing? That's called reinventing the wheel, and it can be frustrating. We want you to focus on making your solution awesome, and never on reinventing the wheel. As AppExchange partners take an idea to the marketplace, they perform common tasks. We created tools and resources to help partners accomplish these tasks. In this unit, we introduce you to those tools and resources and tell you where they fit in with the AppExchange product lifecycle.
Tools, Resources, and the AppExchange Product Lifecycle
Let's look at the tools and resources available in each stage of the AppExchange product lifecycle. As a reminder, the AppExchange product lifecycle has six stages: plan, build, distribute, market, sell, and support. Don't worry if you don't recall all the specifics. As we introduce tools and resources, we'll remind you of the tasks you perform in each stage.
Stage
Tasks
Tools and Resources
Plan
Learn the Salesforce platform, and create a roadmap for your solution.
Build
Develop your solution and then test it to ensure an amazing customer experience.

Environment Hub, a tool that lets you create and manage development, testing, and packaging environments from one convenient location
Salesforce DX, a collection of tools that provide you with an integrated end-to-end environment designed for high-performance Agile development

Distribute
Package your solution, and list it on AppExchange.

Publishing Console, a tool for creating and managing AppExchange listings and viewing analytics for published solutions
AppExchange Listing, a place with resources for creating an enticing AppExchange listing

Market
Generate market interest in your solution.

Trialforce, a tool for creating immersive trial experiences for prospective customers
License Management App, a tool for tracking leads and managing licenses for your offering
Partner Marketing Power Hour, where experts and thought leaders share insights into marketing strategy

Sell
Convert leads into paying customers.

Channel Order App, a tool that makes it easy to register sales with the AppExchange Partner Program
Checkout Management App, a tool that puts subscriber insights at your fingertips and lets you communicate effortlessly with customers and team members
Build and Run Your Business Like Salesforce, a resource that provides Salesforce content for building your sales kit

Support
Update your solution, and provide technical support to customers.

Push Upgrades, a feature that lets you push patches and major upgrades to existing customers
Subscriber Support Console, a tool that, with customer approval, lets you log in to orgs where your solution is installed to help troubleshoot issues
You get access to these tools and resources for free when we approve your application to the AppExchange Partner Program.
Salesforce Orgs and the AppExchange Product Lifecycle
Now that we've introduced you to the tools and resources you use, let's look at where most of the action happens. A Salesforce org is the environment you share with users at your workplace. It contains standard Salesforce functionality, your data, and any customizations you've created. Depending on where you are in the AppExchange product lifecycle, there are different kinds of orgs that you work with.
| Type of Org | This is where you: |
| --- | --- |
| Production | Put your critical apps and data. If you're new to the AppExchange Partner Program, we supply you with a special type of production org called a Partner Business Org. The Partner Business Org has AppExchange partner tools pre-installed, along with two Sales Cloud licenses. |
| Developer | Build your solution. A developer org allows you to experiment without putting critical data at risk and is separate from production. As an AppExchange partner, you can create Partner Developer Edition orgs that have more licenses and storage than the standard Developer Edition. If you're using Salesforce DX, you can also use scratch org for development. |
| Packaging | Package your solution for distribution. We recommend using a Partner Developer Edition org for packaging, but a Developer Edition org works, too. |
| Test | Test your solution. Use a test org to verify that your solution provides an amazing customer experience. You can create test environments based on Group, Professional, and Enterprise Edition orgs. If you're using Salesforce DX, you can also use a scratch org to create multiple ephemeral test environments. |
| Demo | Show off your solution to prospective customers. A demo org is based on a standard Salesforce environment, but has more user licenses and storage. These special features let you set up an org just like a customer does, which allows your sales team to deliver powerful demonstrations. You can create demos based on Group, Professional, and Enterprise Edition orgs. |
| Trial | Let customers experience your solution firsthand. You can let customers interact with your solution in their own trial Salesforce org or one you've set up. Along with your app or Lightning component, you can customize a trial org with users and sample data. |
| Sandbox | Test functionality created by others. A sandbox is a copy of a production org. It provides a realistic environment where customers can test things, like a new AppExchange solution, without putting their company's critical apps and data at risk. As an AppExchange partner, use a developer org to build your solution, not a sandbox. |
Partner Business Orgs and Partner Developer Edition Orgs
"Partner Business Org" and "Partner Developer Edition Org" sound similar, so let's take a moment to make sure that the difference between them is clear. Imagine that you're the captain of a ship—the AppExchange Partnership. Your customers are the passengers, and your development, sales, and marketing teams are the crew. Instead of all-you-can-eat buffets and awkward dance nights on the Lido deck, people come aboard for exciting new Salesforce functionality.
The Partner Business Org is like the command center of the ship. From here, you operate the tools used to keep the AppExchange Partnership on course from a business perspective. This means:
Pursuing new customers using Salesforce CRM apps
Provisioning development and test orgs using the Environment Hub
Managing leads and licenses with the License Management App (LMA)
Submitting orders with the Channel Order App (COA)
Supporting customers with the Subscriber Support Console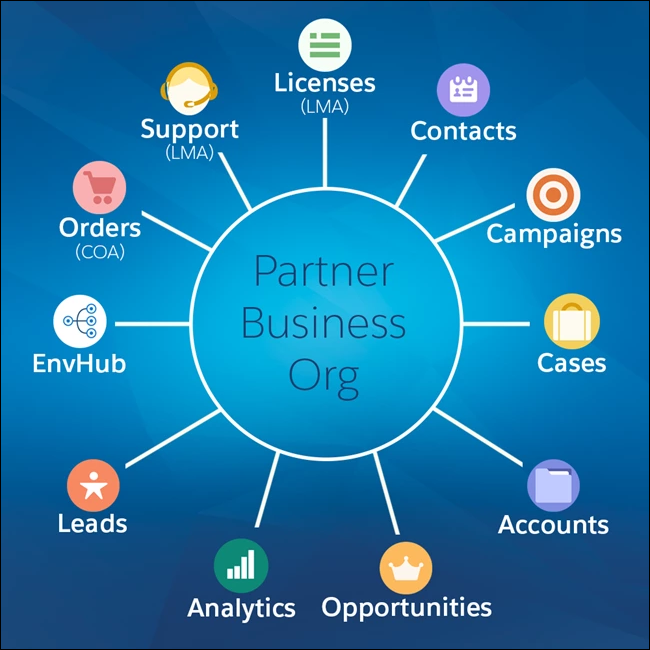 The Partner Developer Edition Org is the engine room. From here, you perform the behind-the-scenes tasks that keep the AppExchange Partnership on course from a technical perspective. This means:
Developing and testing new functionality
Packaging new or upgraded functionality for distribution
If you have one and not the other, the AppExchange Partnership gets lost at sea, which will probably distract from the shuffleboard tournament that you planned. To keep track of the differences between a Partner Business Org and a Partner Developer Edition Org, refer to this table.
Org Type
Used For
AppExchange Partner Tools
Licenses and Storage
Org Expiration
Partner Business
Business aspects of your AppExchange partnership

Environment Hub
LMA
COA
Subscriber Support Console
Dev Hub

Two Sales Cloud licenses
1 GB of storage for new orgs

Remains active with a current Partner Agreement
Partner Developer Edition
Technical aspects of your AppExchange partnership
None by default

20 CRM and 20 Lightning Platform licenses
250 MB of storage for new orgs

Doesn't expire
Access Your Partner Business Org
How you access your Partner Business Org depends on how you signed up for the AppExchange Partner Program.
If you joined the AppExchange Partner Program without an existing Salesforce account, we created a Partner Business Org when you signed up. To access your Partner Business Org, go to login.salesforce.com and sign in using the credentials that we sent when you created the account. That's it.
If you used an existing Salesforce account to join the AppExchange Partner Program, no problem—we can add AppExchange partner tools to your existing Salesforce org. We start with the Environment Hub because it's the first tool you use. Later on, you get access to the other tools you need.
Log in to the Salesforce Partner Community.
Click the question icon and then click Log a Case for Help.
Select Product or Technical Support.
For product, enter and select Platform.
For topic, enter and select AppExchange & Managed Packages.
Provide these details: 

| Field | Enter |
| --- | --- |
| Org ID | The org ID associated with the account you use to log in to the Partner Community |
| Subject | Enable Environment Hub |
| Description | Please enable Environment Hub in this Salesforce org. |

Click Create Case.
You'll receive an email from the Partner Support team after the Environment Hub is enabled in your org.
Wrapping Up
We covered a lot of ground in this module and, from where we're standing, you didn't even break a sweat. Nice work! Let's take a moment to review what you accomplished.
You learned how the AppExchange Partner Program can help you take an idea for a solution to market.
You learned about resources in the Partner Community to support you on your AppExchange partner journey.
You learned about the stages of the AppExchange product lifecycle and the special tools that can make the lifecycle easier for partners to navigate.
You signed up for a Partner account and logged in to your Partner Business Org.
Impressive, right? Of course, there's still plenty of trail ahead. In coming modules, we'll dive into the process of planning and developing an offering, getting it ready to distribute to customers, and more. Until then, happy trailblazing!
Resources