Understand the Connected Customer
Learning Objectives
After completing this unit, you'll be able to:
Explain why technology comes standard for the connected customer.
Identify how connected customers demand connected journeys.
Show how consumers expect relevancy with every interaction.
Identify the customer experience gap.
Technology and Innovation Come Standard for the Connected Customer
We live in the age of the consumer. People no longer passively absorb billboards, commercials, or emails. They use omnipresent technology to consume personalized, contextual information, make purchases, and run their businesses on their terms.
Companies that embrace this new dynamic succeed by putting customer expectations at the center of everything that they do while those that don't are being left behind. For example, new markets, such as ridesharing and music streaming, have grown from consumers' desires for personalized and seamless experiences and their dissatisfaction with the standard offerings of companies and industries.
In recent years, the word innovation has been used everywhere—but actually delivering it is a different story. A new crop of capabilities, such as AI, continues to raise the bar on what's seen as innovative. And for a majority of customers, innovation impacts purchasing habits.
There was a time when the mere presence on a social channel or existence of a mobile app would satisfy demands, but no more. Fifty-nine percent of consumers say companies need cutting-edge digital experiences to keep their business. 
Percentage of Consumers Who Agree with the Following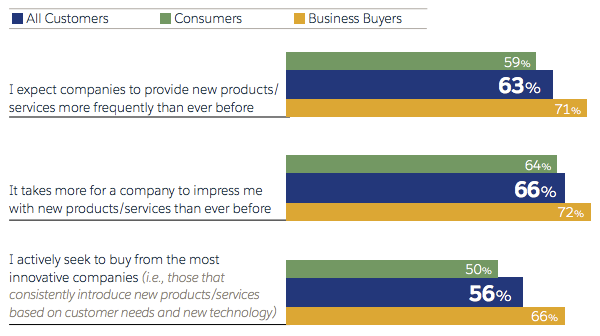 Connected Customers Demand Connected Journeys
With smartphones in the hands of nearly every person, mobile represents the single greatest enabler of the constantly connected world. People don't just call, text, or email from their phones anymore. They buy groceries, compare product reviews, solve service issues, follow brands on social channels—and the list keeps growing. Customers judge companies based on their experience as a whole—not just interactions with individual departments—and they expect consistency. 
These connected customers are information-savvy and expect a consistent and intelligent experience across every interaction or communication channel.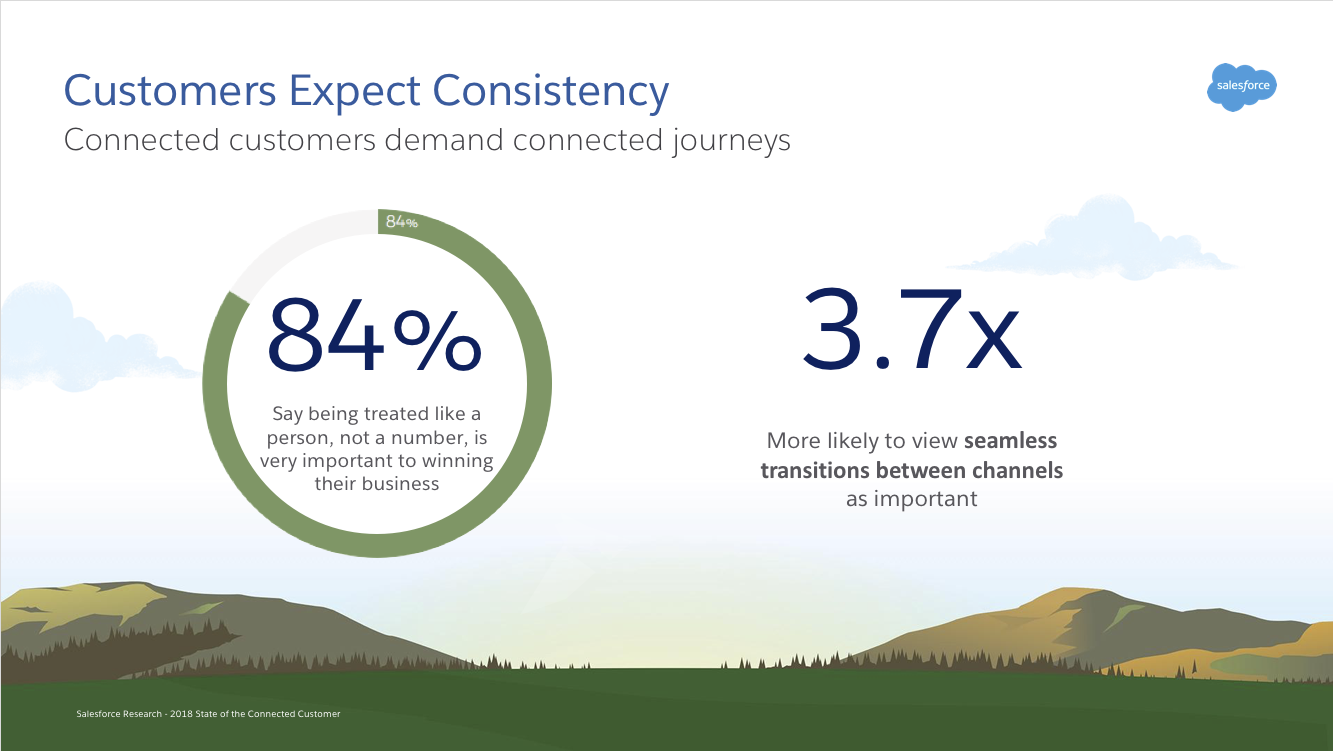 Customers Expect Relevancy with Every Interaction
Connected consumers don't just expect constant, mobile-first innovation—they also demand that companies treat them as an individual through personalized interactions. Customer loyalty no longer depends on the quality of the offered products or services, but rather on the accuracy and ease of the customer experience. Customers now hold brands to new standards, and they expect companies to use technology that provides more proactive, intelligent exchanges, proving they understand what makes their customers happy. More than half of consumers say they're likely to switch brands if a company doesn't anticipate their needs.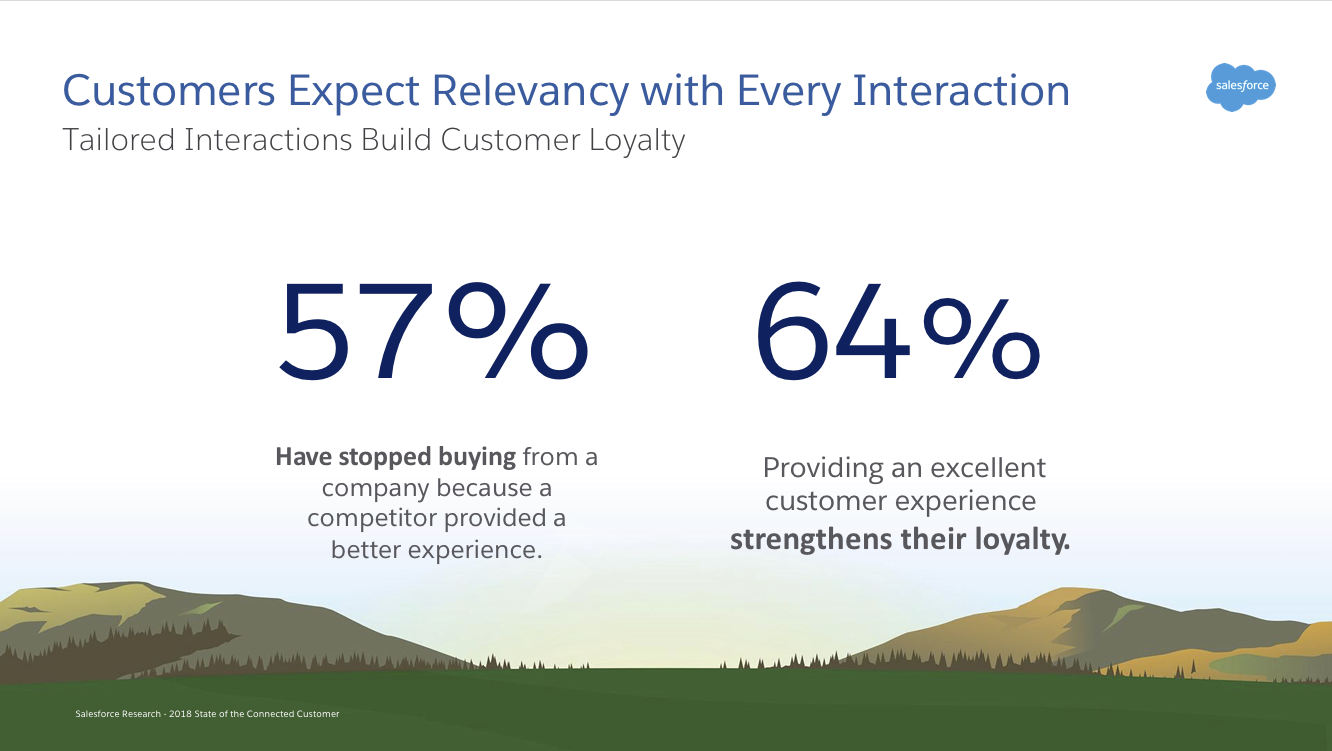 If consumers don't feel recognized by a company, it only takes the click of a button to find a new brand. In exchange for their loyalty, consumers expect to be heard, understood, and appreciated—like they are when they visit a beloved local shopkeeper. 
The Customer Experience Gap
Despite good intentions, marketing teams often struggle to deliver the experiences that customers expect. Marketers must search across disconnected data sources and departments to get a complete picture of their customer and navigate disparate tools to execute multichannel campaigns.
So the question for every company becomes: How will you connect your data, departments, and channels to deliver the 1-to-1 journeys and experiences that customers expect in order to grow your business?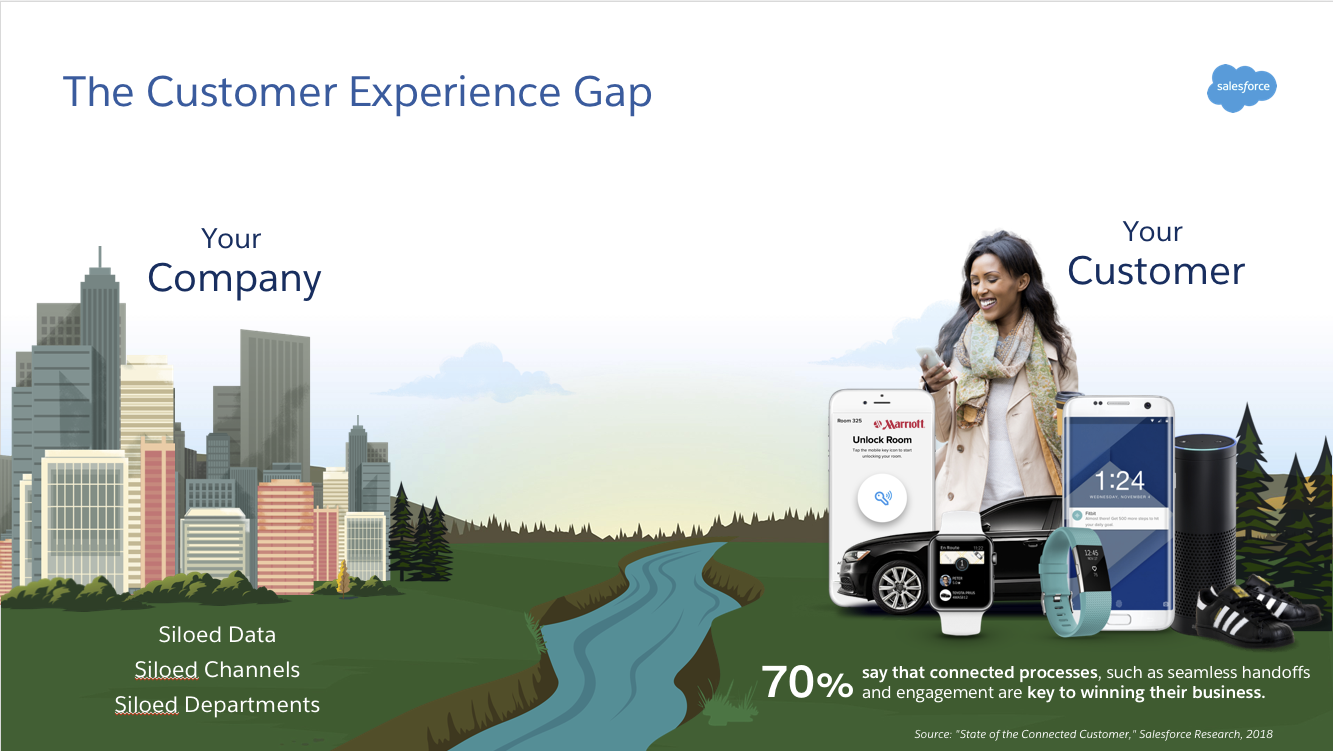 A Customer Journey Strategy
Top marketing teams are committed to the customer journey and are adopting a strategy to actively map touchpoints. Sixty-seven percent of marketing leaders say creating a connected customer journey is critical to their overall marketing strategy success.
In the next unit, we talk about how to kick off a successful customer journey.
Resources