Get Started with Customer Journeys
Learning Objectives
After completing this unit, you'll be able to:
Define a customer journey.
Use customer journeys to drive positive results.
Deliver personalized consumer engagement at scale.
Map the customer experience.
What Is a Customer Journey?
Let's start with the basics. A customer journey is a series of steps a customer goes through during a touchpoint with a company. Touchpoints can include: clicking an ad, reading an email, making a purchase, returning an item in the store, talking to a service agent on the phone, downloading a whitepaper, or redeeming a coupon. Journeys are the building blocks of the individual customer experience. There are hundreds of ways people interact with businesses every day. Each individual's interactions take place in different ways, at different times, in a different order, on different media, with different technologies. It's a lot for a brand to keep track of. 
And speaking of keeping track, some studies point to the average consumer being exposed to more than 4,000 messages a day. That's a lot for people to filter through. For messages to really connect with consumers in today's world, they need to be relevant and personal. Gone are the days when a business can rely on broadcasting a single message to millions. That just doesn't work anymore. Communicating with people on an individual basis is the key to connection.
In our State of Marketing report (see the Resources section of this unit), customer journey is defined as all interactions that customers have with a company's brands, products, or services across all touchpoints and channels. High-performing marketing teams are 8.8x more likely than underperformers to strongly agree that they have adopted a customer journey strategy as part of their overall business strategy. 
But top marketers know that identifying the customer journey is an ongoing pursuit. Whether a marathon or a series of sprints, well-executed journeys must be contextual to the moment and personalized to individual customers. While 65 percent of high performers strongly agree their company has adopted a customer journey approach, 61 percent are actively mapping their journeys. 
Customer Journeys Drive Powerful, Positive Results
From adopting strategy to actively mapping touchpoints, high-performing marketing leaders make the customer journey a priority. And we've seen that adopting a customer journey strategy has overwhelmingly positive business impacts for the majority of marketing leaders.
Of those who have implemented customer journeys, more than two-thirds agree it's had a positive impact on their business. From decreasing churn rates to contributing to revenue growth, a customer journey strategy is the tide lifting all marketers' boats.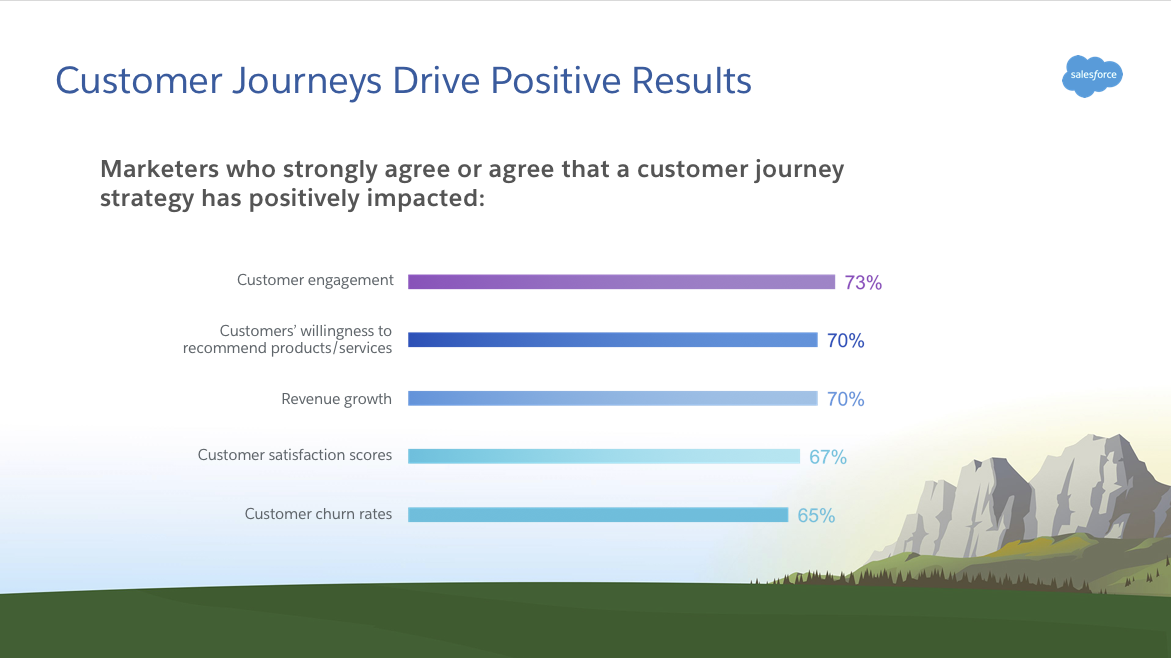 Deliver Personalized Consumer Engagement at Scale
You meet the expectations of the empowered consumer and blaze trails in the age of intelligent marketing by:
Knowing customers like never before. With the customer in control, it's vital that you listen to what they're telling you about their wants, needs, expectations, and preferences. Bring all of your customer data into one place to better understand who they are. You can start by gathering and unifying your first-party marketing. Then create a unified view of consumers across your entire business, such as marketing + sales, service, commerce, and so on. Finally, augment that data with other data sources, such as DMP/online, second-party, third-party, and offline.
Personalizing everywhere with artificial intelligence. Organizations need to ensure the consumer is receiving relevant, personalized experiences, whether they're opening an email, seeing an ad, or on the phone with a customer service representative. With AI, you can discover new audiences, predict behavior, make targeted content recommendations, and deliver a truly unique experience for each individual. Businesses such as Amazon and Netflix do it really well. And customers are expecting that type of interaction from every brand.
Engaging across the entire consumer journey. Technology is changing the way people are engaging with your brand. And their expectations of the experience they have with your brand have increased. They expect you to know who they are, to know their history, to recognize them on any channel or device—and to make things easy for them. In fact, they are even willing to spend more to have a better experience. Engaging with consumers consistently across the entire journey is now an expectation. And each of those interactions need to be connected and branded.
The Marketing Cloud is the world's #1 Marketing Platform that enables you to know your consumer, personalize everywhere with AI, and engage across the entire journey. It's the only integrated consumer engagement platform that enables you to deliver personalized consumer engagement at scale.
So how can you use journeys to deliver connected, personalized consumer engagement at scale?
Map the Customer Experience
Some organizations lock up in a room for a week and plan out absolutely every customer touchpoint possible. Of course you can do this and probably learn some valuable insights, but for most of us, this can be an overwhelming process.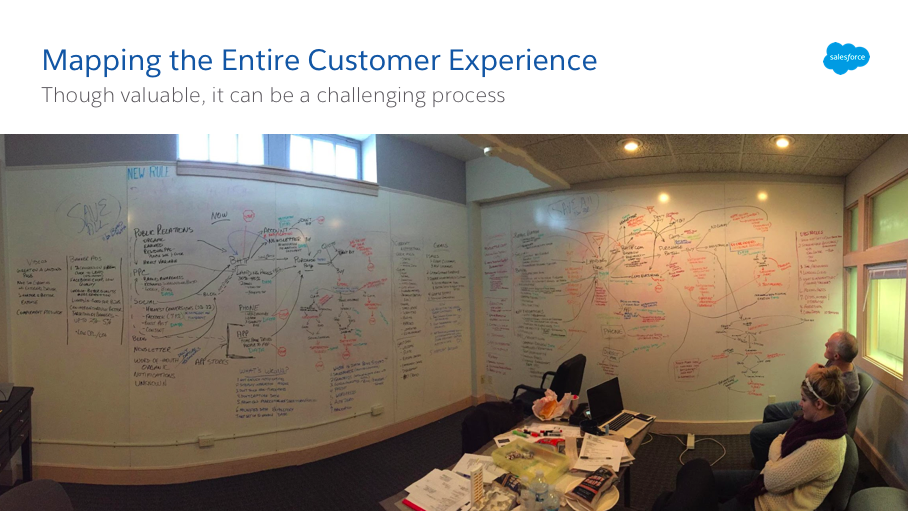 This might be a great planning strategy, but don't let that daunting task stop you from starting a simple journey. Your customer journey is actually made up of a bunch of tiny journeys along the way. What we want to encourage is that you start somewhere. You probably have enough today to start a simple journey.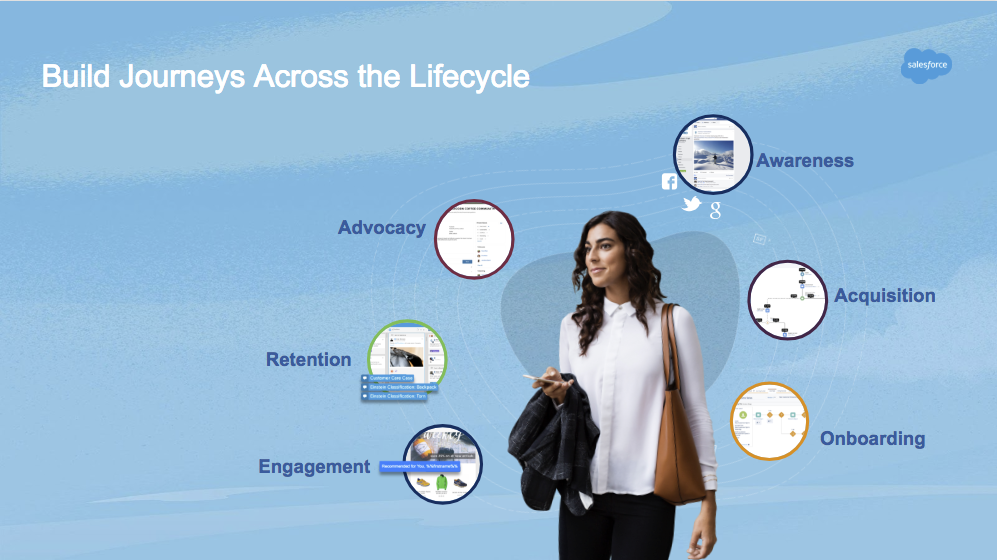 It's about creating journeys across different stages of the customer lifecycle. Focus on where your business needs it the most, and go from there.
Are you onboarding new customers?
Would you like to encourage customers to sign up for a newsletter?
What about engaging with new customers to encourage a repeat visit or additional purchase?
Or maybe you'd like to increase adoption for your mobile app?
The types of journeys you can create are endless, so just start somewhere.
This is where we see our customers having the most success. They identify one customer group and one journey where they can have a quick win. Then they begin implementing journeys across functional areas.
A step of the journey happens every time a customer reaches out to you for information, and every time you interact with them in return. Whether it's a first-time purchase or a renewal, or even a reminder, each of these experiences your customer has with your organization are the building blocks for their customer journey. Remember that the customer is in control of when and how they communicate with you. And it's up to you to determine which of those touchpoints you can influence the most to build trust, loyalty, and long-term relationships with your customers.
Ideas for other steps in the customer journey:
Welcome new customers.
Encourage an application signup.
Encourage survey completion.
Adopt the mobile app.
Contact abandoned online browsers.
Schedule financial advice.
Follow-up on service calls.
Provide financial tips and guidance.
Reengage customers.
Resources