Get Started with Contact Builder
Learning Objectives
After completing this unit, you'll be able to:
Explain what Contact Builder is.
Explain how Contact Builder provides a single view of a customer.
Introduction
Pharr Walker is a road-less-traveled type of guy, an avid camper who'd rather sleep in a tent than in a bed. Yesterday, while scrambling down a trail, a flashlight rolled down beside him. He reached out to grab the flashlight and felt the thud of a bag of trail mix on his leg. Much to his dismay, his backpack had sprung a leak. 
Today, Pharr is shopping online for a new pack. He reads reviews, compares prices, and clicks ads. One ad takes him to his favorite outdoor gear website, Northern Trail Outfitters (NTO). He logs in, selects a pack, and adds the pack to his cart. At that exact moment, he hears a modern-day call of the wild, a text invite from a friend. He sees two words: campfire and s'mores. Count him in! Pharr heads out to the campfire, abandoning his cart. 
"We love abandoned carts!" said no retailer, ever. However, there is a silver lining. Pharr did like a product enough to put it in his cart. Perhaps a tiny nudge is all he needs to complete his purchase. 
Get Cloudy Consulting, a top Salesforce partner, knows exactly how to nudge customers to complete purchases. NTO hired Get Cloudy to implement a solution that helps NTO reengage customers who abandon carts. Get Cloudy's tool of choice is the Salesforce Marketing Cloud Contact Builder app. 
What Is Contact Builder?
Contact Builder is a Marketing Cloud app used to manage data about contacts. A contact is an individual whose information is contained anywhere within a business's Marketing Cloud account. A contact is also any individual to whom the business sent a message via any channel using Marketing Cloud. 
With well-managed data, it's easier to build one-to-one relationships with contacts. A business can use collected contact information to personalize its customer conversations. That's a proven way to increase customer loyalty.
Contacts, also called the Contacts Framework, refers to the underlying data structure used to store contacts' demographic and behavioral information. Contact Builder is the user interface portal to the framework. You use Contact Builder to organize contact data into a single view of the customer. 
Contact Builder benefits:
App Data: Leverage information from any Marketing Cloud app for any contact.
Data Designer: Design, map, and link demographic and behavioral data about your contacts.
Lists, Groups, and Filters: Use contact-specific information to filter and segment contacts.
Customers 'Hide' While Businesses Seek
Achieving a single view of the customer can feel like a game of hide-and-seek. Customers and prospects hide while businesses seek them out. They're not intentionally hiding, but recognizing them is tricky because they change their appearance. Sometimes they identify themselves by name. At other times they use an alias, such as a mobile number or a generated ID. And they interact with a brand in different ways. Today, they call customer service. Tomorrow, they click a product ad on an external site. 
It's enough to frustrate even seasoned marketers.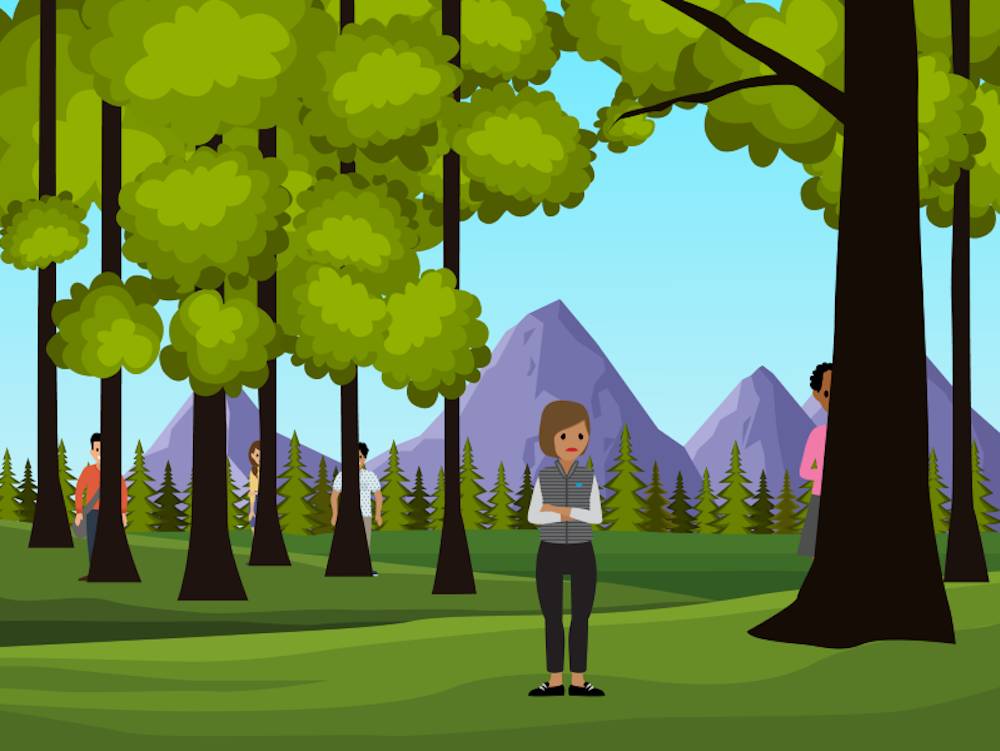 To establish a single view of the customer, you must recognize an individual regardless of how they identify themselves or where they interact with a brand. With Contact Builder, you can give businesses a single view of their customers.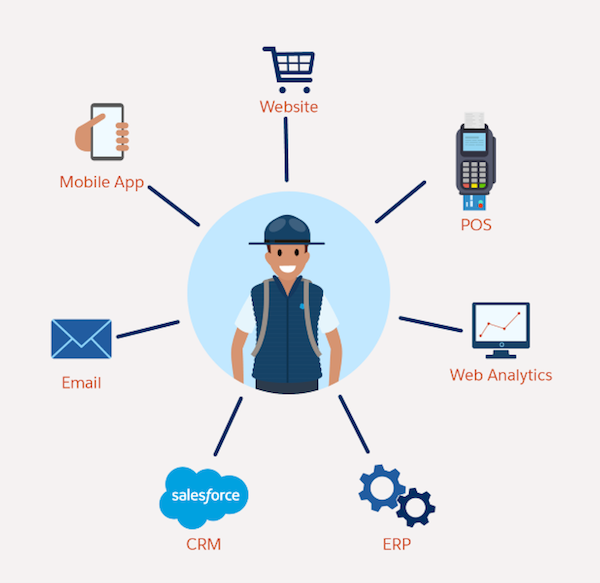 Contact Builder provides a single view of a customer by consolidating all the interactions a contact has with a brand. With Contact Builder, businesses can:
Consolidate data from internal and external sources, such as Personalization Builder, customer relationship management (CRM) apps, point-of-sale (POS) systems, websites, and analytics.
Build a coherent data model out of multiple smaller data architectures.
Establish relationships between data that comes from different sources.
Uniquely identify contacts across all the data sources.
Generating that view is worth the effort. Businesses use it to learn customer preferences, consolidate order history, and see all the interactions a customer has with its brand. Then, they apply what they learn to improve customer service, conversion rates, and customer loyalty.
With Contact Builder, marketers win the game of hide-and-seek.
Save Your Sales
NTO's marketing team wants to reduce the occurrence of abandoned carts. Leung Chan, Get Cloudy's marketing guru, is here to implement a solution. Let's see how Leung uses Contact Builder to encourage customers such as Pharr to complete their NTO purchases.
Pharr uses Google to search for a multiday backpack, and Google returns multiple results. One result links to the NTO site. It's for the Conness 70, a sweet top-loader with an advanced suspension system. He's excited to learn more and eagerly clicks the NTO search result.
On NTO's site, he views the Conness, other packs, and related products. He decides to buy the Conness 70 and adds it to his cart.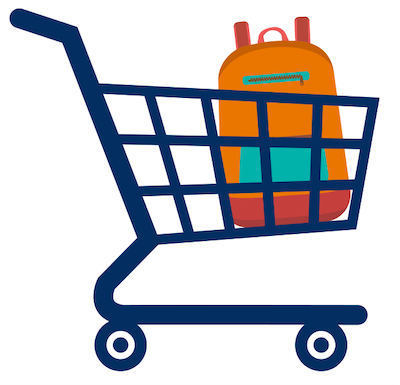 Because Pharr is a returning customer, he already has a customer id. As a result of today's activity, the site identifies and stores:
His customer id.
The campaign he came from based on URL tags.
The additional products he browsed on the NTO site.
The product in his shopping cart.
At this point, Pharr reads his friend's text message and abandons his cart. The NTO website recognizes the abandoned cart and stores Pharr's user info and the backpack product info in an abandoned cart table in its database.
The website data alone isn't enough to identify why Pharr abandoned his cart. But other data is available. NTO's website is integrated with Google analytics. Google gathers behavioral data, such as:
The website pages Pharr visited.
Time spent on each page.
Links clicked.
Marketers can access the analytics data, evaluate it, and use it to for smarter customer engagement. 
The analytics data is full of useful information, but it's anonymous. It doesn't contain the information that NTO relies on, such as customer ID or email address, to recognize the user is Pharr. To the analytics system, Pharr is visitor ID ABC123. To NTO, Pharr is customer ID 100123. To combine the website and analytics data in meaningful ways, this is the bridge that must be crossed.
Leung plans to cross it by combining the information collected during this scenario to fine-tune NTO's marketing strategy. Here's her plan. 
Enrich the information NTO collects from its commerce website with imported analytics information.
Use the combined information to determine why the customer ended their purchase journey.
Try to win the customer back. Nudge them with a text message that contains a discount offer.
Leung is ready to show us how to implement this solution.
Resources