Send Email to Small Constituent Groups
Learning Objectives
After completing this unit, you'll be able to:
Send emails to campaign members.
Send emails from a list view.
Explain the difference between small group emails and mass email.
Collaborate with your Salesforce admin to evaluate third-party email tools in the AppExchange.
Get an introduction to laws governing the use of mass email.
NMH Advocacy in Action
Every year, a group of committed No More Homelessness (NMH) supporters arrange a special visit to the municipal capital to meet with their representatives and advocate on behalf of the NMH constituents. The entire staff at NMH is grateful to have such dedicated—and experienced—supporters. These volunteers are all law students, professors, practicing attorneys, and a few former clients who have progressed through NMH programming to become well-informed alumni and NMH advocates.
NMH organized this group specifically to help with political advocacy—it takes a certain kind of person to remember critical talking points and stay poised while meeting with lawmakers. With their particular training and experience, every one of these volunteers is well versed on the complex issues that create and perpetuate homelessness and can speak persuasively about NMH and the organization's role in addressing the regional crisis. 
To help the group prepare for the upcoming trip, the NMH team needs to share the most recent data on homelessness, impact numbers from NMH, and travel logistics. Michael Aviran, the Communications Intern at NMH, will be managing the communications with the group. But he's also solicited the help of NMH's program manager, Anthony Hall. As program manager, Anthony works directly with NMH clients, including continued outreach with NMH alumni. Anthony has an established relationship with NMH alumni through various program initiatives and has agreed to be the primary contact for this constituent group.
Leading the Charge
Anthony and Michael are leading the charge and, because this advocacy event recurs annually and participation is limited to a select group of NMH constituents, the team already has a campaign set up in Nonprofit Success Pack (NPSP), including all the campaign members who are planning on attending the event. Great! With everything in place, it's time to start emailing information to the group. Michael and Anthony hope they can do it directly from Salesforce. If you can easily send emails to individuals, sending group messages shouldn't cause an issue, right?
Gorav, the skillful Salesforce admin at NMH, agrees. Sending a group email is a straightforward process, but like most things in Salesforce, there's more than one way to do it. In this case, Michael and Anthony want to send their messages to the campaign members associated with a campaign they already have set up.
Let's follow along with Michael to see how he sends email to his volunteer advocates. 
Send Email to Campaign Members
To send a list email to a group of campaign members: 
1. Log in to Salesforce.
2. Click Campaigns.
3. Click a Campaign Name from the list. Michael selects 2019 Capital Visit Advocacy Event.
4. Click Related.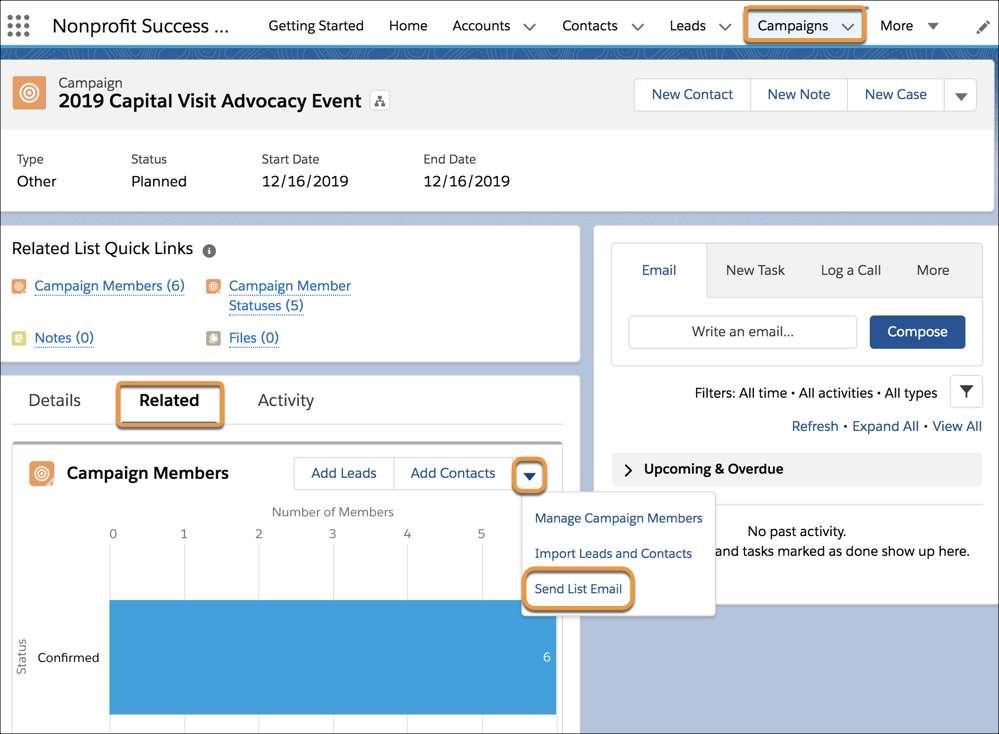 5. In the Campaign Members section, click the dropdown arrow and select Send List Email.
6. Enter a Subject line and compose a message in the Content section. Michael can take advantage of merge fields to make the message even more personal to each recipient. Then click Review to preview the message and check that all the merge fields populated correctly.
7. Click Send.
Gorav was right (of course he was)—sending a group message to campaign members was really straightforward. 
This is awesome! With the communication history moved out of private email and into NPSP, it'll be easier to make sure constituents aren't getting too many (or too few) messages from the organization. It doesn't matter if you over or under communicate—either way, you run the risk of creating a less-than-ideal email experience for your constituents. 
If someone on a list has a blank or incorrect email address, it only affects that individual. Everyone else on the list still gets the message. 
Send Email from a List View
Didn't Gorav say that you could also send a group email another way? He sure did—from a list view of either the contacts or leads objects. All you have to do is navigate to one of those objects, create a list view of people, click the list view dropdown menu, use the checkboxes to select the entire list (or just a few people from it), and select Send List Email. 

Track the History of List Emails
Sending list emails is as convenient as sending individual emails in NPSP, but the process is a little different. Gorav turned on a feature that allows everyone at the organization to see if a constituent was included in the list of recipients for a group email. With list email being visible to everyone on staff, the subject line of a group email appears in the Activity timeline of a contact record, as does the sent timestamp and a list of the other message recipients. This means no one has to guess (or ask) which contacts received a message, no matter who sent it.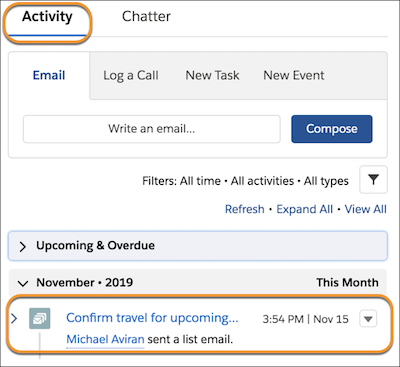 The message status, however, is not included in the Activity timeline. Only the sender of a list email can see the status information—if a message bounced and when (or if) the recipient opened it. 
And to do that, they'll have to create (and run) a report.
To get the details like date sent, opened, last opened, and bounces on a list email, you'll need to set up and run a report using the HTML Email Status report type.
Let's check back in with Michael to see how he does this: 
1. Log in to Salesforce.
2. Click Reports.
3. Click New Report.

4. Search for and select HTML Email Status. Click Continue.
5. Add filters and groups to organize the data, if necessary. Michael adds the "Date Sent" filter to make sure he only includes data from a specific email he's sent. 
6. Click Run.
7. [Optional] Click Save to add a title and description, and to save this as a report. Michael saves this as the HTML Status Report-Nov 6 Reminder Email report, so he can check on the status of all recipients again later.

With this report, Michael has a list of every person in the group that received his email and data about their open rates, including the date it was first opened, last opened, and number of times it was opened. Using the HTML Status Report can help Michael make sure that everyone in the group has gotten the important information they need about the upcoming event. If someone hasn't opened a message, he can follow up with the individual privately to make sure they can still attend. He can also use this report to troubleshoot. For example, if someone is missing from the list, it's likely that the person has an incorrect email address and the message bounced or they've opted-out of email. 
Email Opt-Out
If a constituent doesn't want to receive commercial email from your organization, it's important to include this information on their contact (or lead) record. Depending on the circumstances and the laws of your jurisdiction, event invitations, requests for donations, and newsletters may all be legally considered promotional or "commercial" email, even when sent from a nonprofit.
To opt someone out of email, find their contact (or lead) record. Expand the Contact Information section, check the Email Opt Out box, and click Save.
If you try to send an individual email to someone who's opted out, you'll see a warning message, reminding you that your organization has agreed not to send this person a commercial email. The system allows you to continue, but Salesforce will prompt you to agree that the message is not commercial. 
If you try to include a person who's opted out of email on a group message, they won't receive the email and you won't receive a warning that they're not included. Their opt out status does not, however, impact the message delivery to the other recipients in the group.
Consult with a legal expert to help your organization understand the relevant privacy and marketing laws and how they classify commercial and non-commercial email given your circumstances. Salesforce cannot give legal advice to its customers, and this section isn't meant to be taken as legal advice.
Additional Tools and Information on Mass Email
Sign in to the Trailblazer Community and visit the App Advice and Consumer Reports group (linked in the resources below) for more information on sending mass emails, including recommendations and reviews on third-party tools. And, if you're an experienced marketer or are interested in developing more advanced email campaigns, we've got you covered with tools like Marketing Cloud Engagement for Nonprofits. (Check out the Trailhead Quick Look linked in the Resources section for more details about those tools.)
Most mass email tools have features that Salesforce doesn't have, including robust reporting on click-through, open rates, and other fun stuff for marketing professionals. With Salesforce, you're limited to a total of five thousand emails per day, and opt-out requests must be processed manually. 
Salesforce works well for sending small group emails–like the kind Michael and Anthony sent to specific groups of volunteers–but it's important to understand that Salesforce is not designed for sending mass emails.
Now, with that all said, there are a few more tools you should know that can help you manage email from NPSP, so continue on to the final unit to learn more. 
Resources