Learn About Commerce Cloud Architect Roles
Learning Objectives
After completing this unit, you'll be able to:
List the types of Salesforce B2C Commerce architects.
Explain the difference between a functional and a technical architect.
Explain the difference between a technical and a solution architect.
The B2C Commerce Architect
Software solution architects comprehend the complete picture of a business and its IT systems. They can design and implement a solution that takes it all into consideration using the latest technology, ideas, and features. They serve as multipliers by bridging the gap between business requirements and technology for everyone on their teams. Architects come in a variety of roles and skill levels, some for specific technologies.
B2C Commerce architects have a minimum of 8 years of experience in retail, with an in-depth technical knowledge of the B2C Commerce platform that includes technologies such as HTML, XML, JavaScript, and Ajax web development languages. They also have a working knowledge of merchandising operations, information architecture, user experience design, systems integration, and project management. They have proven results leading merchants or partners to successful storefront implementations as team players. And these are the basics.
Many B2C Commerce architects are consultants who work for a partner. Take a look at the Build Your Salesforce B2C Commerce Consulting Practice trail to learn more.
Let's take a closer look at the types of architects that specialize in B2C Commerce.
Types of B2C Commerce Architects
B2C Commerce architects can be functional, technical, or solution architects. They can also focus on technology such as Salesforce Order Management. Each type of architect requires excellent communication, leadership, and technology skills. So how do they differ?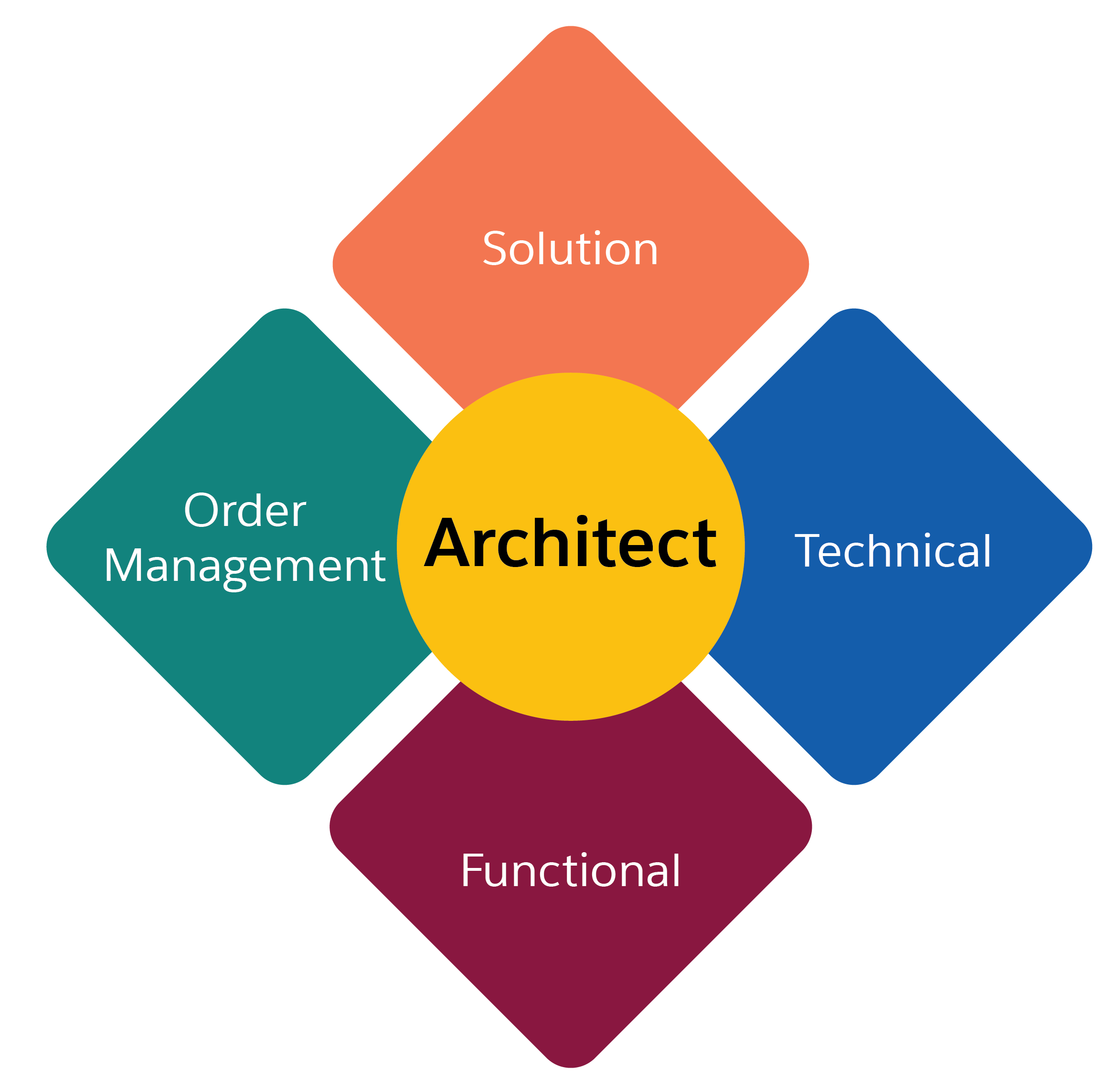 Functional architects serve as hands-on trusted advisors to merchants, offering strong interpersonal skills, functional and technical knowledge, ecommerce product knowledge, industry experience, and consulting experience. They help their merchant's business deliver ROI.  
They gather and define business and technical requirements, and from them create comprehensive project documentation. They act as team leads from application definition and design to deployment and storefront launch. They understand ecommerce business challenges facing merchants and drive best practices adoption. Although functional architects understand what should be done in code and what each component is capable of, they don't write or design code. Take a look at the Build Your Career as a Salesforce B2C Commerce Functional Architect trail to learn more.
Technical architects serve as executive-level strategic advisors who focus on business transformation, offering domain-level expertise in functional, platform, and integration architecture. They solve complex, large-scale challenges. They communicate technical solutions and design tradeoffs to business stakeholders. They provide a delivery framework that ensures quality and success. Unlike functional architects, they can design and write code for tasks not suited for developers on larger projects.
Technical architects specialize in B2C Commerce, but they can develop cross-cloud solutions that include, but are not limited to, Marketing Cloud, Service Cloud, APIs, Lightning, Heroku, mobile development technologies, and integration/ETL technologies.
Order management technical architects have all the skills of B2C Commerce technical architects but with added order management or fulfillment solution experience, such as order orchestration, allocation, routing, payments, returns, and omnichannel. They add significant value to an implementation's success with their solid experience in ecommerce, store, and customer relationship management (CRM) and enterprise resource planning (ERP) related integration.
Solution architects design domain-specific, multi-cloud solutions that span the Salesforce Customer 360 vision and platform, going far beyond the B2C Commerce technical architect skill level. They combine guidance from different enterprise architecture viewpoints to create solutions that generate strategic business value for customers to:
Guide companies on a multi-cloud solution journey.
Drive successful outcomes by advocating multi-cloud implementation considerations and best practices.
Select the right multi-cloud features that align with a company's vision and business goals.
Make a Plan
Whether functional, technical, or solution, B2C Commerce architects work alongside system administrators, who deal with the day-to-day running and support of the system, and developers, who write code to customize the storefront application with third-party apps and services.
If you're already an architect, would like to be one, or want to learn what your architect does, here's information on how architects get certified.
Resources