Build Emails with Content Builder
Learning Objectives
After completing this unit, you'll be able to:
Describe Content Builder features, functionality, and use cases.
Upload content into Content Builder.
Explain the difference between static and individualized content.
Build an email in Content Builder using an email template.
Now that Yasmin has uploaded her data into a sendable data extension, she's ready to start building the weekly Cloud Kicks promotional emails. To do this, she utilizes Content Builder, a cross-channel content management tool that lets her (and you!) consolidate images, documents, and content in a single location for use across Marketing Cloud.
Check out this short video on how Email Studio and Content Builder work together to help you create great looking, effective emails.
With Content Builder, you can:
Save time with the easy-to-use interface.
Create professional emails without knowing HTML.
View changes to email content in real time with always-present preview.
Utilize intelligent HTML paste tools such as color coding and line numbers.
Insert code snippets for common links such as Forward to a Friend, Open Tracking, and more.
With the content repository, you can:
Leverage global search and filtering tools with a new content properties framework.
Search and filter for the email of your choice.
Add tags and campaign associations to associate related content.
Make edits to content right inside the application.
Uploading Assets into Content Builder
Yasmin wants to begin by uploading several existing brand assets into Content Builder, including a Cloud Kicks logo and some product images. This way, she can access them at any time in the future and across channels.
From Content Builder:
Click Create.
Click Upload.
Select files from desktop to upload.
Understand and Create Content Blocks
In the world of digital marketing, content is typically characterized as either static or individualized.
Static content does not change for any reason, for example the company logo at the top of an email or social links at the bottom.
Individualized content changes based on data found in the data extension or list at the time of a send or push, for example a person's name within text or specific content related to their interests.
You can individualize content with:
Personalization strings: Insert subscriber attributes, such as subscriber name, into the subject line, preheader, or content of your email.
Dynamic content: Display content according to rules that you define based on the subscriber's attributes or data extension field values.
AMPscript: Use this scripting language to embed subscriber-specific content within HTML emails, text emails, landing pages, SMS messages, and push notifications from MobilePush.
With assets in Content Builder, Yasmin is now ready to create both static and individualized content. To do this, she builds content blocks that she can use and store across various marketing channels.
You can create a wide range of content blocks with Marketing Cloud, including Text, Image, Text + Image, Free Form, HTML Content, Dynamic Content, A/B Testing, Button, Social Share, Add a Social Follow Block, Layouts, External Content, Reference, and Image Carousel.
Yasmin starts with a static image content block for the Cloud Kicks logo.
In Content Builder:
Click +Create.
Hover over Content Blocks.
Select Image Block.
Click Browse.
Check the box next to the logo.
Click Select.
Adjust any settings.
Click Save and Exit.
Next Yasmin creates a dynamic content block that displays a specific product image based on a subscriber's interest in either custom casual sneakers (Rule 1) or Cloud Kicks' newest line, custom booties (Rule 2). She chooses the custom performance sneaker image as default content for subscribers with no product interest data.
In Content Builder:
Click +Create.
Hover over Content Blocks.
Select Dynamic Content.
Click Browse.
Select the checkbox next to the image of the custom casual sneaker.
Click Select.
Click the + next to Create Rule 1.
Select Data Extension or Audience.
Click OK.
Click Data Extensions.
Select MasterSubscriber.
Click OK.
Next to Content, click Select.
Check the box next to the custom casual sneaker image.
Click Select.
Drag Interest into workspace.
Select Is equal to.
Input casual.
Click Save.
Repeat the steps to create Rule 2 for subscribers interested in custom booties.
Click Save and Exit.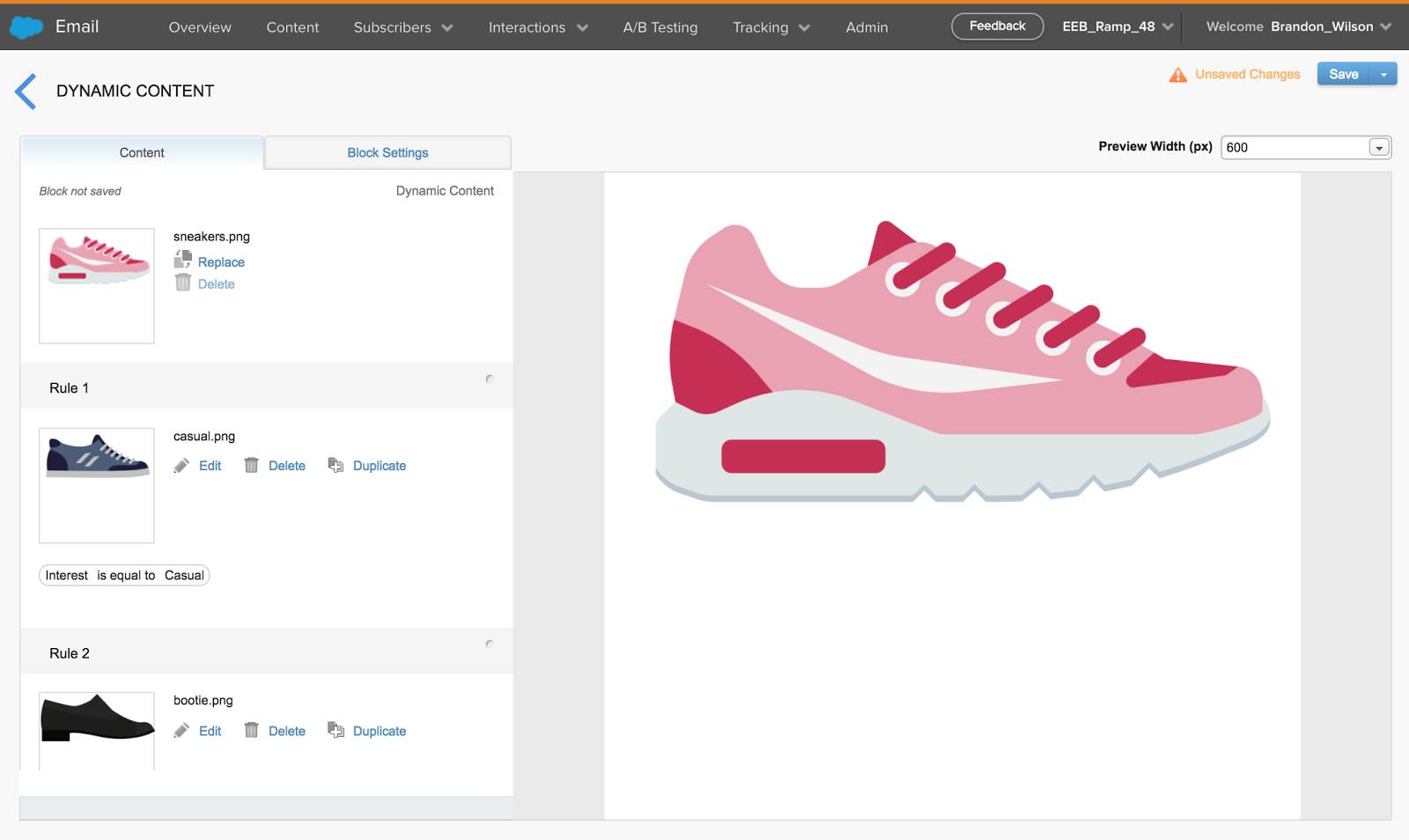 Build an Email Template
Now that Yasmin has her content blocks, she's ready to create an email template. Building email templates with Email Studio and Content Builder is really as easy as drag and drop. Take a look.
Yasmin wants to create a flexible, modern, mobile-friendly template that she can use again, so she chooses the Basic layout option.
In Content Builder:
Click +Create.
Click Email Message.
Select Template.
Select the Basic tab.
Choose a layout and click Select.
Define the template's properties.

Enter a name.
Enter a description.

Click Next.
Navigate to the Add Content tab.
In the Add Content tab:

Drag your new static and dynamic content blocks into the template.
Adjust any preexisting content blocks.
Leave the subject line blank.
Leave the preheader blank.

Click Save as Template.
So that's it. Yasmin now has an email template she can use for her first weekly promotion and with a little tweaking, for subsequent weekly email promotions too.
Create an Email
In addition to templates, you can create an email using:
HTML paste: Use existing HTML code to create your email.
Text only: Create an email that displays as text only regardless of a subscriber's display preferences.
Existing email: Start with an existing email.
Yasmin chooses to create the email from the template she just set up.
In Content Builder:
Click +Create.
Click Email Message.
Select Template.
Select the Saved tab.
Choose a template and click Select. (Yasmin selects her Weekly Promotional Email.)
Define the email's properties.

Enter a name.
Enter a description.

Click Next.
In Add Content:

Adjust the email's content to reflect this week's promotion.
Add a subject like Save 15% This Week Only!
Leave the preheader blank.

Click Next.
Click Save and Exit.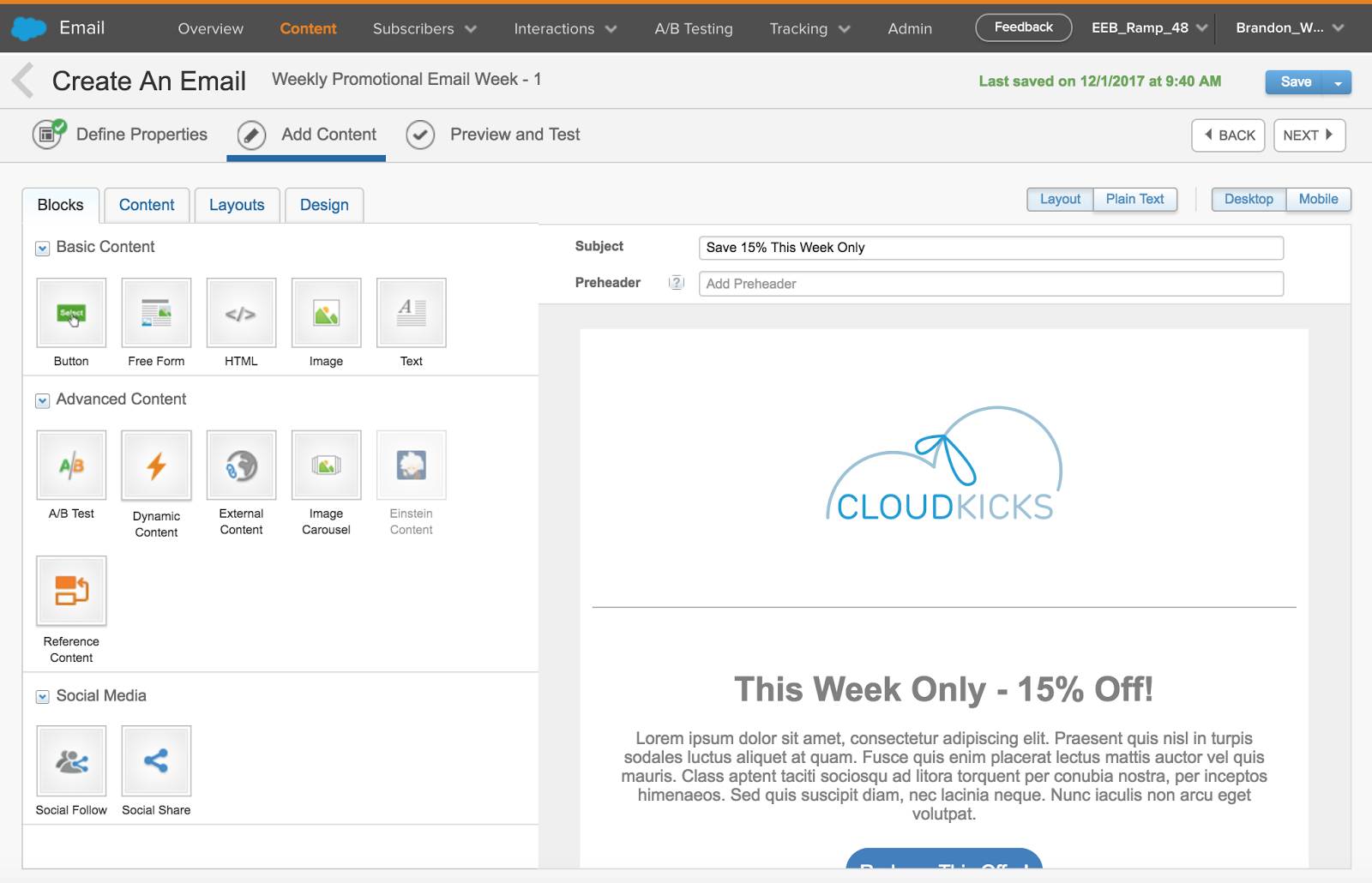 When Yasmin is ready to send this email, she'll preview and test it, and then initiate the Send Flow. We'll go through those steps in the next unit.
Resources