Add Advanced Email Tools
Learning Objectives
After completing this unit, you'll be able to:
Collaborate with your Salesforce admin to add automation to emails.
Work with your Salesforce admin to integrate Microsoft Outlook or Gmail email and calendar services with Salesforce.
Explore additional Salesforce and third-party applications for managing email.
Take Your Emails to the Next Level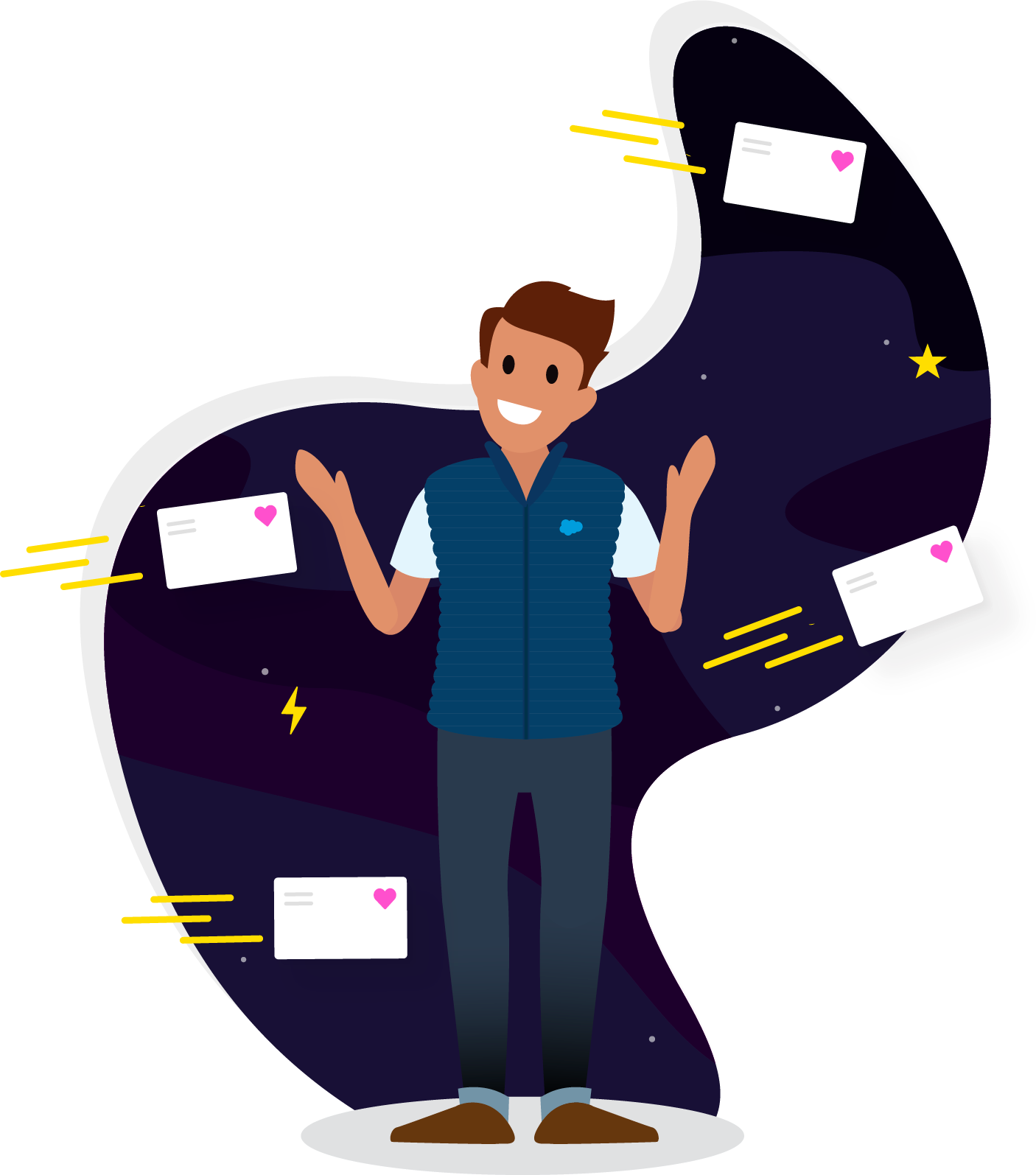 Now that you've covered the basics of sending email using Salesforce and NPSP, you're ready to consider tools to make Salesforce and email work even better together.
In this unit, we cover email automation, integration with other email clients, and tools to send mass emails.
Add Email Automation
Email automation helps you send messages automatically under the right conditions. Automation can be a useful tool for any organization, but not every message can be automated. 
A good candidate for automation would be an email that's sent from a template at a specific time or in response to a specific action. For example:
Fundraisers can automate gift receipts when a gift is entered in NPSP.
Program staff can automate welcome emails when someone they serve is enrolled in a program.
Volunteer managers can automate welcome and orientation emails to new volunteers.
For example, imagine your organization has an engagement plan in NPSP that automatically assigns tasks to someone on your team when a volunteer completes an advocacy training workshop. The first task in the engagement plan is to send a follow-up email with resources to help the volunteer use what they learned in the workshop. You already have a template set up for these messages, but a staff member still has to manually send the email.
Wouldn't it be great to have those messages sent automatically?
Work with your team and Salesforce admin to identify and automate emails like these.
Connect Gmail or Outlook to Salesforce
While you can send messages through Salesforce, that might not be the first place your staff goes to compose an email.
Fortunately, your Salesforce admin can integrate Salesforce with Outlook and Gmail, so everyone on your team doesn't have to go back and forth between their inboxes and NPSP. 
When your Salesforce admin integrates Outlook or Gmail with NPSP, you can access Salesforce data inside your inbox. The integration helps everyone send messages from Gmail or Outlook, with the addition of Salesforce email features such as templates, quick text, and tracking email history on the Activity timeline of a contact record.
When your email is integrated with Salesforce, you can also:
Send emails to multiple contacts, opportunities, and other records.
Create records for Contacts, Accounts, Opportunities, and other objects, including custom objects.
Search existing Salesforce records.
Connect nonrecurring calendar events to multiple Salesforce contact records and other records that use tasks or email messages.
Sync contacts and events. (Check the Resources section for more information on limits of syncing event attendees and event attachments with Gmail and Outlook.)
Your inbox looks more or less the same as before, with the addition of a new pane for Salesforce records relevant to your messages.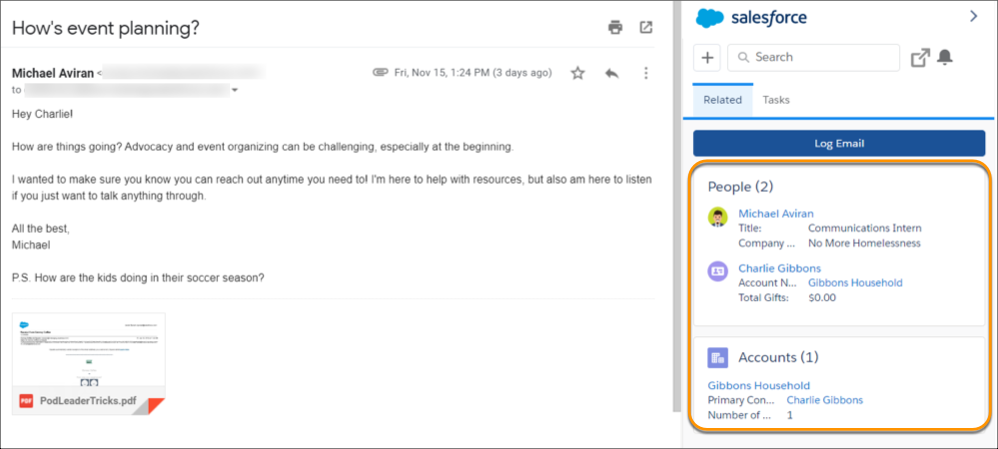 Add Marketing Cloud Engagement for Industries and Other Tools
To go further with your email communications, consider adding a Salesforce or third-party tool for managing mass email.
Mass email tools have features that extend what Salesforce offers for sending small group emails. Those features include detailed reporting on click-through, open rates, and other fun stuff for marketing professionals.
Sign in to the Trailblazer Community and visit the App Advice and Consumer Reports group (linked in the Resources section) for more information on sending mass emails, including recommendations and reviews on third-party tools. 
If you're interested in developing larger, more advanced email campaigns, we've got you covered with tools like Marketing Cloud Engagement for Industries. (Check out the Trailhead badge linked in the Resources section.)
In this module, we've given you the foundation to manage basic email needs in Salesforce, and the tools and skills to start sending email today. Be sure to check out the additional Resources to take the next step on your journey.

Now get out there and compose some messages!
Resources