Skip to main content
Meet Jesse, 4x certified nonprofit Trailblazer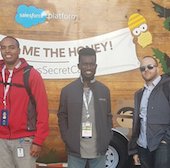 Trailhead is the great equalizer. People are coming to Salesforce from all walks of life and, no matter your background, if you dedicate the time to learn the platform, you can!
When did you first learn about Salesforce?
I learned about Salesforce when I joined Vera Solutions, a nonprofit organization here in Cape Town that works towards providing digital solutions for social change. I try to stay pretty up to date on tech trends but somehow Salesforce had slipped under my radar. It took me approximately 15 seconds to fall in love with Salesforce, that's how long it took me to find the setup button.
When did you start learning on Trailhead? What makes you come back?
We use Trailhead a lot where I work and my teammates are the ones who shared it with me. Trailhead satisfies my constant desire to learn more and learn more deeply about Salesforce. What's awesome is being able to pass on what I've learned so easily because of Trailhead. You'll often hear me say, "there's a trail on that..." or "here's a link to a module that explains that so clearly." I love the autonomy that Trailhead gives me to learn what I want, when I want. I also love that it allows me to easily share and teach others what I've learned.
Were you always interested in giving back to your community through a nonprofit?
I've always been interested in giving back. Whether that was through a nonprofit or general community action, its always been important to me to be active in my community. From a young age my family instilled in me the golden rule of loving your neighbor as yourself and I've never been able to deviate far from it.
How does it feel to use technology to amplify the impact of the social sector?
All too often the social sector's use of technology lags far behind that of the corporate sector. Salesforce is helping to bring nonprofits up to speed and in some cases lead the way. When the technology is so powerful and flexible like it is with Salesforce, you know you'll be able to create a solution that fits like a glove. Knowing that I'm saving people time and making it possible for them to maximize the great work that they're doing is incredibly meaningful to me. Trailhead and Salesforce help me achieve this.
Which Salesforce accomplishment are you most proud of?
I have two projects that are close to my heart. First, in 2016, I was fortunate enough to work on a project with a
Force for Change grant winner
. We were able to help the organization revamp their existing Salesforce instance to better reflect their processes with offline data collection, Apex, Visual Force, and so much more! Another project I'm proud of was where I worked on a Lightning migration, NPSP implementation, and Community implementation. It was incredibly fulfilling to be able to leverage Salesforce to solve their complex needs without having to use heavy custom development and a bespoke CMS.
What motivated you to earn 100+ badges on Trailhead?
Earning over one hundred badges on Trailhead was never my intention. Sometimes in December of 2017, I began thinking and how I wanted my career to evolve, you know the usual New Years resolutions and all. I started to plan for the year ahead and I realized that Trailhead was this ready-made solution for a lot of my long-term goals. That's when I started setting resolutions to make time for Trailhead. As I take the
#JourneyToCTA
, I want to explore the breadth of the platform and gradually learn its depth. Trailhead provides a guided and clear way to do just that.
What is the Salesforce community like in South Africa?
South Africa has a growing Salesforce community. There are really cool organizations at all ends of the spectrum doing some great work on Salesforce. Of course, I'm most excited about the nonprofit users and the users that are also based in Cape Town. We recently held our first Nonprofit Success Pack (NPSP) day and it was one of the best attended globally. The opportunities to learn, build, and grow are HUGE here in Cape Town.
What does being a Trailblazer mean to you?
At Vera, we like to say "bring your full self to work." The short version is that we want to get to know who you really are and not just the worker in you. I think being a Trailblazer is being that person who isn't afraid to be their true self. They're community-driven, love to learn from, and share with, those around them, and they don't have to pretend to be anything they are not.
What message do you have for people that are reading your story and considering learning Salesforce skills?
Trailhead is the great equalizer. People are coming to Salesforce from all walks of life and, no matter your background, if you dedicate the time to learn the platform, you can! I strongly recommend taking your time, building a good foundation, and being curious. Let your curiosity drive your path. There's something on Trailhead for everyone.