Install Salesforce Development Tools
Learning Objectives
In this project, you'll:
Set up your Salesforce developer environment.
Create a Salesforce DX project.
Convert Lightning Web Components to the Salesforce Platform.
Use Apex to retrieve data from Salesforce.
Introduction
In this project you migrate a conference management app that was developed as a Node.js app with Lightning Web Components Open Source to the Salesforce Platform.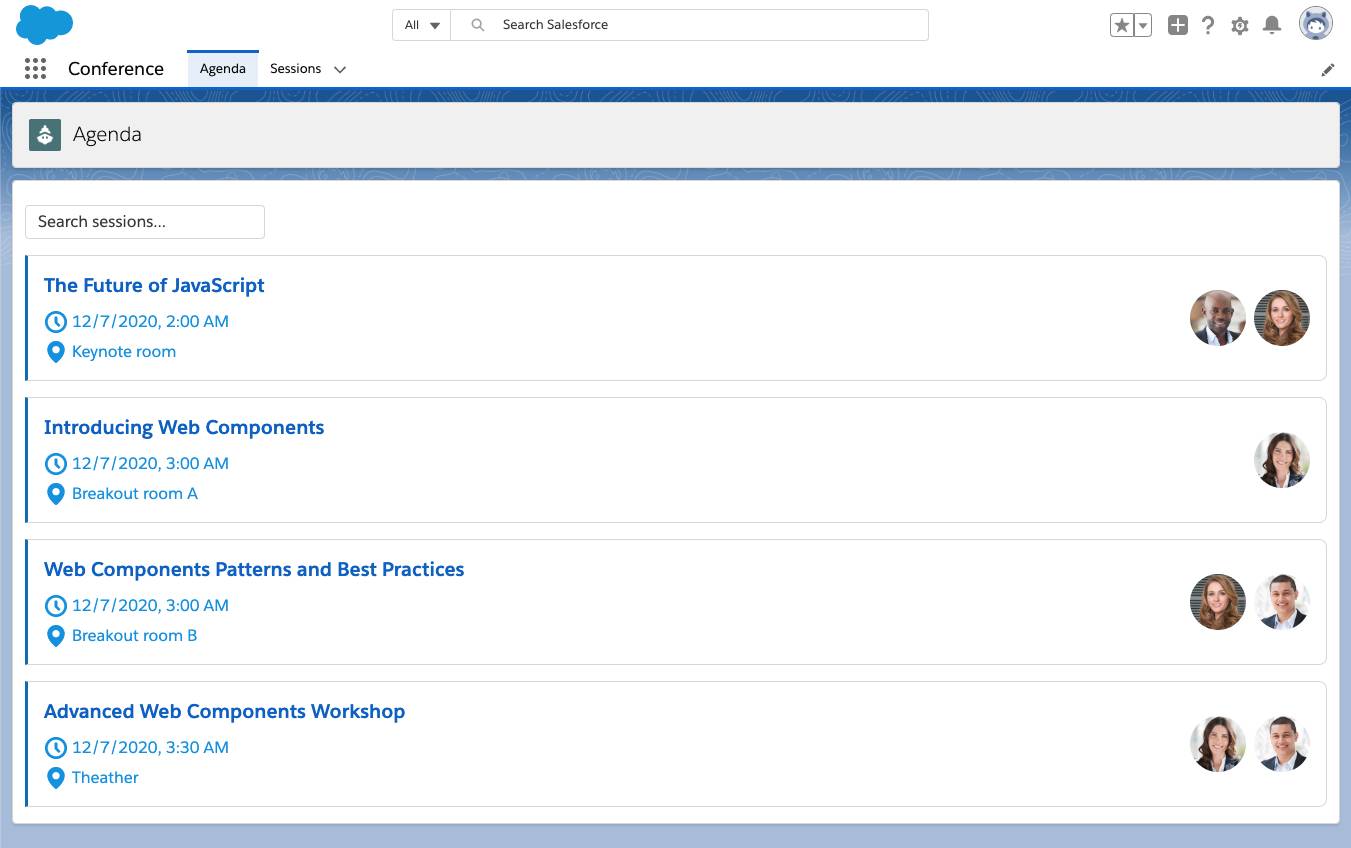 You will still use Lightning web components but you'll benefit from the set of powerful features that the Salesforce Platform adds on top of the open source framework. You'll see how implementing components on Salesforce offers more flexibility with declarative configuration options, and how it reduces the amount of code required to build an app.
Before You Start
Before you take the steps in this hands-on project, make sure you complete the Build Your First Application Using Lightning Web Open Source and Access Salesforce Data with Lightning Web Components Open Source projects. The work you do here builds on the concepts and work you do in those projects. 
Install the Command Line Interface (CLI)
In order to deploy Lightning Web Components to the Salesforce Platform, you need to install the Salesforce Command Line Interface (CLI). The Salesforce CLI is a command line interface that simplifies development when working with your Salesforce org. 
See the Salesforce CLI Setup Guide for complete installation instructions.
Install the CLI from https://developer.salesforce.com/tools/sfdxcli.
Confirm the CLI is properly installed and on the latest version by running the following command from the command line.


sfdx update

You should see output like sfdx-cli: Updating CLI....
Install Salesforce Extensions for Visual Studio Code
Visual Studio Code is the go-to code editor for Salesforce developers. It's free, open source, and available for Windows, Linux, and macOS. This editor has easy-to-install extensions for syntax highlighting, code completion, and more.

In this project, we install Visual Studio Code and the recommended Salesforce Extension Pack.
Download and install the latest version of Visual Studio Code for your operating system. If you already have Visual Studio Code installed, there's no need to reinstall it.
Launch Visual Studio Code.
On the left toolbar, click the  Extensions icon
Search for Salesforce Extension Pack and click Install. If you already have it installed, then just click the Reload button.
Now that you've installed Visual Studio Code and enabled the necessary extensions, you need to test them out.
In Visual Studio Code, open the Command Palette by pressing Ctrl+Shift+P on Windows or Cmd+Shift+P on macOS.
Enter sfdx to filter for commands provided by the Salesforce Extensions. As you use more SFDX commands, those commands will show up in the recently used panel.

Nice job! You set up your Salesforce development environment. In the next step, you create a new project and start building the application.
We won't check this step. Click Verify Step to go to the next step in the project.