Increase Student Engagement with Education Data Architecture
Learning Objectives
After completing this unit, you'll be able to:
Identify the elements of EDA that support student engagement.
Give an example of how custom apps meet the unique needs of educational institutions.
Many educational institutions can relate to the challenge of having a wealth of student data without a centralized way to use it to manage student engagement. Salesforce.org Education Cloud provides solutions that enable schools to increase productivity and student engagement, coordinate efforts across multiple departments, and adopt a more data-driven culture that more effectively ensures student success.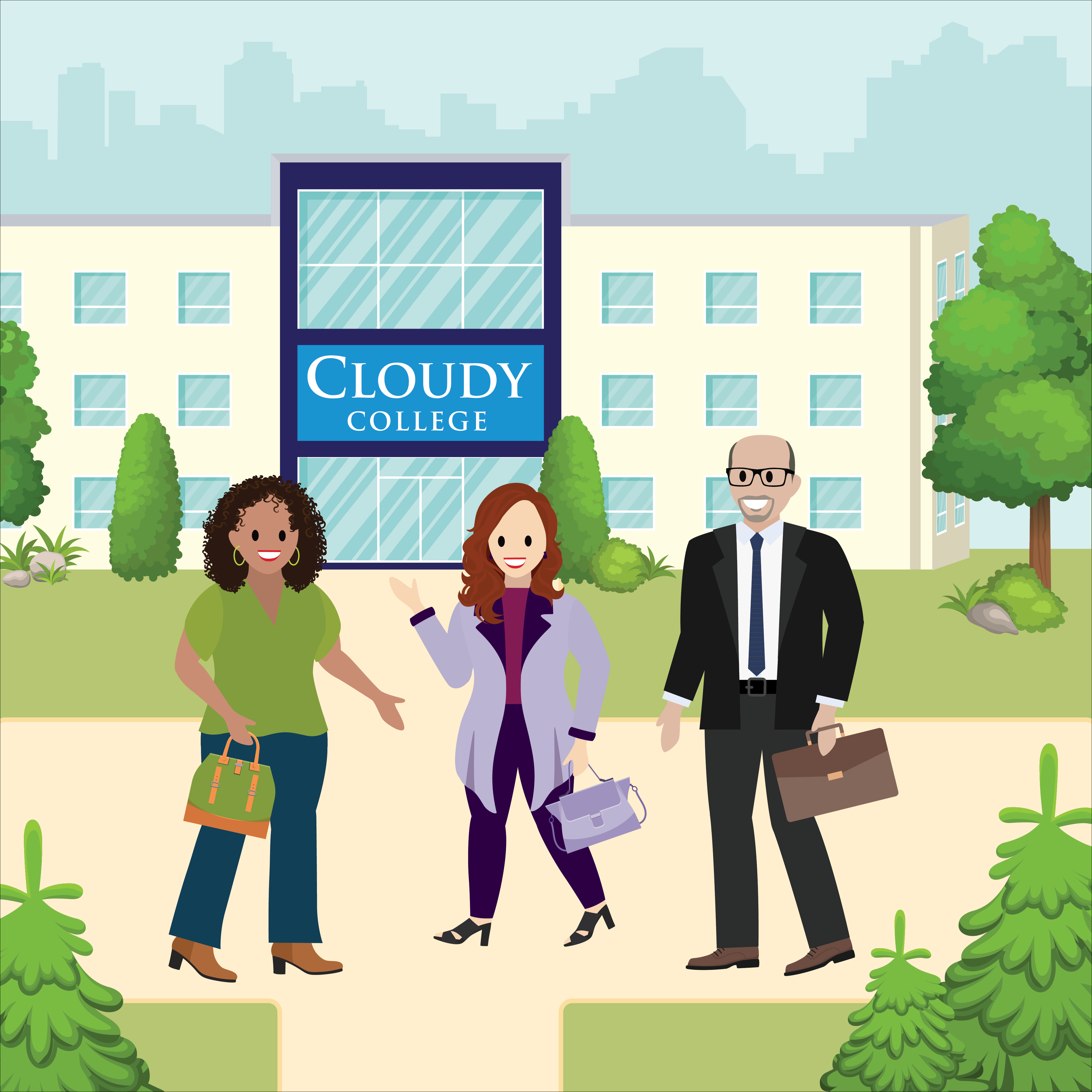 In this module, we see how various staff who engage with students at Cloudy College use Education Cloud to maximize their efforts. Here's a bit of background on the college and an introduction to a few Cloudy employees who work with students.
Cloudy College is a (fictional) private, co-ed liberal arts college in the Northwest United States. Cloudy recently enrolled more than 3,800 students for their fall semester.


Valerie Keckler is an academic advisor in the School of Health and Human Sciences. She helps currently enrolled students explore academic and career interests, monitors student academic progress, and supports student retention by working with at-risk students and recommending appropriate action and resources. She reports to Cloudy's Director of Academic Affairs, Thomas Caldwell, who you learn more about in the next unit.


Kathy Johnson is the college's Director of Career Services. She manages the career services staff and oversees all career counseling programming to ensure that students have access to top-tier resources for career exploration, career readiness, and career opportunities.
Let's take a look at how Education Cloud empowers staff like Valerie and Kathy to support engagement with the students of Cloudy College.
EDA: The Foundation of Education Cloud
We can't talk about Salesforce solutions for student engagement without talking about Education Data Architecture (EDA). EDA is the foundation of Salesforce.org's Education Cloud. It allows you to customize your institution's org to meet the specific needs of your student engagement staff. EDA delivers pre-configured objects and automation specific to education to enable you to answer key questions about members of your campus community: who is this person, where are they coming from in their educational journey, where are they going, what are their interests, and who are they interacting with?
Because EDA is a data architecture and not a product, institutions have the power to customize a solution that is personalized to their unique needs and processes. If you haven't taken the Education Data Architecture Basics module, it's a good idea to review it for a deeper dive into the architecture. For now, let's take a look at some EDA highlights that are particularly exciting for student engagement teams.
Get a 360-Degree View of Students with Relationships and Affiliations
Having a 360-degree view of a student means truly understanding their daily life and having insight into the various ways that they're engaged with the institution. While staff who engage with students always aspire to know each of their students well, it can be almost impossible for a single advisor to remember this level of detail about each and every student they work with. That's where Salesforce relationships and affiliations offer support.  
Relationships and affiliations are both standard EDA objects that contribute to a complete view of a student. Relationships in EDA display contact-to-contact connections. When you create a new relationship, you can define the type (friend, parent, spouse, and so on) and its status (current or former). And each time you create a new relationship in EDA, Salesforce creates a reciprocal relationship, representing the same relationship in the other direction. We'll show you how this looks in practice in just a moment.
Affiliations reveal connections between a contact and another account. In EDA, groups like sports teams, clubs, academic departments, and outside institutions where students may work or volunteer are represented as accounts. You connect these various accounts to contacts through affiliations. Let's take a look at how academic advisor Valerie Keckler uses Salesforce relationships and affiliations while working with students.
Philipe Jones, a first-year student at Cloudy College, schedules an appointment to meet with his advisor, Valerie. When Valerie sees that one of her advisees has made an appointment with her, she pulls up his contact record in EDA. Instantly, Valerie can see via relationships that Philipe has a cousin who is also currently enrolled at Cloudy. When she reviews his affiliations, she can see Philipe is majoring in Kinesiology and he's a member of the Cloudy swim team. Affiliations also show that Philipe volunteers at the local rec center where Valerie knows he teaches swimming lessons to kids who attend after-school programming there.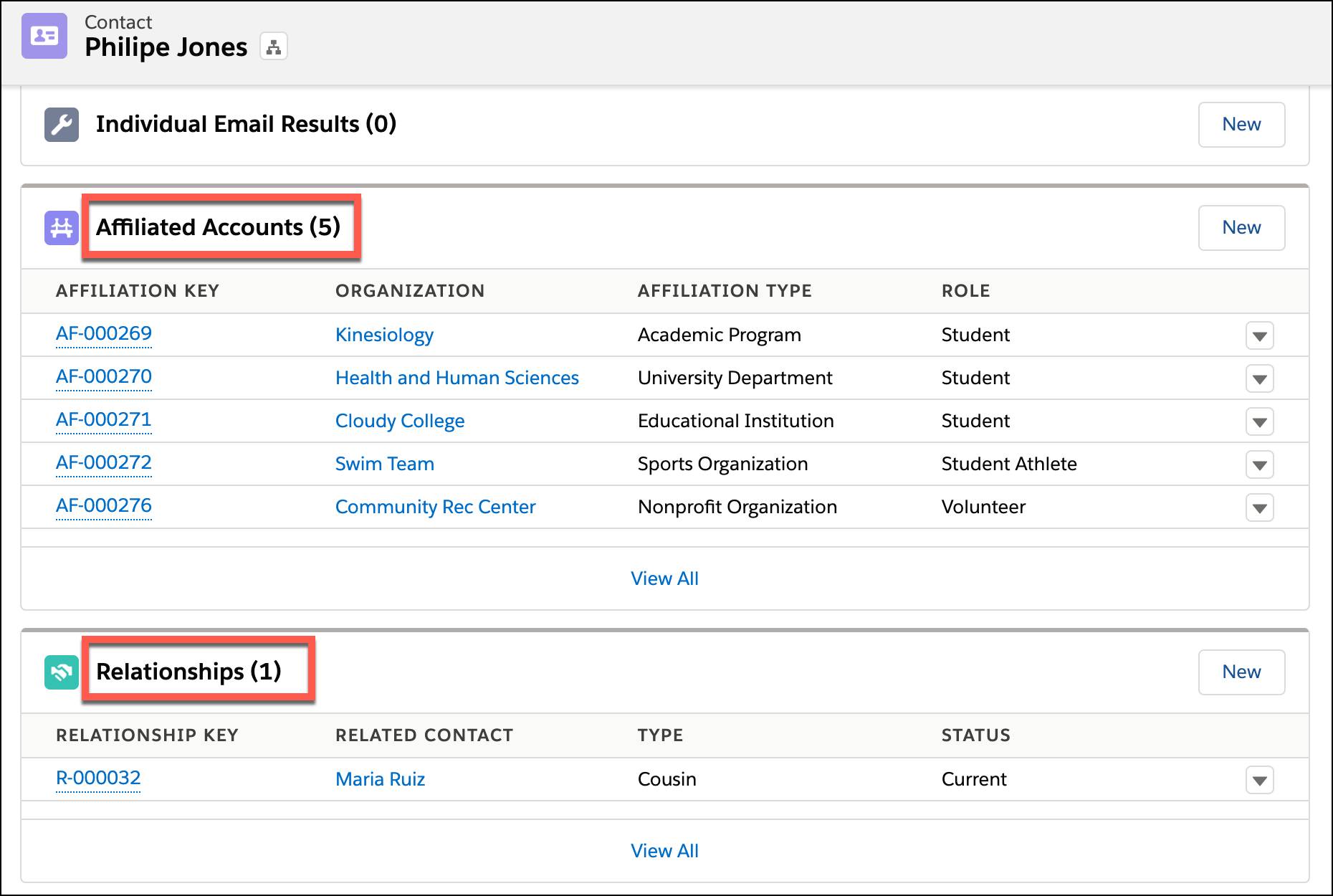 Valerie has met with Philipe a few times and she knew much of the information in his contact record through the relationship building she does every day in her role. But seeing it all in one place is valuable in her preparation for her appointment with Philipe. It will inform her advising strategy when it comes to questions he may have about time management, course selection, and scheduling, as well as connections she can provide to additional campus resources. With this 360-degree view of her students, Valerie can provide the personalized service her advisees expect, in a way that is manageable and supportive of her as a professional.
Create Custom Apps for Specialized Service
The duties that fall under the purview of student services run the gamut—from career counseling to registrar, academic advising, financial aid, and so on. Because the work is so varied, custom apps can help different advisors and staff best use Salesforce to serve students. 
In Salesforce, an app is a collection of items that work together to serve a particular function. You can include items such as standard objects, your org's custom objects, an app-specific Home page, and more. Custom apps can be created to serve many different purposes and can work for any team. Let's look at an example of one way custom apps are being used at Cloudy College. 
Unlocking access to careers is a key aspect of the experience an institution provides its students. As the Director of Career Services at Cloudy College, Kathy Johnson and her team work tirelessly to connect the dots between students and the careers and companies that are the best fit for them. The career services team leverages the power of Salesforce in several ways; one of which is by creating custom apps to bring as much efficiency to their efforts as possible.
Kathy wants to create an app for her staff that will help them better serve students who reach out to the office for guidance. After meeting with her staff to discuss their needs, she collaborates with a Cloudy Salesforce administrator, Nina Brown, to start work on the Cloudy College Career Services custom app.
In order for a custom app to be a success, staff, leadership, and the Salesforce administrator all need to be on the same page about app requirements before they begin building.
In this chart, we provide examples of some key questions to ask and answer before your team begins creating a custom app. Take a look at how the responses from Kathy's team allow Nina to translate their requirements into Salesforce functionality that works specifically for them.
| Custom App Requirements Questions | Responses from Cloudy's Career Services Team | Salesforce Functionality |
| --- | --- | --- |
| What objects or records are accessed by users every day? | Staff access calendar items to keep track of events and appointments; they also refer to student and recruiter records. | Activity & Contact Objects |
| What are the metrics that guide user  training or preparation? | Staff need to to report on which majors are seeking help, which recruitment partners are most successful, and which careers students are most interested in. | Reports & Dashboards |
| How is success defined? | Success is defined by the number of cases closed (student meetings/questions) per month, number of career-related workshops they lead, and number of recruitment contacts they bring in. | Reports & Case Object |
| What resources are available to support the staff's  interactions with students? | Counselors use Cloudy's Knowledge base to reference up-to-date processes and answers. | Knowledge & Communities |
| Are there pain points in our current processes that we want to alleviate? | Bottlenecks at certain times of year (beginning/end of term); low visibility into case closure benchmark and which metrics are reviewed by leadership. | Dashboards |
| Who will have access to this app? | Career staff and Kathy (Director of Career Services) will have access. | Org-Wide Defaults, User Permissions, & Profiles |

The final product of this requirements building exercise is a custom app that centralizes the Salesforce components this particular career services team uses daily, making their work more efficient. When your team is ready to start working on its own custom app, use the app requirements questions in this chart to guide your planning and building process.
With the combination of the out-of-the-box power of EDA and personalized solutions like custom apps, Salesforce enables institutions to meet the needs of students and the staff that work so hard to ensure their success.
Resources