Learn Pardot Administration Basics
After completing this unit, you'll be able to:
Access and describe Pardot account settings.
Set up users.
Configure Log In with Salesforce.
Set up custom prospect fields.
Connect Twitter to Pardot.
Meet Leung Chen, the Marketing Manager at Cloudy Consulting. She's been tapped to implement Pardot at Cloudy Consulting thanks to her great performance review last quarter. She's got lots of experience organizing in-person events and client nurture programs and is ready to bring those skills to Pardot! She will be the Pardot Administrator.
Leung's first task is to get under the hood of Pardot and review her account settings. Pardot account settings contain all sorts of helpful information for administering your Pardot account and are a natural place for Leung to start exploring.
Let's take a stroll through account settings and check out some features along the way.
1. Click

and select Settings.
Here you see your account information as well as the contact information for the person who is notified about changes to Pardot. The Product and Service Notifications table in your account settings lets you choose different points of contact for each type of notification. See more information about account settings in the Account Settings Reference.
2. Click the Usage and Limits tab.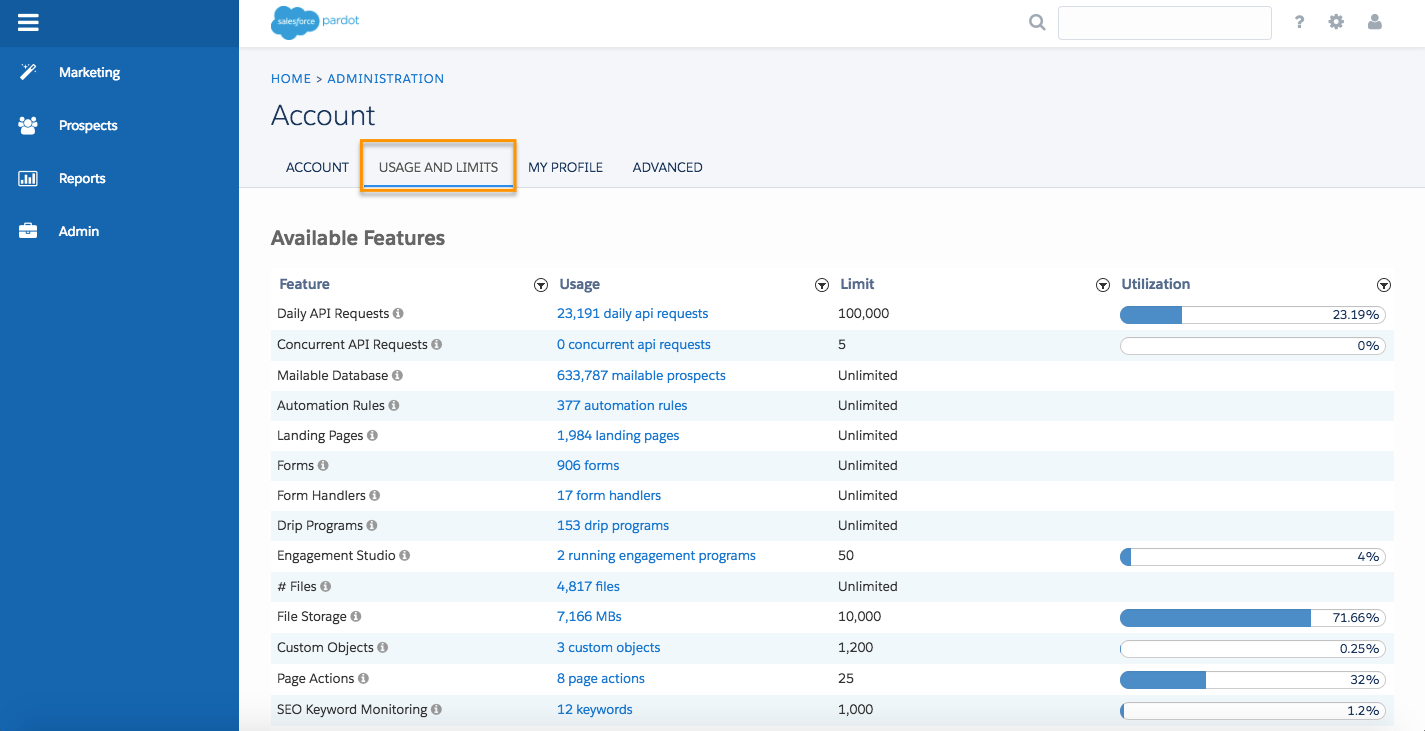 This list shows all your account's available features, usage, limits, and utilization (if applicable).
3. Click the My Profile tab.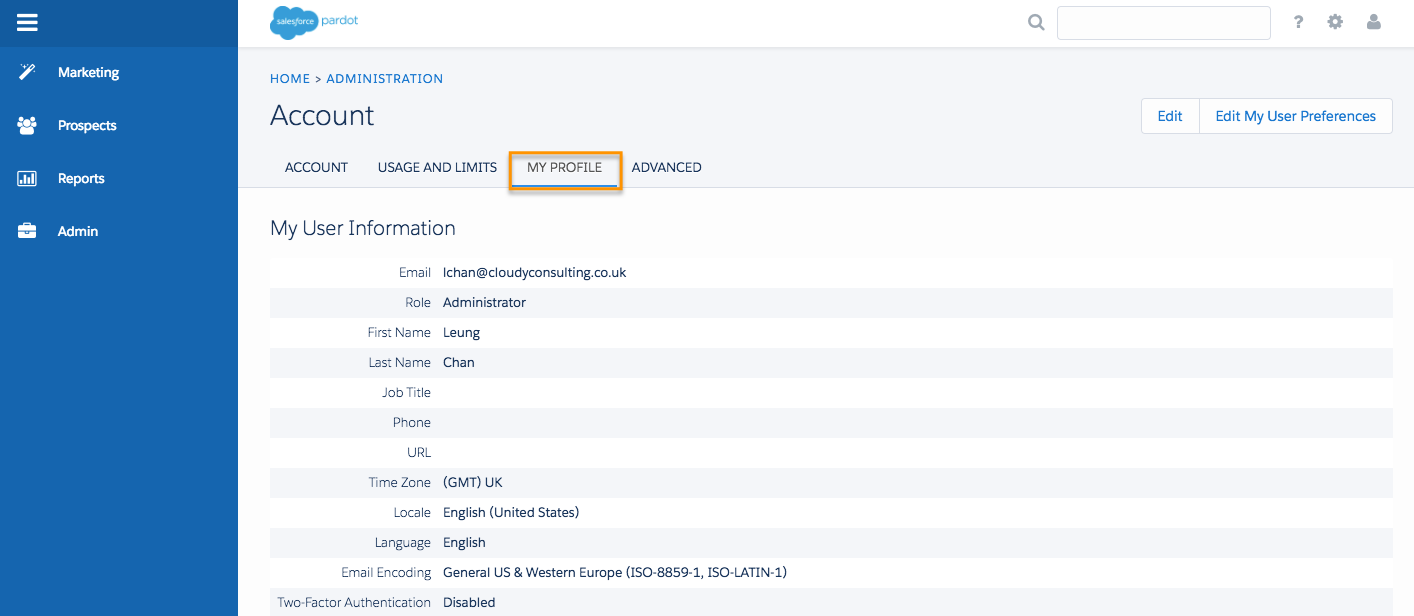 This tab shows your profile information and user preferences. Click Edit to make changes to your user information. Click Edit My User Preferences to make changes to your email and app preferences.
Leung is highly in demand at Cloudy Consulting, so she's juggling a lot of projects. She wants to add one of her teammates to Pardot as a user to help her manage this account. The Cloudy Consulting marketing team has several content creators and Leung's tapped one to help with Pardot. She wants to give them the Marketing role, one of Pardot's default user roles. Every Pardot account comes with four user roles: Administrator, Marketing User, Sales Manager, and Sales User. This makes it easy for Pardot Administrators like Leung to create new users and grant them the correct permission sets.
Let's look at how Leung creates a new Pardot user with the Marketing role.
Navigate to Admin > User Management > Users.
Click + Add User.
Enter the user's first and last name.
Enter the user's email address. The email address must be unique across all Pardot accounts.
To send an activation link to the user, select Send Activation Email. This email prompts the user to choose a password and security question. The activation email expires after 48 hours.
Select the Marketing role.
When finished, click Create user.
Pardot comes with a large number of ready-to-use default fields, but you may need to capture other types of information. For example, you may have some fields in Sales Cloud that you want to also have in Pardot, and then sync the data between the two systems. To do this, you'd activate your Salesforce connector, and then create a custom field in Pardot for each Sales Cloud field you want to relate to each other. Custom fields are available across all your Pardot forms, automation and segmentation rules, and dynamic lists.
Leung is planning a client event and needs to create a custom field at the prospect level to record RSVPs, but does not need to sync this information back to Salesforce. She'll use the responses later to send out thank you emails.
Navigate to Admin > Configure Fields > Prospect Fields.
Click + Add Custom Field.
Enter the RSVP into the Name field.
Leave the Custom Field ID as automatically generated.
Leave Sync Behavior as-is. For a full list of field settings, see the Prospect Field Settings Reference.
To limit responses, change the field type to Radio Button.
Under Values, enter the following values for the field:

Yes, I'll be there!
No, I can't come. 

When finished, click Create Custom Field to save your new field.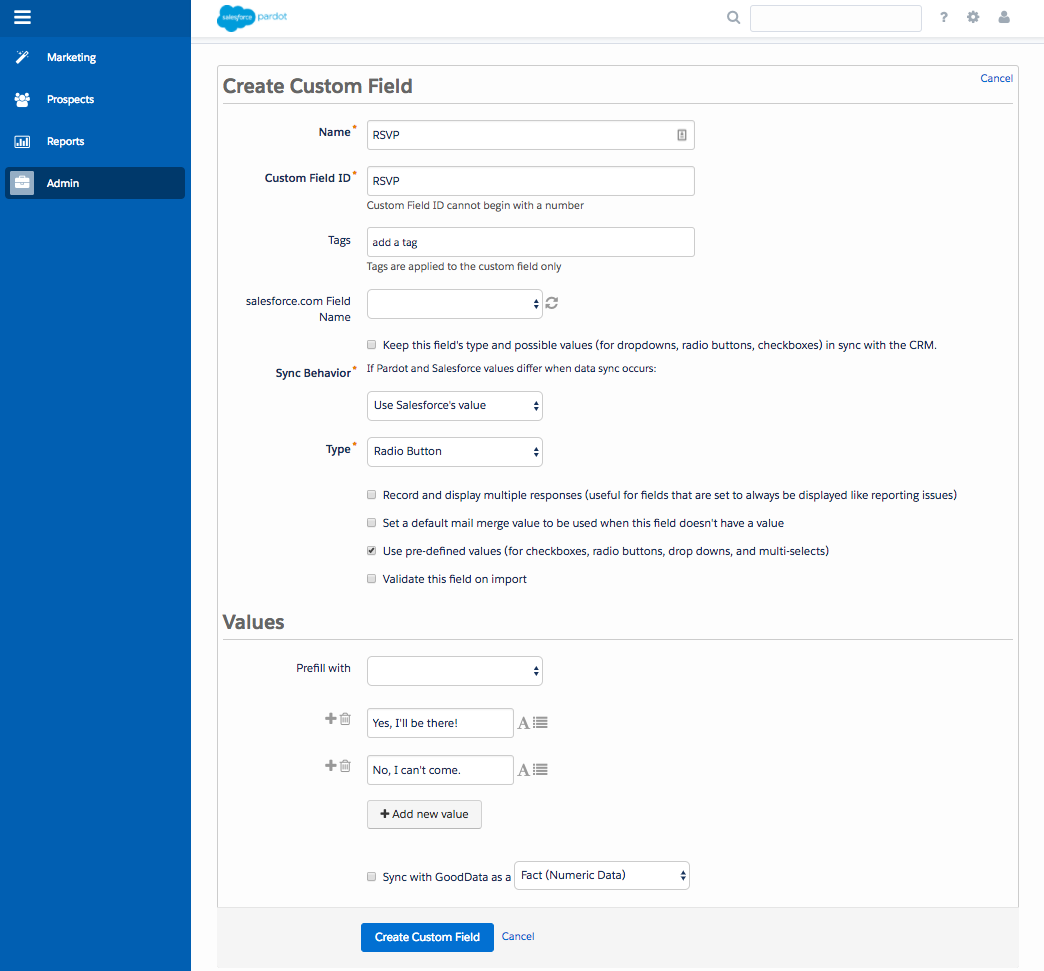 This section is for those of you who use both Sales Cloud and Pardot. We're about to make your life a whole lot easier and show you how to log in to Pardot with your existing Salesforce credentials.
Log In with Your Salesforce Credentials
From the Pardot login screen, click Log In with Salesforce.
If you don't have a live Salesforce session, you'll log in to the Salesforce org.
Click Allow to give Pardot the rights to read data from Salesforce.
Enter your Pardot username and password to verify that you have access to your Pardot account and click Log In.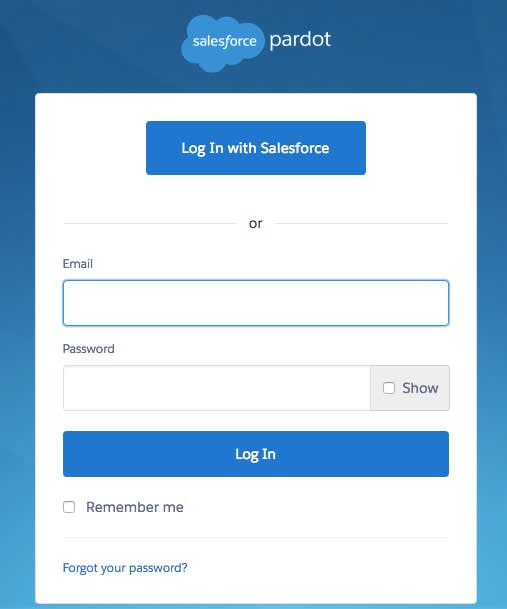 Pardot is great on its own, but it's even better when integrated with other products. You can extend Pardot's reach to other third-party applications you already use.
Back at Cloudy Computing, Leung's been working on her marketing strategy for her upcoming client event. Cloudy Computing has a strong social presence, including a popular Twitter account. Leung's plan is to connect the Cloudy Computing Twitter account to her Pardot account so she can manage posts and track impressions all from within Pardot.
Let's set up a Twitter connector in Pardot.
Navigate to Admin > Connectors, and click + Add Connector.
Scroll to Social Posting Connectors, and click Twitter.
Click Create Connector.
You'll be redirected to Twitter to log into the account you want to connect.
After the connector saves, click verify now. You will be taken to permissions screens in Twitter.
Click Authorize app.
Click Save Connector.

Throughout this unit, you've helped Leung get set up as a Pardot administrator. You've created a new user, created a custom field, set up Log In with Salesforce and added Twitter as a social connector in Pardot. All in a day's great work!