Learn about the MuleSoft Catalyst Delivery Methodology
Learning Objectives
After completing this unit, you'll be able to:
Describe the six playbook paths.
Explain how MuleSoft Catalyst redefines the IT operating model.
Accelerate Outcomes with Playbooks
Let's dive deeper into MuleSoft Catalyst to understand the methodology and approach that we have developed to enable MuleSoft's customers to succeed. Building on the concepts of identifying business outcomes, enabling the organization, and delivering technology, MuleSoft Catalyst pillars are further broken into six paths for users to follow: Business outcomes, Anypoint Platform, Projects, Center for Enablement (C4E), Internal support, and Training. 
Each path has been codified into a rich playbook—a step-by-step guide containing best practices to accelerate customer success. For each of these six playbooks, we follow a consistent approach to planning for success, establishing the foundation, building to scale, and measuring impact to ensure the customer is achieving the desired outcomes.
Six Paths to Follow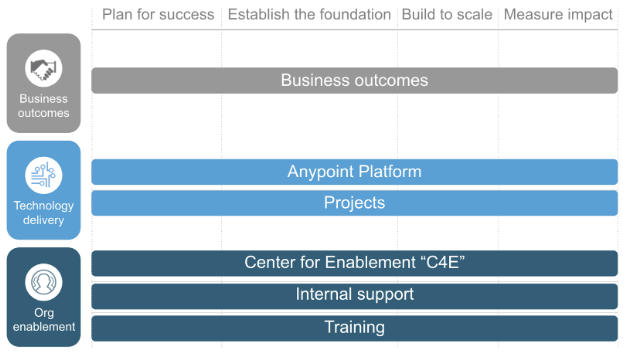 Customers start with a vision, identify quick wins, and establish the overall program based on the desired business outcomes. For example, the Business Outcomes playbook contains information about how to identify and measure outcomes and align them to KPIs and stakeholders. The Anypoint Platform playbook and Projects playbook demonstrate the path to operate MuleSoft's Anypoint Platform. The C4E playbook enables organizations to maximize their results through best practices, reuse, and self-service. The Internal Support playbook helps customers build support models for projects involving Anypoint Platform. And finally, the Training playbook shows customers how to use enablement resources to provide training and certification.
The following is an example of the Center for Enablement (C4E) playbook.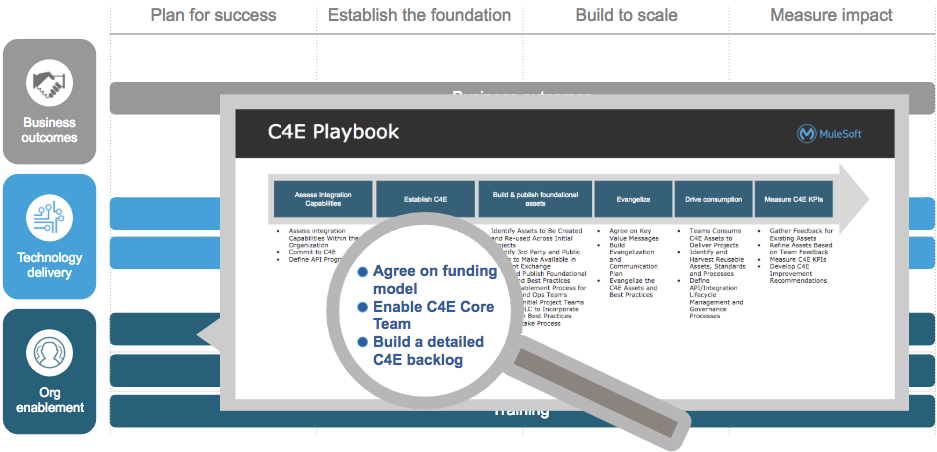 Each of the six playbooks contains a set of best practices, broken down as a set of recommended activities and steps to enable organizational success. When a customer employs these playbooks, they can be on their way toward achieving their desired business outcomes.
MuleSoft Catalyst Forms the Blueprint
The playbooks across the six paths can be summarized in an integrated blueprint, as seen in the following graphic. The blueprint serves as a template to track the success and achievement of each desired business outcome as customers mature in their API-led adoption and integration implementations. While the blueprint is comprehensive, you may find that only a subset of these playbooks are necessary at any given time, and that's OK. Whether executing the entire blueprint or only a few playbooks, MuleSoft Catalyst provides a path to drive the value across the entire organization in pursuit of the desired business outcomes.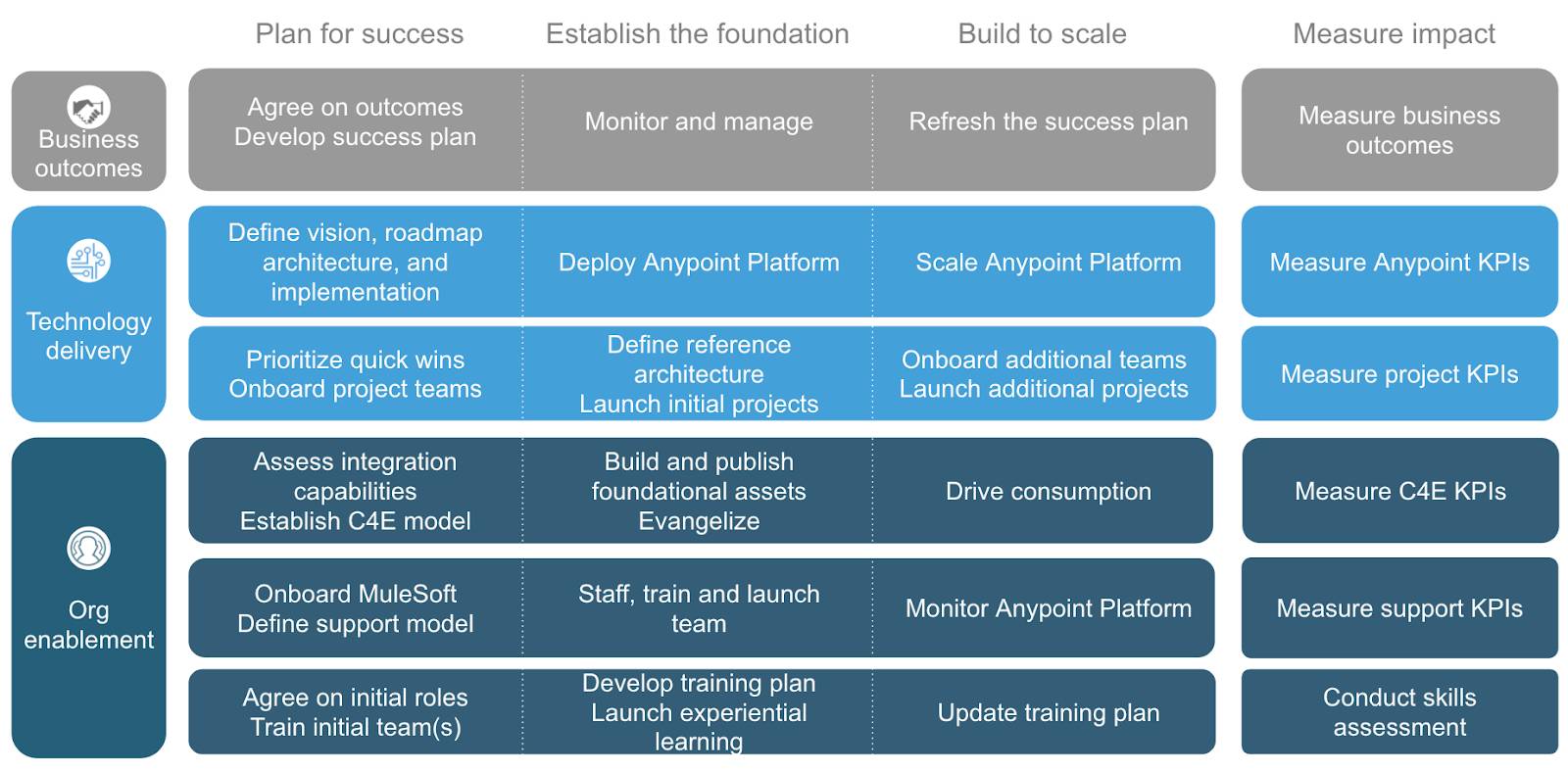 MuleSoft Catalyst Redefines the IT Operating Model
In a mature engagement, MuleSoft Catalyst drives success across every workstream, from starting initial projects, standing up a Center for Enablement, and providing training for ongoing success to as-needed advisory services from MuleSoft or our partner ecosystem to drive increased scale and agility.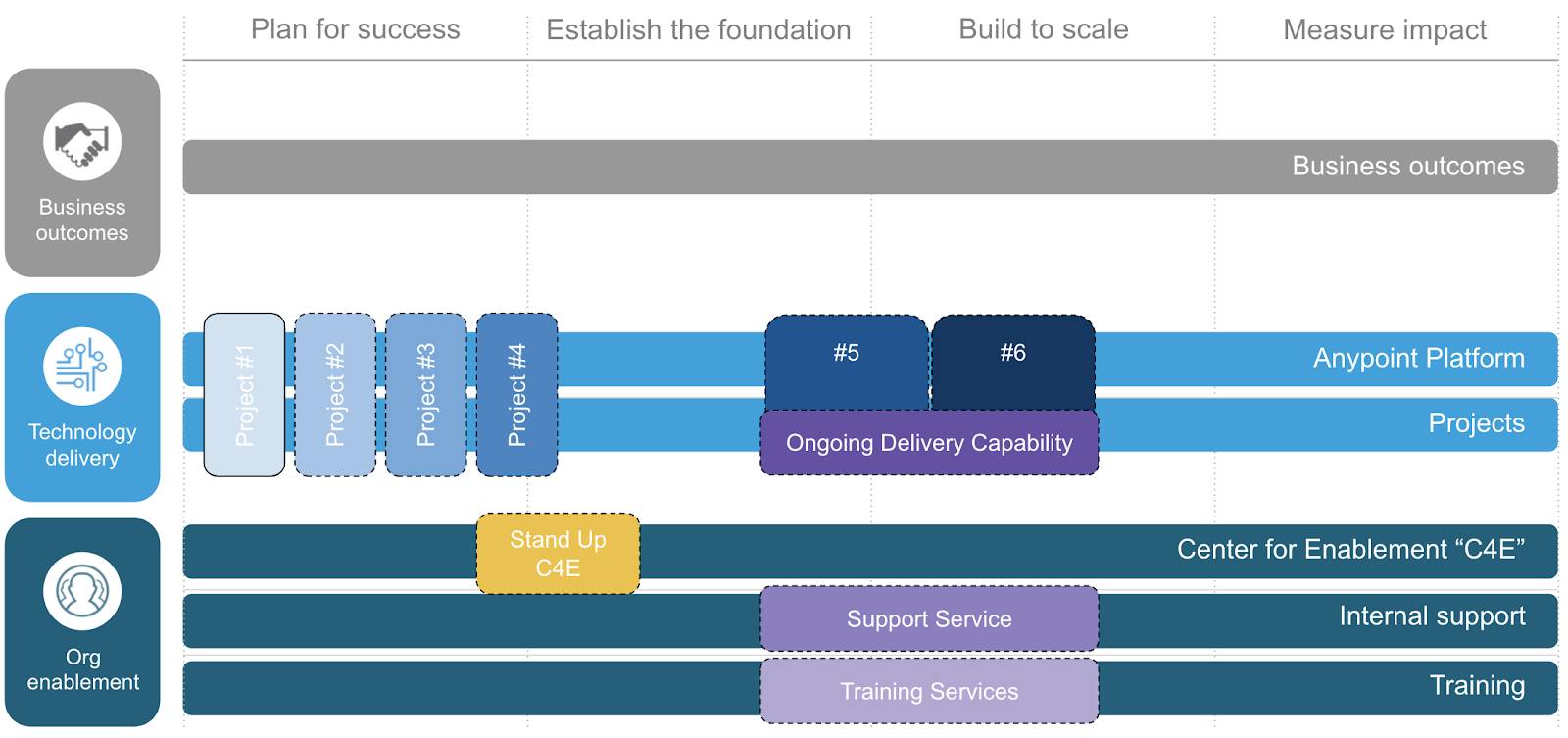 We all know that sometimes it takes a village, and MuleSoft Catalyst is no exception. Our approach is made possible through our strong ecosystem of cross-functional MuleSoft teams and experienced partners—all singularly focused on ensuring customer success. 
MuleSoft Catalyst can apply to both small, initial projects to connect a few systems together or to larger transformational programs. Regardless of the path chosen, MuleSoft Catalyst provides the approach and tools to deliver on the organization's requirements while providing a future-proof architecture that supports long-term business objectives.
Resources