Get Started with Catalyst Knowledge Hub
Learning Objectives
After completing this unit, you'll be able to:
Access Catalyst Knowledge Hub.
Browse and search content.
Download assets.
Access MuleSoft Catalyst
MuleSoft Catalyst is ushering in a new era for IT operations. If you're not already familiar with the Catalyst methodology, check out the MuleSoft Catalyst Playbooks module to learn more. Once you're ready to get hands-on, talk with your MuleSoft account manager to get access to Catalyst Knowledge Hub.
Navigate Catalyst Knowledge Hub
Once you log in, you see the MuleSoft's Catalyst Knowledge Hub—a collection of the most essential assets to deliver customer success. Whether you're starting a new project, in the middle of a large implementation, or offering post-deployment support, Knowledge Hub makes it easy to find the information you need, when you need it. 
On the homepage, you can find the page tree which comprises MuleSoft's three core pillars: Business outcomes, Technology delivery, and Organizational enablement. You can click each pillar to browse through its unique playbooks, steps, and relevant assets.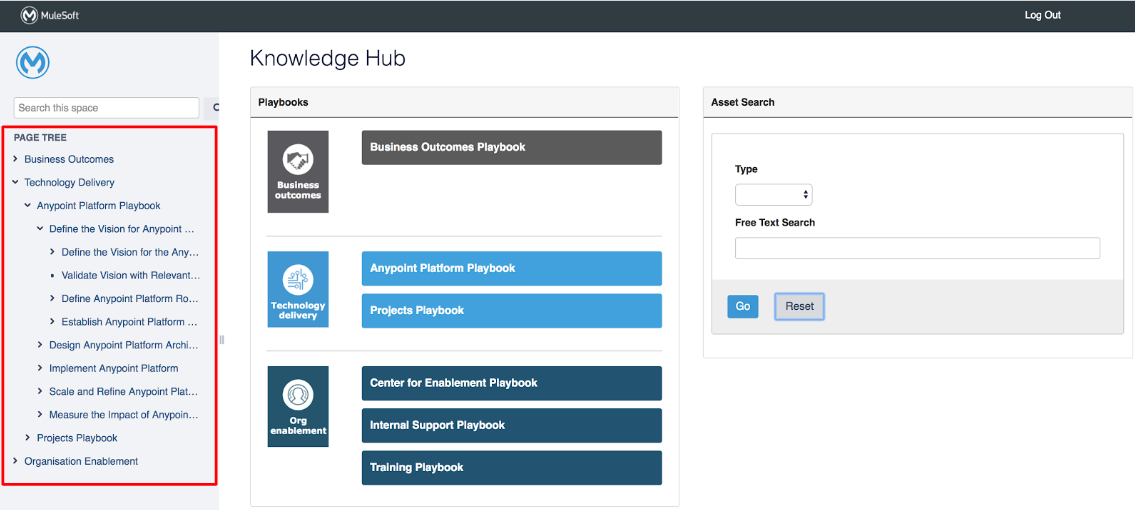 Search for Assets in Catalyst Knowledge Hub
Knowledge Hub has a wealth of information. You have the option to browse through content or search for specific assets that are pertinent to your needs. You can search Knowledge Hub in two ways: Use the search box or type in a specific asset in Asset Search. Let's take a look at each to understand its importance.
Search box [1]: Indexes all of the playbook taxonomy, including attachment content. Although you are not able to see the asset metadata directly in search results when using this search feature, you can access the metadata once you click into an asset. Asset metadata includes data such as the asset description, rating, deployment relevance, and other types of relevant data.
Asset Search [2]: Free-text search that filters within the asset list and its associated metadata [2]. Results are displayed at the bottom of the page for easy consumption.
Asset list [3]: Each asset in the list contains attributes that include steps, deployment relevance (Cloud, On-Prem, and Hybrid), and visibility (Internal, Partner, and Customer).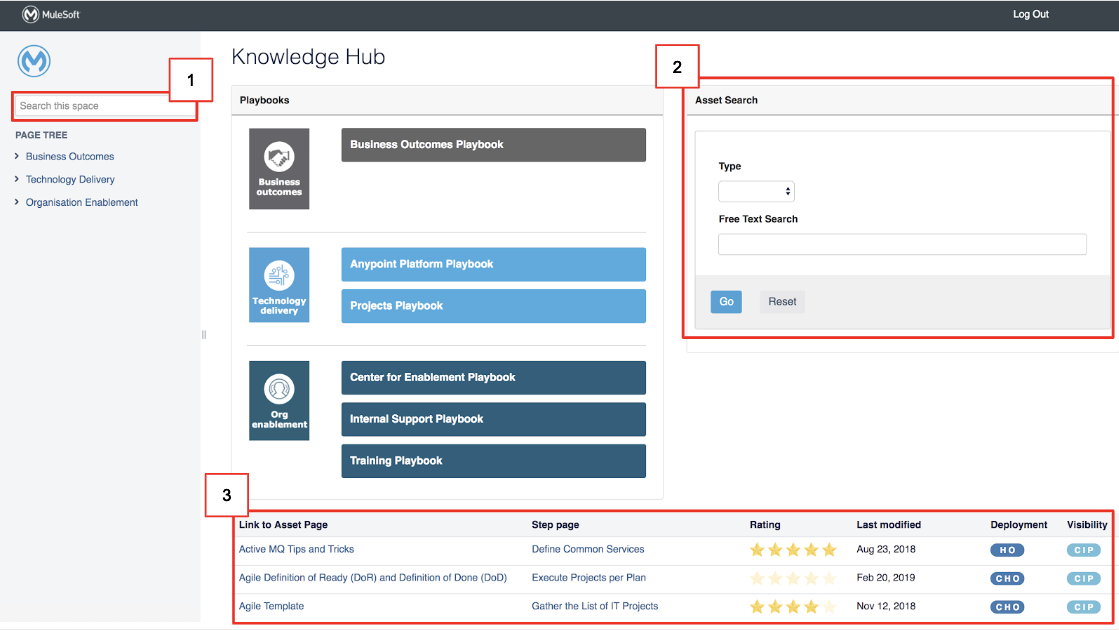 Interacting with Assets
Once you find the asset you're interested in, select it to access the Asset Detail page. Here you find the asset description, asset type (that is, Asset or Example), deployment relevance (Cloud, On-Prem, Hybrid), sharing permissions (Internal, Customer, Partner), and other relevant details (dates, asset rating, asset file, or link, and so on).  
There are a couple more actions you can take on this page.
Download or access the asset file by selecting the asset link [1].
Rate the asset and provide feedback [2]. Providing feedback ensures that the assets within Knowledge Hub are the most useful and relevant for your integration projects.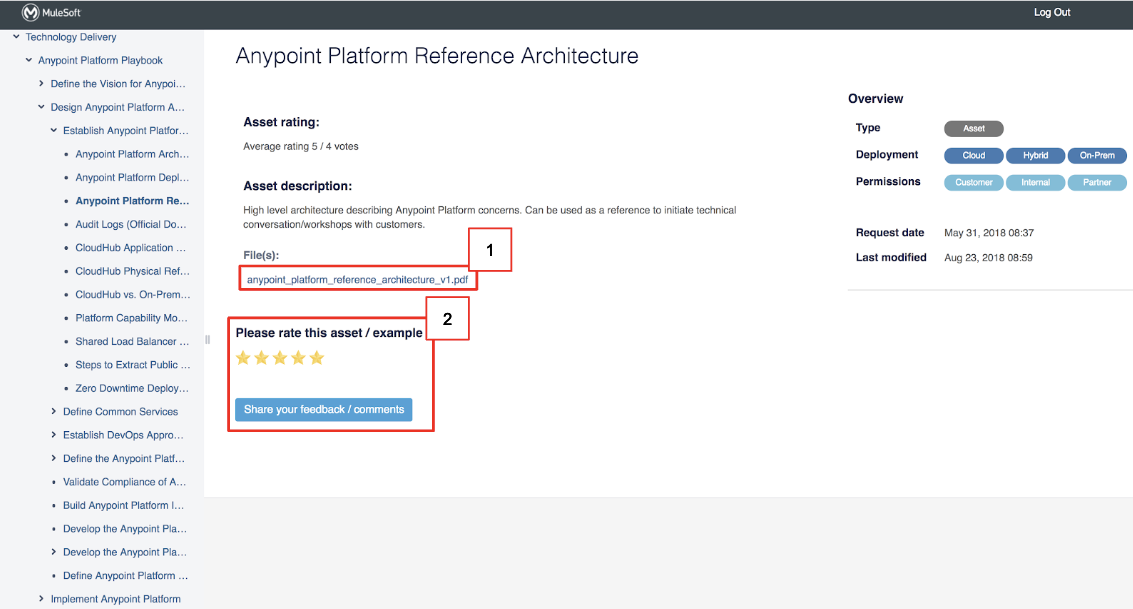 Now that you have a good understanding of how to access, navigate, and search for assets on Catalyst Knowledge Hub, let's dive into how Catalyst playbooks help execute the MuleSoft Catalyst methodology. 
Resources