Get Started with Recruiting Veterans
After completing this unit, you'll be able to:
Describe the types of work and rank structure in the United States Armed Forces.
Name some valuable experiences inherent to military service that translate well to civilian life.
Explain how the experiences of military service members benefit companies.
The branches of the military are a big part of the fabric of the United States, yet many people don't know what they do. So it's not surprising that many people in our industry think, "How in the world does military experience relate to tech? Is it really a good use of my time to invest in recruiting veterans?" The answer is a resounding yes! Veterans have great experience and incredible stories that easily match the traits and attributes of the best people you've ever recruited.
As the United States military involvement overseas diminishes, more than a million service members are expected to leave active duty by 2022. That's a million people who, at an early age, had valuable work experiences and are now trying to figure out what's next as they transition into the civilian workforce.
When you engage veterans in a conversational-style job interview, you quickly learn that they come from a highly skilled technical workforce and can bring incredible diversity of thought to an organization.
Let's start by getting to know the United States military forces. They consist of four branches.
Air Force
Army
Marine Corps
Navy
There's also the United States Coast Guard, which serves a law-enforcement function at sea. It isn't technically part of the Department of Defense, as the other four branches of the military are, but it's still considered a military service. In fact, during times of conflict, the Coast Guard becomes part of the Department of the Navy.

Military units work together. Joint operations are becoming more common and provide opportunities for military personnel to work with people from different branches. Military joint operations are like the internal preparations Salesforce makes for Dreamforce. People work on different teams, but they're all part of the same Salesforce Ohana focused on customer success.
Each military community is composed of specialists who work on teams of specific trades. These trades are broken into codes. Here are a few.
An army 31B, or member of the military police, has transferrable physical security skills.
You can bet a CS, or culinary specialist, from the navy can make a great chef.
A 6280 officer works with information sources and technology (IT).
If you want to geek out, search "military specialty code" online and look at the lists of job codes and descriptions for each branch of the armed forces.
The many different roles a member of the military can play are a great example of why conversational-style interviews are so important for veterans. Not only do you get the chance to uncover how military experience translates to success in the civilian workforce, you also get a glimpse into the terminology that the branches use to describe the various trades they include.
The product development teams at Salesforce are groups of individuals with different roles: engineer, product manager, UX designer, and so forth. They work together to complete a shared project.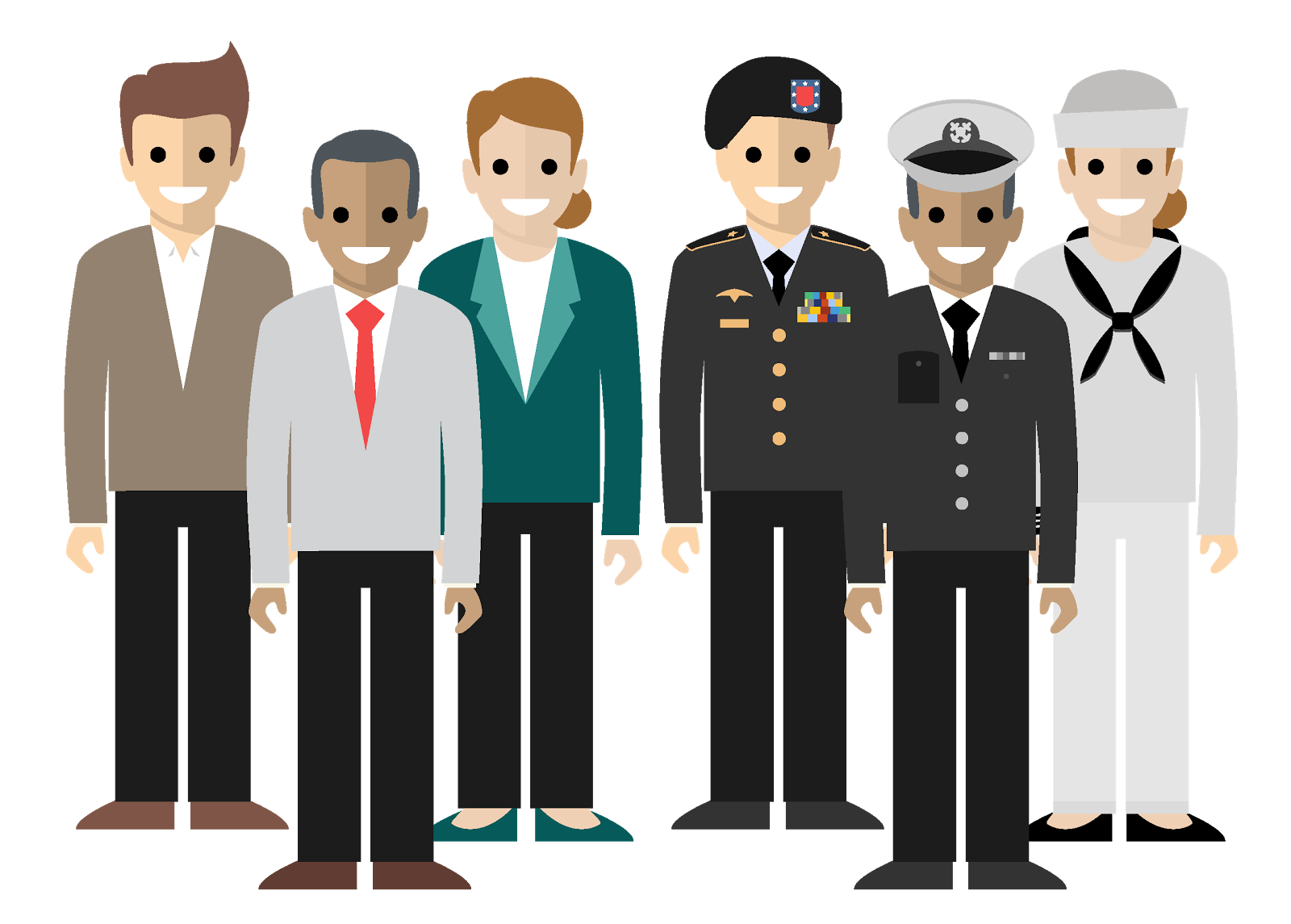 A military community is the same. It's a group of people with different specialties who are working together on the same mission. They can even have gone through the same training. Veterans have invaluable experience working in cooperative teams. They understand—perhaps like no others—the advantages that people with diverse skill sets bring to a project.
Some examples of military communities working with others on a shared mission include:
Navy SEAL teams supporting people in Texas affected by Hurricane Harvey.
Army cavalry brigades offering humanitarian aid in Djibouti.
Air Force cyber operations squadrons defending our allies against attack.
The branches of the military together have a population of about 1.3 million people. Of these, 20% are officers and 80% are enlisted. In most circumstances, officers have a college degree and become generalist frontline and mid-level managers early in their careers. Enlisted personnel frequently join the military directly after high school and typically focus on a specific trade early in their careers. They attend lots of specialized training and often work toward a college degree while in service.
Officers 
Here's a breakdown of some officer ranks and how they can translate to the civilian workforce.
| Military Rank | Examples | Responsibilities |
| --- | --- | --- |
| O-1, O-2 | First Lieutenant, Second Lieutenant, Ensign | Junior managers who typically lead teams of 10 to 20 people and have 1 to 4 years of experience |
| O-3, O-4 | Captain, Major (army, air force, marines), Lieutenant (navy) | Mid-level managers who oversee groups of junior officers and have 4 to 16 years of experience |
| O-5, O-6 | Lieutenant Colonel, Colonel (army, marines, air force), Commander, Captain (navy) | Senior managers who command large units or military programs and have 16 to 24 years of experience |
| O-7 through O-10 | General, Admiral | The military's most senior leaders, with 24+ years of experience and command of very large organizations or entire military branches |
Enlisted
Here's a breakdown of some enlisted ranks and how they can translate to the civilian workforce.
| Military Rank | Examples | Responsibilities |
| --- | --- | --- |
| E-1 through E-4 | Private, Private First Class | E-1 through E-3 are junior team members who have been through intense military training to become highly proficient in specialized skill areas. Once enlisted personnel reach the rank of E-4, they generally take on increased leadership responsibilities |
| E-5, E-6 | Sergeant, Petty Officer First Class | At the rank of E-6, the service member is typically a highly vetted subject matter expert with a reputation for great organizational skills |
| E-7, E-8 | Sergeant First Class, Chief Petty Officer | Senior enlisted personnel who guide junior officers through leadership challenges and serve as role models for new recruits |
| E-9 | Sergeant Major, Master Chief Petty Officer | Senior advisors to high-ranking officers and subject matter experts who often design large-scale programs and operations |
The common bond among today's military personnel is their desire to be part of something greater than themselves. Imagine a small team so deeply rooted in mutual respect that their commitment to one another goes beyond any mere financial gain.
Service members:
Voluntarily take an oath to support and defend the Constitution of the United States.
Prepare together for months before a deployment.
Willingly place themselves in harm's way.
These commitments intensify their sense of service and commitment to one another and their larger goal. They also draw veterans to initiatives where personal contributions are meaningful and important. If your organization is mission driven, that gives you a huge recruiting advantage with military veterans!
Service members, especially those who join right out of high school, experience big life moments at an early age. Many of them find that the military fast-forwards them through the early part of their adult life. They go places and do things that broaden their knowledge of what their country and the outside world look like.
When they leave the military, service members have had key experiences that any organization would value highly:
Leadership
Communication
Teamwork
Let's take a look at each of these.
Leadership
Leadership experience is common among veterans. Can you picture an 18-year-old in a leadership position? Maybe that seems jarring! But remember, service members' responsibilities increase over time, and each promotion they achieve brings them additional leadership training.
A lower-ranking sailor who's in the navy for 6 months is likely to be in charge of new recruits needing guidance about simple things like proper grooming standards and getting to formation promptly.
A technical expert with 10 years' experience as a naval nuclear submarine technician is personally responsible for other service members' careers and personal development in addition to their own technical "day job."
In just a few years in the military, a service member gains increasing leadership experience that is unusual for civilians at the early stages of their careers. And that can be an awesome asset to add to your workforce. Civilian managers who hire veterans find that this leadership experience is a great benefit because these veterans have likely already worked with higher-ups whose styles conflicted. Therefore they're good at balancing the needs of different managers.
Communication
Military veterans are effective communicators.
Small teams are typically divided among three or four geographic locations, and communication from one to another is critical.
It's common for a 20-year-old subject matter expert to brief an admiral with 30-plus years of experience.
A group of 10 ships with the same boss can be scattered across every ocean.
In many military scenarios, leaders must communicate effectively in a way that makes their intentions clear, yet also allows wiggle room for their team to get the job done. In turn, each team member must communicate effectively to keep leadership informed and the team operating smoothly.
Teamwork
Speaking of teams, veterans make great teammates.
In a small unit of 10 or 20 people, only a couple have the same specialty, making everyone's role crucial.
If an army platoon expects to accomplish its goal, the unit relies on a communication expert, a medic, supply and logistics professionals, and a senior enlisted person who has "been there, done that."
Navy SEAL teams and other special operations units always deploy with a wide range of support personnel, from bomb disposal experts to mechanics to intelligence officers.
Software development teams bear a striking resemblance to this military environment: Groups of functional experts work in unison to create production code and deploy software. Veterans thrive in these types of groups, knowing that their individual contribution is critical to overall team success.
The military is composed of people from every walk of life, and members have very different jobs from one another. These experiences make veterans adaptable, resilient, and fantastic teammates.