Learn About Utilization Management
Learning Objectives
After completing this unit, you'll be able to:
Explain how payer organizations can employ utilization management to increase administrative efficiency, reduce costs, and improve care management.
Understand the Health Cloud utilization management data model.
A Win-Win Situation
Health insurance organizations are constantly juggling between providing better and personalized healthcare to their members and trying to reduce the cost of care.
Claims processing can be complicated for members and payer organizations if a treatment isn't covered under a member's health plan, such as when physiotherapy sessions exceed the allowed limit, or a procedure isn't considered medically necessary. What if we involve all the stakeholders before considering the actual treatment. This is where utilization management (UM) comes in.
This module shows how utilization management (UM) works across the healthcare industry.
Providers can submit preauthorization requests to health insurance plans.
UM clinicians at the payer organization can review, evaluate, and escalate requests.
Medical directors can approve or deny requests.
Health Cloud UM helps payer organizations connect utilization management and care management. Healthcare providers can quickly submit care requests with fewer phone calls and faxes for preauthorizations. Payer organizations can gather member and clinical data from providers, streamline care request reviews, and evaluate reviews for medical necessity. Members, providers, and payer organizations can gain visibility into their care request authorization process to decrease cycle time and expedite approvals. It's a win-win-win situation.
With Health Cloud utilization management, you can: 
Automate decisions based on medical policy, monitor service-level agreements (SLAs), improve decision making, and reduce manual intervention.
Reduce costs by delivering more appropriate care to members.
Transparently submit, process, review, and communicate authorizations by connecting providers, payers, and members.
Achieve optimal patient outcomes and contain medical costs through comprehensive support.
Improve the member experience and earn trust.
And there's more. Tableau CRM Analytics for Healthcare includes Utilization Analytics. Utilization Analytics gives payers end-to-end visibility into their care request authorization process to decrease cycle time, improve approvals, and deliver timely care to their members.
The UM data model is a set of Health Cloud standard objects that you can use to set your organization's work flows as you manage utilization data. Let's see how you can configure efficient workflows using the UM data model.
Streamline Processes with Guided Workflows
Let's look at some of the pain points the industry faces and how Health Cloud UM addresses each one.
Submitting Preauthorization Requests
Pain point: Providers and UM nurses and pharmacists spend too much time and effort submitting preauthorization requests for medical services and prescriptions. Typically, the provider staff makes requests via phone or fax, or they manually reenter patient and clinical data into the health plan's portal.
What you get with Health Cloud UM: Fast, accurate submission of preauthorization requests.
How it helps: Fewer phone calls and faxes for preauthorizations result in increased administrative efficiency and decreased administrative costs for payers and providers.
Assigning and Tracking Preauthorization Requests
Pain point: Payers and UM clinicians don't have an efficient way to receive, assign, and track preauthorization requests, which can result in administrative waste and care delays.
What you get with Health Cloud UM: Transparent receipt, processing, and assignment of preauthorization requests.
How it helps: Easy processing and timely notification of preauthorization requests results in decreased administrative costs, prompt access to care for members, and makes it easier to meet SLAs.
Reviewing Preauthorization Requests
Pain point: UM clinicians don't have an easy way to view medical necessity criteria, which can result in significant expenditure of time and delay responses.
What you get with Health Cloud UM: Integration of medical necessity criteria and simple notification to the provider to request more patient or clinical data.
How it helps: Fewer phone calls and faxes between provider and payer result in decreased administrative costs and waste.
Approving or Denying Preauthorization Requests
Pain point: UM clinicians and medical directors don't have a simple way to communicate a complete summary and recommendation when they process a request for escalated review or adverse determination, resulting in repetitive review and administrative waste.
What you get with Health Cloud UM: A single place to hand off preauthorization review from the UM clinician to the appropriate medical director, and to consolidate information review or nurse recommendations.
How it helps: Fewer manual handoffs and faster approval or denial of escalated preauthorization requests result in decreased administrative costs and increased administrative efficiency.
The UM data model enables customers to streamline care requests. Agents, clinical professionals, and medical directors get guided workflows for UM processes, including:
Drug requests
Service requests
Admissions
Concurrent (continued stay) reviews
Appeals
Complaints and grievances
For more information about the UM data model, check out the Health Cloud Data Models Trailhead module in the Resources section of this unit. 
Next, let's look at an example of the benefits of Health Cloud User Management.
The Game Plan
Similar to basketball where planned passes between a team's players lead to a successful outcome, UM involves more than one player working in tandem toward the same goal. In basketball, each player is assigned a position on the court and works in that specific area of the floor. And in UM, providers, clinicians, and medical directors carry the care requests through various stages of review and assessment.
A provider can submit preauthorization requests to health insurance plans via phone, fax, or a self-service site. The requests are routed to a UM clinician at the payer organization, who has, on one screen, all the information needed to determine medical necessity. After marking the request denied or approved, the clinician can escalate the request to a UM medical director who decides whether it's an airball or a slam dunk. This passing strategy makes for an efficient decision-making system with different eyes looking at different aspects of the request.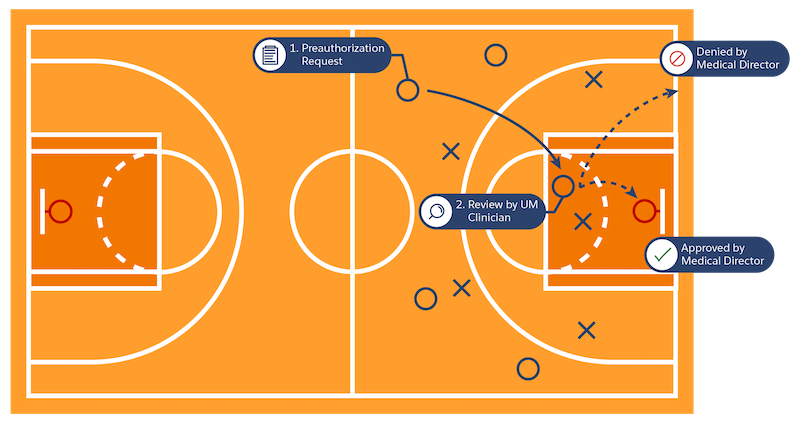 The Play-by-Play
Let's take the case of Charles Green. His primary care doctor diagnoses his lower back pain and recommends him to physical therapist Carol Petersen. Carol examines Charles and sets up a series of physical therapy sessions to help his lower back pain. After Charles finishes the series, Carol requests an extension of 10 more sessions.
Submit Preauthorization Request (1)
Our first player, the provider, starts the game. Carol, the provider, submits a new preauthorization request for the extended physical therapy sessions to Bloomington Health Plans, Charles's health insurance provider. She can phone or fax in the request, or she can log in to the Salesforce Experience Cloud site, which can handle service requests, admission, appeal, or grievances. Carol can see a list view of submitted care requests and can check their status.
Review Preauthorization Request (2)
The ball, also known as the request, passes on to the next player. The preauthorization request is assigned to Melinda Smith, a utilization management nurse at Bloomington Health Plans. Melinda has a true 360-degree view of the member as she reviews this request including details of existing authorizations.
She reviews Charles's care request and checks his insurance policy, which confirms that Charles is covered for physical therapy. 
Deny Preauthorization Request
Oh wait! Are we looking at a blocked shot? Digging into Charles's claims records, Melinda notices that he already reached the maximum claim limit of 30 physical therapy visits a year. So Melinda denies the preauthorization request. She enters the reason for her decision and forwards it to the medical director for final determination.
The request passes on to our third player. Barbara the medical director logs into a unified console for utilization management so she can review prior authorizations, admissions, and appeals in a streamlined workflow.
She has a clear view of the clinical review recommendation for denial. Like Melinda, she also has a 360-degree view of the member as she reviews this request. Barbara agrees with Melinda, verifies the denial decision reason, and adds the reasoning behind the determination.
Appeal the Denied Service Request
Time for a jump ball. Carol submits an appeal with the reason she requested the extra sessions for. She notes that Charles has had a slower than expected recovery due to an earlier back injury from a car accident. 
Approve the Preauthorization Request
The flexibility of Health Cloud allows Barbara to view the reason for the appeal, the initial denial notification date, and any notes from the provider or member. She reviews Charles's care request information, goes through his medical history, and determines that authorizing the request for the physical therapy sessions is in Charles's best interest, so she approves the care request. Slam dunk!
Next let's see how to configure utilization management for your organization.
Resources