Learn About the Health Cloud Provider Data Model
Learning Objectives
After completing this unit, you'll be able to:
Understand how providers, payer organizations, and medical device organizations help their employees, members, and patients find the right provider by using provider search.
Explain how healthcare organizations can gain an integrated view of each provider using provider relationship cards.
Beyond Customer Engagement 
Technology has become ubiquitous in every aspect of life. And access to services right at their fingertips means an increase in consumer expectations. And that includes healthcare. Tailor-made services help boost customer engagement. Offering this kind of personalized care makes for a better experience for the members and patients, and makes you the preferred choice for their health and well-being needs.
As a healthcare organization, the capability to choose the right care provider that's not only certified to deal with the specialized malady and accepts your insurance plan, but is also in close proximity to your patients, can help smooth the way from pain to relief. This is where the Health Cloud provider relationship cards and provider search features come into play. 
With provider relationship cards, you get to see information about providers from the moment a patient seeks care.
Now, let's look at the case of Charles Green. Charles is a member of Bloomington Health. He needs a physical therapist to treat his lower back pain. By using the capabilities of provider relationships, Audrey, the contact center agent at Bloomington Health, can see that Carol Petersen is a certified specialist in orthopedic physical therapy. One of Carol's physical therapy specialties includes pain management (care specialty), which makes her an excellent choice for treating Charles's lower back pain condition.
As this example shows, with provider search, Audrey can filter down to find just the right match for Charles. She can search by specialty, proximity, and more. If she searches within the patient's account record page, the results pane also shows the providers that are part of the members insurance plan.
By using these features, Audrey not only knows that Carol has the expertise to take care of Charles's condition, but also that she can offer this specialty at the downtown location, which is a perfect match for Charles.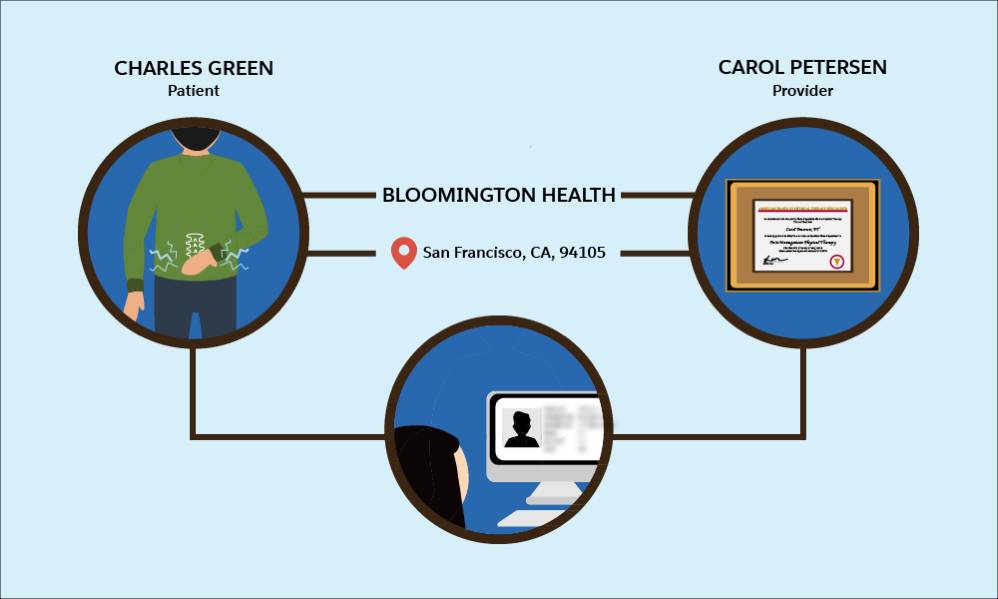 The provider relationship cards and provider search capabilities are built on top of the Health Cloud provider data model. Read on to learn more about the provider data model.
Use the Provider Data Model to Connect the Dots
The Health Cloud provider data model helps you connect the dots by giving you a complete view of providers—physicians, practitioners, and provider organizations—across a provider network at a glance. The provider data model includes multiple provider-centric objects that capture details about physicians, healthcare organizations, physician hospital affiliations, practice locations, operating hours, specialties, credentials, National Provider Identifiers (NPIs), and more.
This is a foundational data model meant for all segments of healthcare and life sciences.
Providers such as hospitals and doctors can drive referrals to their own services and schedule onsite visits.
The health insurance payer network management and provider relationship management can manage data in an Omni channel environment between various stakeholders, such as contact center agents, members, providers, and patients.
Sales reps in medical device organizations can better understand and segment providers who are their customers for medical devices and technologies.
For more information about the provider data model, check out the Health Cloud Data Models Trailhead module in the Resources section of this unit.
With the power of the provider data that is in Health Cloud, Audrey can find information about Carol Petersen, or get details about each hospital or care center where she works. On top of that, patients and insurance plan members such as Charles can search for care providers themselves using the same criteria. Finding the right provider for the patient couldn't get any easier!
And there's more! Let's take a brief look at the provider relationship and provider search features.
The Bird's-Eye View
Payers employ provider relations representatives whose main responsibility is to maintain relationships with providers who are part of the network. Ely is one such provider relations manager within Bloomington Health, a healthcare payer organization. One of Ely's tasks is to reach out to providers to schedule onsite visits. Ely uses the Provider Relationships tab to look at the providers that are associated with the account in a card view with details spanning tens of objects.
The Health Cloud provider data model extends the Salesforce core data model to create a system of record for a health plan's authorized and prospective providers. Provider data captured in this reference model can be extended on a customizable, responsive, branded provider portal built on Salesforce Experience Cloud, providing self-service capabilities to the providers.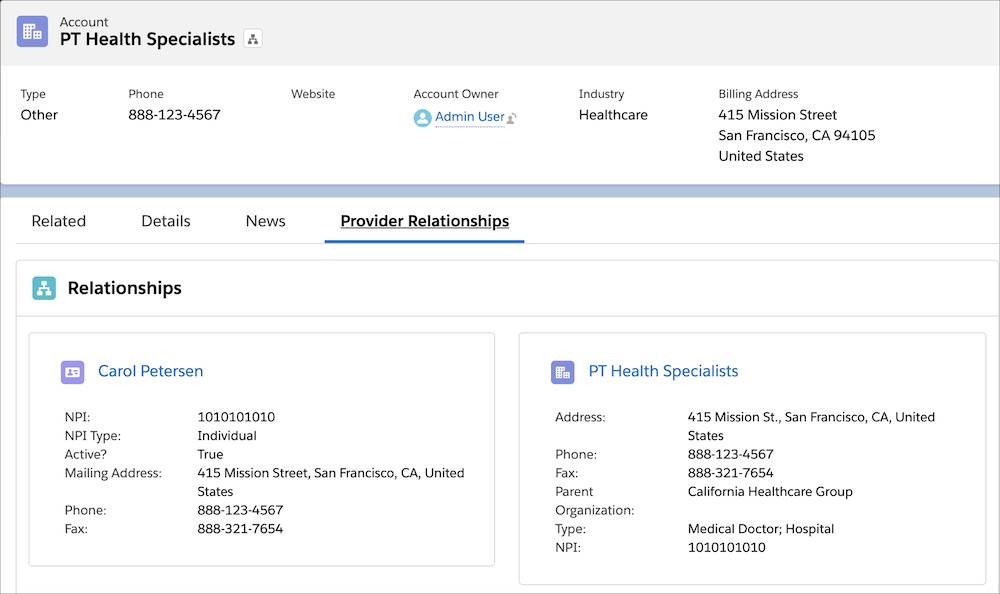 Building on the underlying information that the provider data model provides, Health Cloud allows contact center agents to quickly access all that information using provider relationship cards. Provider relationship cards go beyond traditional business cards. Each relationship card provides a flexible and configurable "single page" view of provider data spanning across multiple objects, enabling easy visualization of provider data at a glance.
These relationship cards represent customers and partners in terms of operational information such as locations and operating hours, as well as the business information related to licenses, education, certification levels, and medical specialties that the providers are certified in. All this allows for expanded data when a provider has a large profile and makes for a 360-degree view of the providers in one click. (More on this later.)
Match Patients with Providers
Agents can use the information in the provider data model via provider search to look for providers using multiple criteria. You can search for care providers by location, specialty, subspecialty, insurance plan type, and whether the providers are accepting new patients.
Audrey, the Bloomington Health member service agent, needs to set up member Charles Green with a primary care physician (PCP) in his area. If there's a particular provider Charles prefers, all she has to do is log on to Salesforce, go to provider search, enter the name of the provider, and click Search. If Charles wants a physician as close to his home as possible, Audrey uses the search criteria to find him someone nearby. If the search is performed within Charles's account record page, the result includes a field called "In Network," which is either Yes or No, depending on whether the provider accepts the patient's payer plan or not. The Plan Type field is also available as a field that you can search on and display in the search results.

But that's not all—Charles Green can perform this search himself! It's as easy as logging on to the member portal, choosing his health plan, entering the preferred location, and boom! 
In the units ahead, learn about how to configure the provider relationship cards and the provider search features.