Customize Your Health Cloud Lightning Console
Learning Objectives
After completing this unit, you'll be able to:
Explain what the Health Cloud Lightning Console is.
Display relevant information about a patient or member through components.
Get to Know the Health Cloud Console
The Lightning Console app for Health Cloud allows you to view multiple records and their related records on the same screen. You can edit the key components and attributes to make your instance of Health Cloud fit your users' needs.  
Here's what Harryette does to open the app.
From Setup, click the App Launcher ().
Search for Health Cloud, and select Health Cloud - Lightning Console.
Note that to access and use a Lightning console app, users must have the Lightning Console User permission, and their profile must be added to the Lightning console app. 
To add profiles to the app, Harryette takes these steps.
From Setup, enter App Manager and select App Manager.
Click the down arrow next to Health Cloud - Lightning Console and select Edit.
Click User Profiles.
Select the profiles you want to add to the app.
Click Save.
And that's not all. Harryette can create custom Lightning pages by using Lightning App Builder, and then assign the new pages to the console app. There is so much Harryette can do with Salesforce, but for now let's look at a few key components that Harryette puts in place for her users.
Customize the Console
The Health Cloud console pulls everything users need into a complete view of a patient or member. Harryette can design the user experience the way she wants by using Lightning App Builder, which is a point-and-click tool that makes it easy to create custom pages. To access Lightning App Builder, from Setup Harryette enters Lightning App Builder in the Quick Find box and then selects Lightning App Builder. Once she's in Lightning App Builder she can click New and follow the prompts to create a page.
For starters, Harryette wants to add a Lightning Experience home page that includes components like Today's Events, Today's Tasks, Recent Events, and Chatter. (From Lightning App Builder, she can create a new page or open and modify any existing page.) Once she's created her page, she just clicks Save, and then Activate. At this point, she can make the page the org default so that users see it whenever they log in to the Health Cloud Console.
Harryette can use any standard Salesforce components that she wants for her pages. And she can add any of the custom components included in the Health Cloud managed package.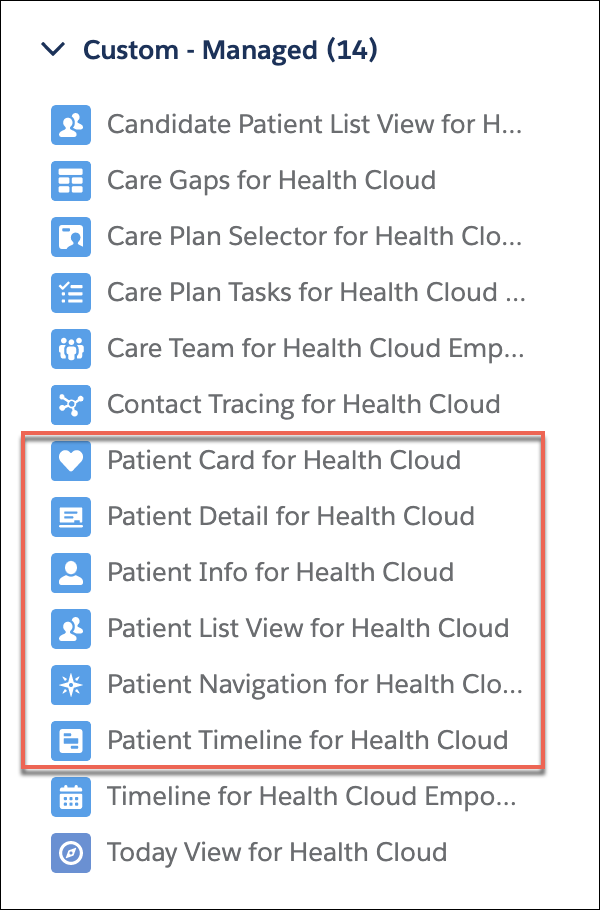 She knows that components such as Patient Card, Patient Detail, Patient Info, Patient List View, Patient Navigation, and Patient Timeline give detailed information about patients and this will be particularly useful for users at Bloomington Caregivers. She's excited about the possibilities.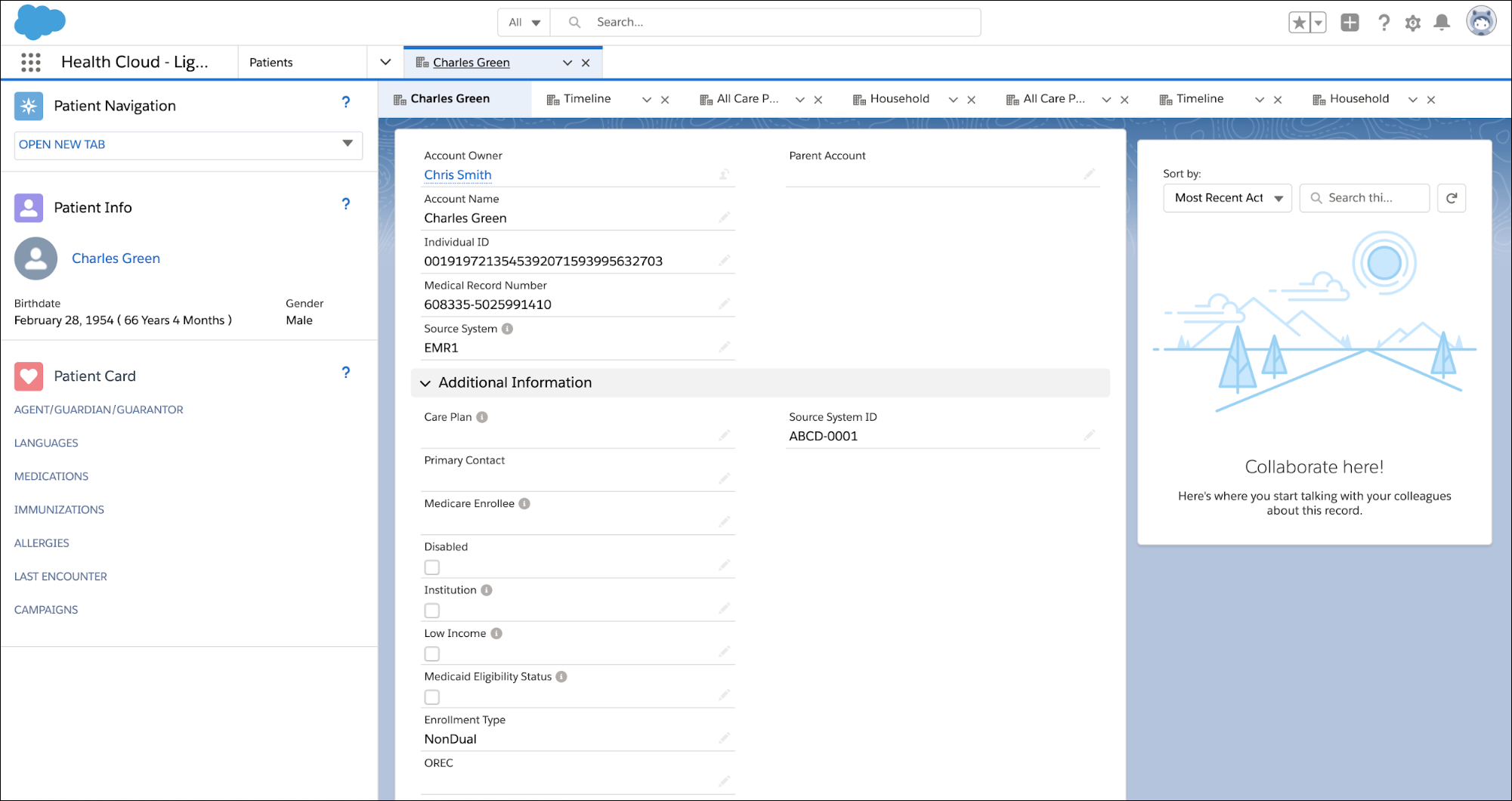 There's More to Explore
With the basic setup in place, Harryette now has a plethora of options to choose from to customize her org to meet her users' needs.
No matter the type of healthcare organization you are enabling, these instructions can set you well on your way toward ensuring your users get the most out of Health Cloud.
Resources