Build Long-Term Relationships with Nonprofit Cloud
Learning Objectives 
After completing this unit, you'll be able to:
Describe how Nonprofit Cloud supports constituent engagement.
Explain campaigns, engagement plans, and levels.
Discover how Pardot and Marketing Cloud support marketing automation.
Mission: Motivation
No matter your nonprofit's cause, engaging with people is an important piece of what you do. Connecting with donors, advocates, clients, and other stakeholders is central to building relationships and motivating others to take action to further your mission.
Salesforce and Nonprofit Success Pack (NPSP) give you the tools you need to keep track of your constituent relationships plus the information your staff needs to make informed decisions. In addition, by automating your marketing with tools like Pardot, Marketing Cloud, and third-party apps on the AppExchange, you can find and engage new supporters, build longer-term relationships with them, and gain data-driven insights about which engagements work best.
Campaigns, Engagement Plans, and Levels
Salesforce and NPSP together give you three helpful tools to manage constituent engagement: campaigns, engagement plans, and levels. Used together, these tools enable staff to develop deeper relationships with constituents.
Campaigns are a way to group people who have something in common, like a particular set of donors or volunteers. You can use campaigns to plan communications—either digital or analog—that move people toward a goal. For example, a campaign can drive sign-ups for a volunteer event or secure donations through a fundraising appeal. In Salesforce, you track and manage campaigns with the campaign object. 
Engagement plans in NPSP standardize planned sets of communications that your staff takes to move a constituent toward a specific goal. If you want to standardize how your team works to secure major gifts, for example, you can use engagement plans to generate and assign the tasks needed to reach that goal—in the form of reminders to send emails, make phone calls, mail a personal note, and so on. Engagement plans create a consistent, organization-wide experience—but remember, these tasks are just reminders for your staff, not actual communications with a constituent. 
Levels in NPSP allow you to group contacts based on the value in a single field, such as volunteer hours or annual giving. By setting up a progression within these groupings, you can measure and compare contacts, and move them to the next level based on your criteria. This allows you to quickly understand your organization's successes and encourage increased engagement and giving. Levels pair well with engagement plans: When a donor reaches a certain giving level, a new engagement plan can be created for your staff to acknowledge the donor and deepen that relationship.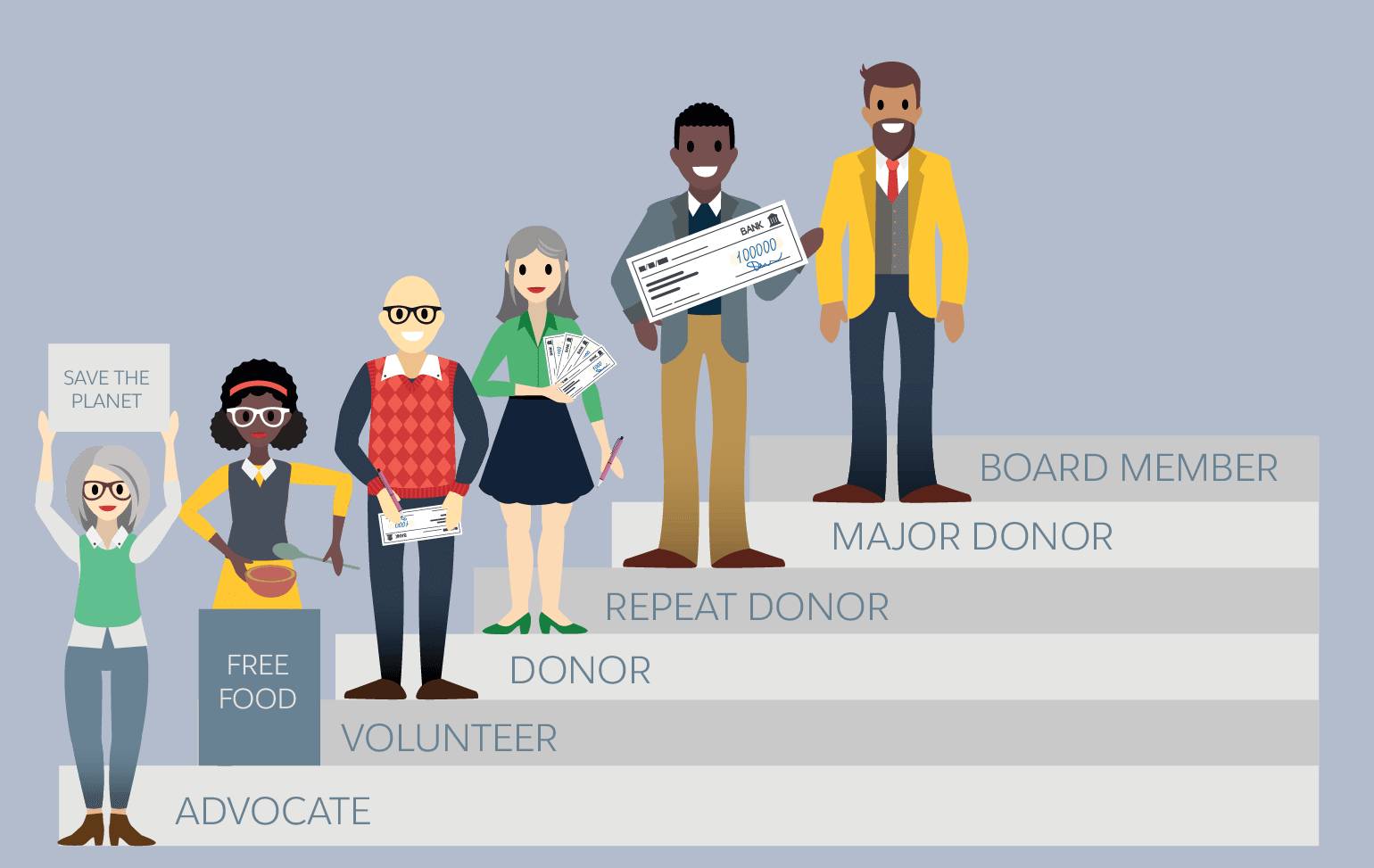 Automate Marketing
Campaigns, engagement plans, and levels are cool, and they involve hands-on effort from your staff. If you want to automate your communications to reduce the amount of hands-on effort, you have a few options.
Pardot gives you the tools you need to nurture leads, or prospective constituents. It adds basic email and social tools on top of Salesforce and NPSP, allowing you to schedule communications based on certain criteria. It's built into Salesforce, so it's easy to learn and quick to set up without integration.
Marketing Cloud gives you more robust tools to manage your constituent relationships and requires more setup and maintenance than Pardot. Marketing Cloud allows you to create personalized marketing journeys based on different criteria, like the date of a donor's last gift or if they live in the same area as your next volunteer event.
Marketing Cloud comes with Social Studio, a powerful all-in-one social media marketing and management suite that can be connected with other marketing systems and sources of constituent information. Social Studio can even stand alone without Salesforce. These features give you the power to segment data from any object in Salesforce or another connected data source to create sophisticated data segmentation and personalize your marketing communications. 
Third-Party Apps on the AppExchange
If the solutions above do not exactly meet your needs, you can find even more options in the Salesforce AppExchange (linked in the Resources section below). Salesforce's AppExchange is home to thousands of apps that provide out-of-the-box email and marketing functionality. You can find solutions that create online forms, send mass email, manage opt-out preferences, and more.
With these tools, you'll be able to engage your donors, volunteers, advocates, and the people who benefit from your services in a way that resonates with them and furthers your mission. Take the next step with the Resources listed below.
Resources