Manage the Launch and Post-Launch Activities
Learning Objectives
After completing this unit, you'll be able to:
Explain the importance of a launch plan.
Describe what transition governance includes.
Explain the importance of a retrospective.
Create a Launch Plan
You put your storefront to the acid test. The teams found and fixed all the priority bugs. You're now really close to the light at the end of the tunnel—Go Live! Excitement aside, you guessed it, this leg of the journey needs a plan, too. A launch plan identifies critical processes, such as storefront rollout and rollback, and lists launch and post-launch contacts.
Define Rollout and Rollback Procedures
Mindy, your functional architect, takes the lead on rollout and rollback procedures. She details the steps to bring the site live and to roll it back. Rollback is your emergency brake in case anything goes wrong on the big day. Mindy shares the procedures with Alex, your technical solution designer. They conduct a launch dry run to verify the steps and timing. They also test the rollback process. Both work without a hitch. 
Identify Who's Who
The closer you are to launch, the more critical it is that everyone stays in touch. You write up a communication plan that lists who to contact for support and in what order. You add names, roles, contact info, and expected availability. You also identify who can sign off on a successful rollout and decide that the go-live process must be rolled back. Everyone involved in NTO's launch needs a copy of the completed communication plan. You share it with your team, NTO, all other partners, and all third-party teams.
Create a Launch Checklist
Your launch plan includes dozens of launch-related tasks. And there's a variety of individuals and groups who must work together to successfully complete all the tasks. With so many moving parts, it's easy to miss a thing or two. To prevent that, Mindy creates a launch checklist. She bases her version on the B2C Commerce checklist template. It covers a wide range of topics. Some are system-preparation tasks, such as decommission project sandboxes that you no longer need. Other tasks prepare NTO's team to support their live B2C Commerce implementation. For example:
Verify that NTO's administrator knows the admin password for all instances.
Ensure that NTO's team is familiar with troubleshooting tips for common issues, such as missing products.
Have NTO's project manager validate their SSL certificate at least a week before launch.
You, Mindy, and NTO review the checklist and assign an owner to every item. Next, you go over the entire launch plan with NTO and all third parties so everyone understands the plan and their assignments.
Launch Gate
Since you're completing an SRA as part of the project, you also verify all the Launch Gate reviews are complete. That includes code, business preparedness, and launch readiness reviews. As part of the Launch Gate, NTO completes a Welcome to Support session with their Salesforce success manager. In the session, NTO learns about the B2C Commerce support process.
Launch the Storefront
Launch is 2 weeks away. You submit a Go-Live ticket to notify the Salesforce B2C Commerce Support team that NTO's site is ready to launch. They review your ticket and start launch prep.
It's launch day. Everyone is packed into the club car and cheering you on as you step through the rollout plan. 3...2...1…the site goes live! It's a momentous occasion. You launch balloons and and ring the train bell in honor of everyone's hard work.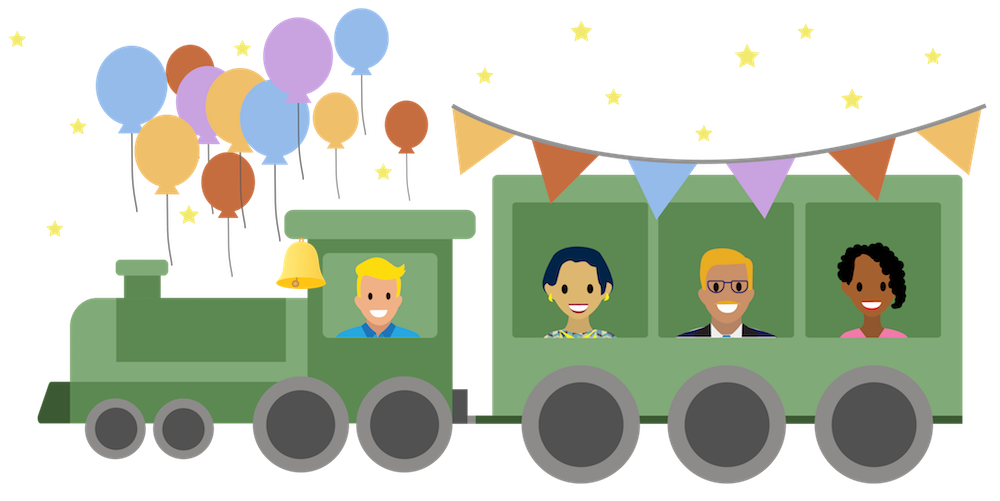 Conduct the Post-Launch Activities
NTO's live B2C Commerce site is already generating revenue. That feels great, but before set your sights on another B2C Commerce Express trip, there's one final stop—post-launch. It's a time to look forward, to the team responsible for site maintenance. Transition Governance is a formal name for the site hand-over process. To prepare, you double-check that all the documentation is complete and that the support team members can access all the required environments. Then, you meet for a formal transfer of information (TOI) where the build team reviews the site with NTO's support team.
This is also a time to look back to check that the project met its objectives and, most importantly, that NTO is delighted. Your last customer meeting is a feedback session with NTO and the Salesforce customer success manager. In this retrospective meeting, you look at the past to improve the future. You document what went well and look for areas that need improvement. Take time to root out the cause of any problems, but avoid identifying solutions, which can limit your thinking. Reserve time after the meeting to evaluate the responses and figure out how to perform better in the future. Even on this project, where everything went well, there are often ways to improve.
Next, get the word out about the project. Tell Salesforce what your team built. Submit the project and customer story in the Partner Community. The submission is a trigger that sends a Salesforce customer satisfaction questionnaire to NTO. It's another opportunity for them to provide feedback. Also, connect with the Salesforce Storyforce team to share your work with Salesforce account executives, our marketing team, and customer prospects.
Celebrate!
Throughout the project, you and your team held a steady focus on the light at the end of the tunnel. That got everyone to the end of the line without running out of steam. Join them in the club car one last time to celebrate.
Launch Deliverables
Launch plan
Communication plan
Completed launch checklist
Launch Gate approval
Resources