Track Engagement with Campaigns
Learning Objectives
After completing this unit, you'll be able to:
Define what campaigns are in Salesforce.
Give an example of how a nonprofit could use campaigns.
Identify the important sections of a campaign record.
Prepare to run a campaign in Salesforce.
Several recently elected city council members introduced policies inviting the installation of what No More Homelessness (NMH) considers to be hostile architecture—design features like slanted benches created specifically to deter people from sleeping in public. 
NMH, a (fictional) nonprofit dedicated to supporting community members experiencing homelessness, believes this type of installation doesn't address the crisis and only makes life harder for those already struggling. To defeat the measure when it comes up for a vote, the NMH team realizes they need to mobilize supporters to convince city council that architecture that discriminates against an already marginalized group isn't an effective way to address the issue of homelessness.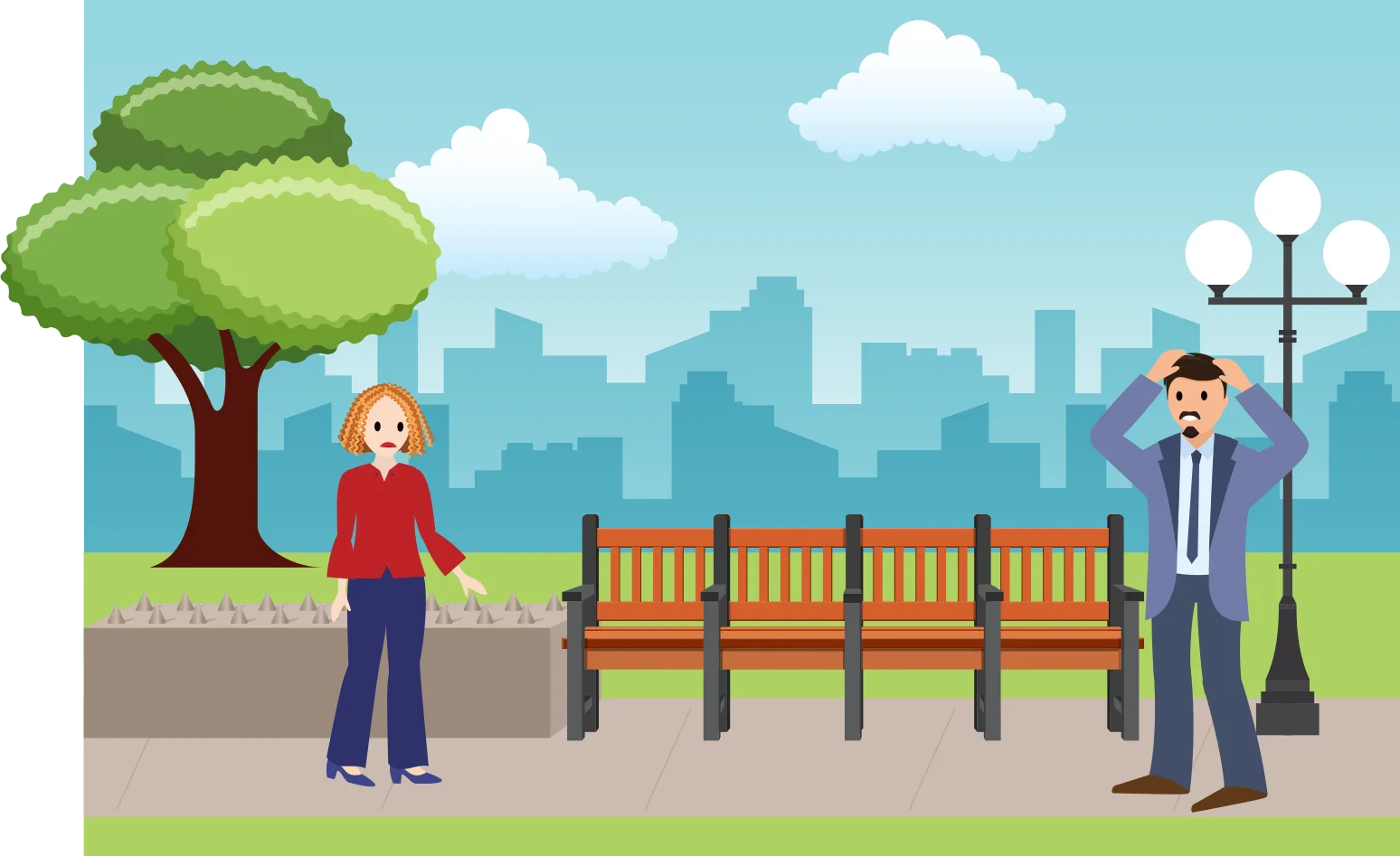 The team is hard at work designing quarterly training workshops where clients, volunteers, and engaged supporters learn how to organize and advocate. Michael Aviran, the NMH Communications Intern, will track and manage these events using the campaign object in Salesforce.
Manage Campaigns in Salesforce
Campaigns are typically a planned set of communications, be it digital or analog, that moves people towards a specific goal, like advocacy materials asking citizens to vote a particular way or an annual fundraising appeal requesting donations. 
In Salesforce, you can track and manage the campaigns your organization runs with the campaigns object. (And if you'd like a refresher on what an object is, head over to Nonprofit Success Pack Basics before moving on.) The campaign can be anything from reading an email to signing a petition, attending an event, making a donation, or buying a t-shirt. No More Homelessness, for example, uses campaigns in Nonprofit Success Pack (NPSP) to track fundraising and advocacy communications, event attendance, and volunteer shift registration. And they'll be relying on campaigns again as they launch their upcoming training workshops. 
How No More Homelessness Uses Campaigns
Campaigns are all about communication and engagement, so just about everyone on staff runs some type of campaign and could benefit from campaign management technology in NPSP. Gorav, the awesome Salesforce admin at NMH, worked with the entire team to put together a list of prioritized requirements to customize NPSP so campaigns can work for everyone.
The development team runs regular and innovative strategies to find and cultivate relationships with current and potential donors. They manage fundraising campaigns in email, direct mail, social media, and in-person events. Not only do they create and keep up with these campaigns, but they also manage a major end-of-year appeal every year, and this year is particularly intense. To finance the purchase of a new building, the team is running a capital campaign, culminating in the organization's first-ever gala.
The NMH communications and advocacy team has the word "communications" in its name for a reason. The team lives on social media and are in constant dialog with NMH's constituency. Their communications are sometimes spontaneous, but the team also works hard to develop strategic outreach with community-partner groups. They work with the NMH programs team to run educational and informational campaigns via email and at in-person community events, which in turn often generate new volunteers or donors. And let's not forget the upcoming advocacy training workshop. Although the programs team is responsible for the training material and day-of logistics, the role of the communications and advocacy team is to generate interest, invite attendees, and manage RSVPs and pre-event information.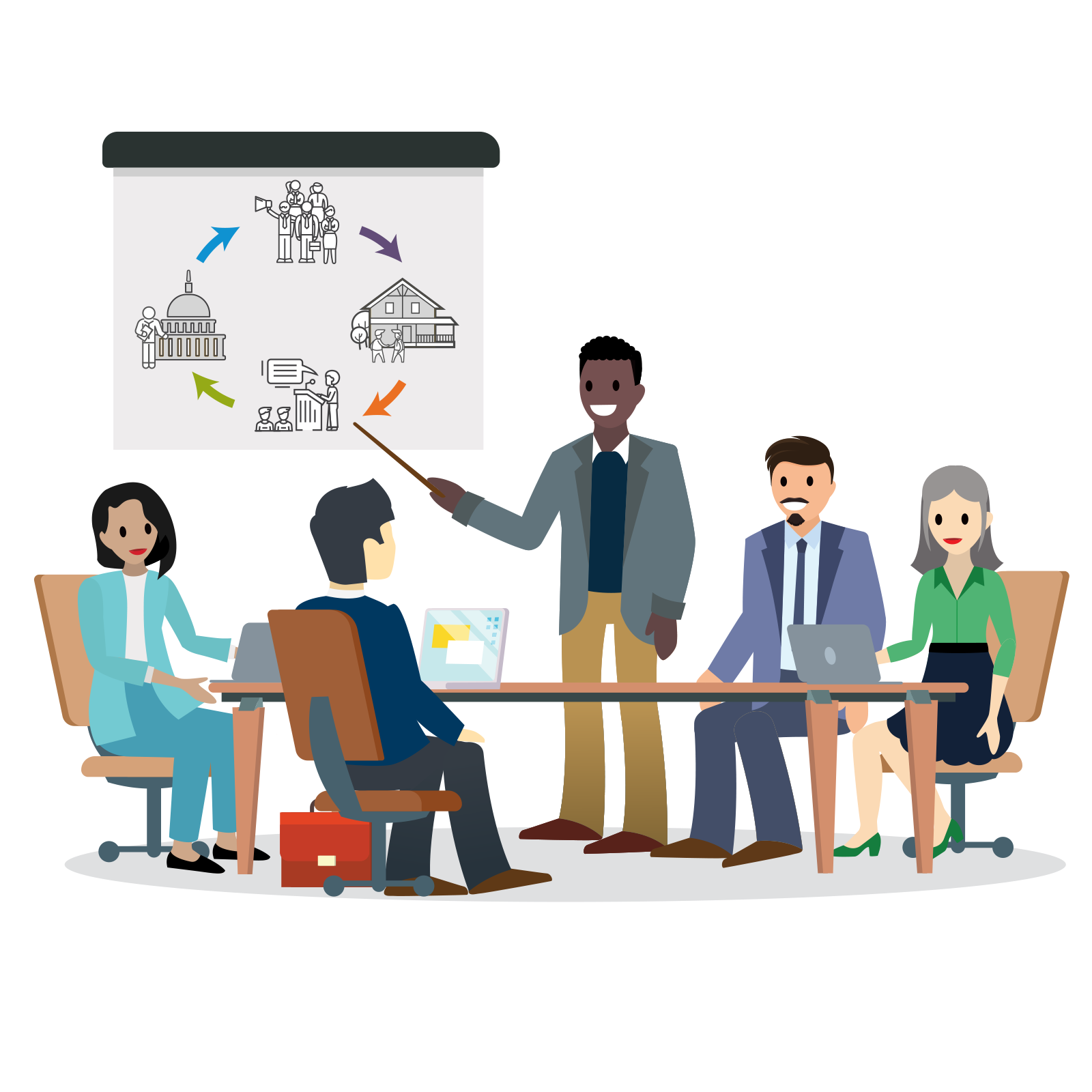 Gorav translated every team's requirements into NPSP, so everyone had the right tools to manage their data. Each team uses the "Type" field on the campaign to indicate if the campaign information relates to fundraising, events, marketing, advocacy, or volunteer activities. He also added custom fields for menu options (called picklist values in Salesforce), different page layouts, and process automations for each type of campaign they manage. 
Now everyone has tools tailor-made for their needs. No more work-arounds like smooshing different types of data together in a single field, no leaving notes and comments for critical information just because there wasn't a dedicated place to record it, or even simply missing important data because someone was interrupted at work and forgot to enter it. 
The Anatomy of a Campaign Record
Now that the team has campaigns up and running in NPSP, it's time to take a look at the details and see what an individual campaign record looks like. 
A campaign record contains the important information related to a specific campaign—the campaign name, costs, start and end dates, meetings, mailings, calls, and other tasks and activities your organization might manage for any given campaign. 
A campaign record also links to important information about the people related to the campaign: individual names and contact information on the people you plan to include in your communications as either leads or contacts, the total number of leads and contacts you have, and response rates to a campaign. For a fundraising appeal, the campaign record can also include tallies on donations pledged and collected.
Let's take a look at one of NMH's fundraising campaign records: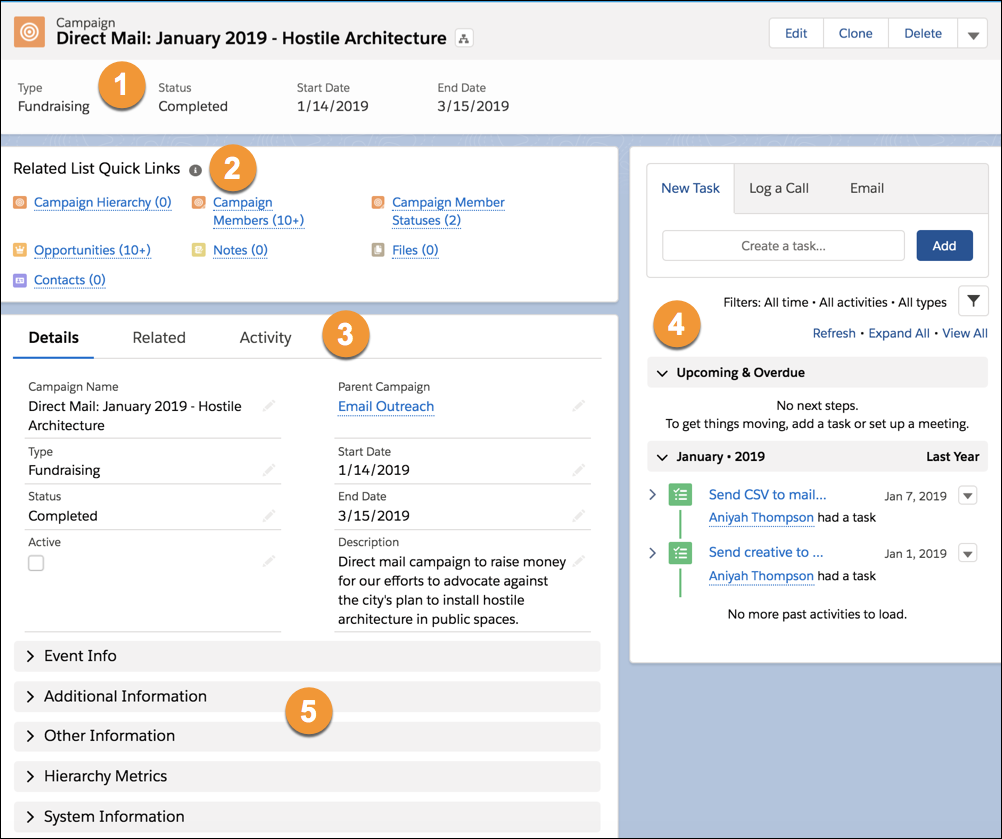 HighlightsPanel (1)

A quick glance at important campaign information. Your Salesforce admin customizes what appears here, so you see what's most relevant to your organization.

Related Lists
Quick Links (2)

Quickly view and take action on objects related to campaigns. Personalize what links appear here from the personal settings found from your user icon.

Campaign 
Details (3)

Fields for campaign name, type, status, dates, budget, and more. Ask your Salesforce admin to add custom fields if you want to track additional information about your campaign. Click Related to see other important records and data associated with the campaign.

Activity
Timeline (4)

Tasks, meetings, calls, mailings, emails, and any other action related to the campaign.

Additional Sections (5)

Each section highlights additional information about the campaign. Depending on your organization, this might include data on donations, campaign members, or aggregate data on related campaigns.

Prepare to Create a Campaign
Campaigns require a bit of set up, but thoughtful planning before you enter campaign data will help you take full advantage of this powerful object and its related features. There are a few things you will need to address before you start to create campaigns in Salesforce.
Know the entire campaign lifecycle in Salesforce.
Creating campaigns and shepherding them through the entire campaign lifecycle typically involves five steps: 
Create the campaign.
Create a target list of recipients (aka campaign members).
Run the campaign.
Track responses.
Analyze campaign effectiveness.
You don't need to know how to manage every step right now, but it's good to start thinking about how to chunk campaigns in different phases. When you're ready, there are resources to help you through each step. For now, let's stick with preparation before officially moving on to step one. 
Get permission to create and manage campaigns.
Access to campaigns, like any Salesforce object, is controlled by the profile permissions and sharing settings the Salesforce admin at your organization manages. At most nonprofits, everyone can see campaigns and campaign data, but not everyone can create or edit campaign records. There's a 'marketing user' option that you need to have to manage campaigns. 
To check your permissions, click your user icon and click Settings. Under the My Personal Information Advanced menu section, click Advanced User Details from the My Personal Information menu. On this page, look for the Marketing User checkbox. If this is checked, great! Continue on and learn how to create and edit campaigns. If your job requires you to create campaigns and you don't have the checkbox checked, reach out to your admin.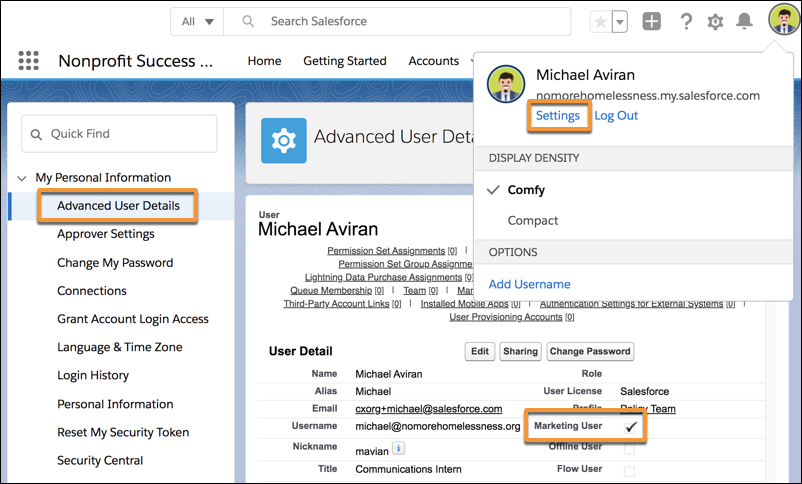 Decide on a naming convention. Think about how you'll name your campaigns. It'll be easier for everyone on your team to find, read, and report on campaigns if the names are consistent and standardized. To help guide you, think about the types of campaigns you'll be running and how they might, or might not, relate to each other. Are you running one-off campaigns or serials? When will campaigns run: ad hoc or regularly? Will you reach out to your constituents through only one channel, like email, or will you use more than one channel, mixing it up with social media, direct mail, radio announcements, roller derby ads, and semaphore? 
NMH, for example, decided on [Type]: [Month Year] - [Short Desc] as the standard format for the campaign records relating to their upcoming advocacy training workshops. The campaign name for their upcoming advocacy training workshop, for example, is Event: June 2019 - Advocacy Training Day. 
But NMH took it one step further and decided on a second naming convention for their campaigns to simplify things. Yes, adding a second naming convention will simplify things because it will save the team time moving forward. NMH organizes campaigns by grouping them into campaign hierarchies. Parent campaigns use general and descriptive names that refer to the tactic, while child campaigns stick with the [Type]: [Month Year] - [Short Description] format. The parent campaign for the upcoming series of workshops, for example, is Advocacy Training Days, and Event: June 2019 - Advocacy Training Day, the child campaign, will roll up to it. 
Want to know more about parent campaigns and how you can use them to create campaign hierarchies? Of course you do! Take the quiz here and continue on to learn more. 
Resources