Take a Tour of Salesforce Einstein
Learning Objectives
After completing this unit, you'll be able to:
Describe how Salesforce Einstein is embedded in our clouds today.
Explain how Salesforce Einstein will impact admins, developers, and data scientists.
Show Me the Salesforce Einstein
Now that you've learned what Salesforce Einstein is, let's see how it's making every Salesforce cloud smarter. In this unit, we'll share which features are generally available (GA) and included in existing products (except where indicated). But stay tuned for upcoming releases, because the future for Salesforce Einstein is bright.
Here's a sneak peek of the latest Einstein features.
| Cloud | Einstein Features |
| --- | --- |
| Sales Cloud Einstein | |
| Marketing Cloud Einstein | |
| Community Cloud Einstein | |
| Einstein Analytics | |
| Commerce Cloud Einstein | |
| Einstein Platform | |
Sales Cloud Einstein
We know how important it is for sales reps to prioritize their day so that they can convert the most leads and focus on the right opportunities. They also have to keep in touch with their prospects and identify the best time to follow up. Productivity is their most important asset. Reps can be more productive if they know when to interact with customers with just the right offer.
Marketing Cloud Einstein
Marketers have to understand their customers better than ever so they can deliver personalized campaigns. Every customer is unique. Marketers need to know which channels customers spend the most time in, how to deliver the right content to them, and when to engage with them. Analyzing past customer behavior helps marketers predict future behavior, anticipate customer needs, and guide experiences across every touch point.
Einstein Recommendations (Predictive Content and Recommendations)
Recommend the best product, content, or offer for each individual on the web, in email, and even mobile sites and apps.
Save time you'd normally spend manually merchandising products or building complex content rules by letting machine learning determine the best recommendations.
Increase average order values, convert more anonymous web visitors, and surface relevant content faster.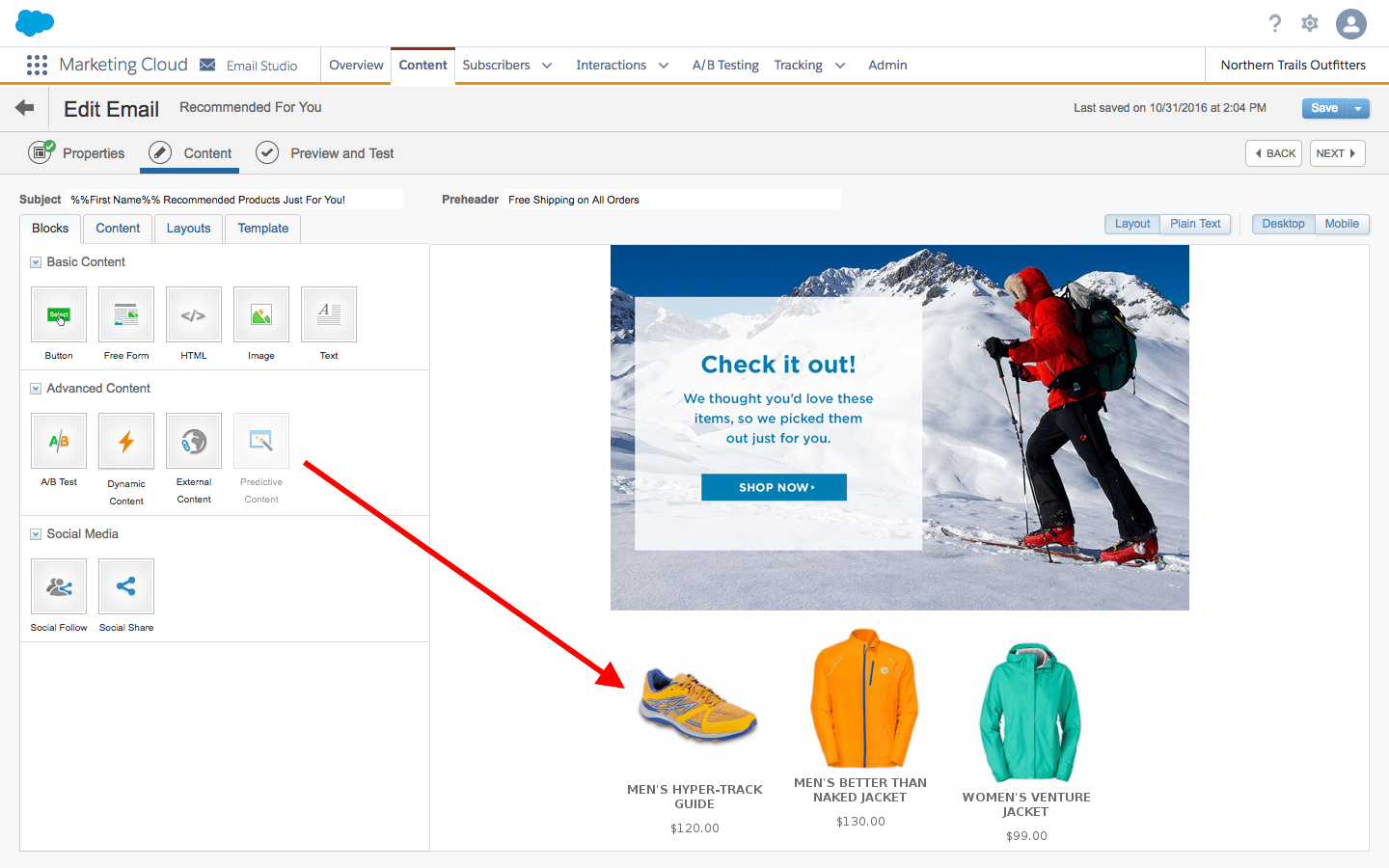 Einstein Engagement Scoring (Analytics Builder)
Using machine learning, score each individual's likelihood to open, click, or unsubscribe from an email and convert on your website. And automatically get recommended segments to target like your loyalists or dormant customers for you to win back.
See the correlated factors that predict customer action to understand why customers do what they do.
Most importantly, you can take immediate action based on this predictive behavior. Create your own audience segments to target, trigger journeys and personalize message content and channel delivery.
Decrease unsubscribes, optimize email message spend, increase email engagement and drive increased revenue through every campaign.
The best part? It's built right into the marketer's workflow, compatible with all of the segmentation tools and messaging channels found in the Marketing Cloud. No data scientists or IT required—it's AI in the hands of marketers!
Einstein Sentiment Insights
Automatically analyze the tone and sentiment of conversations in over 10 languages.
Make smarter decisions about how and when to engage with social conversations and truly understand the voice of your customer.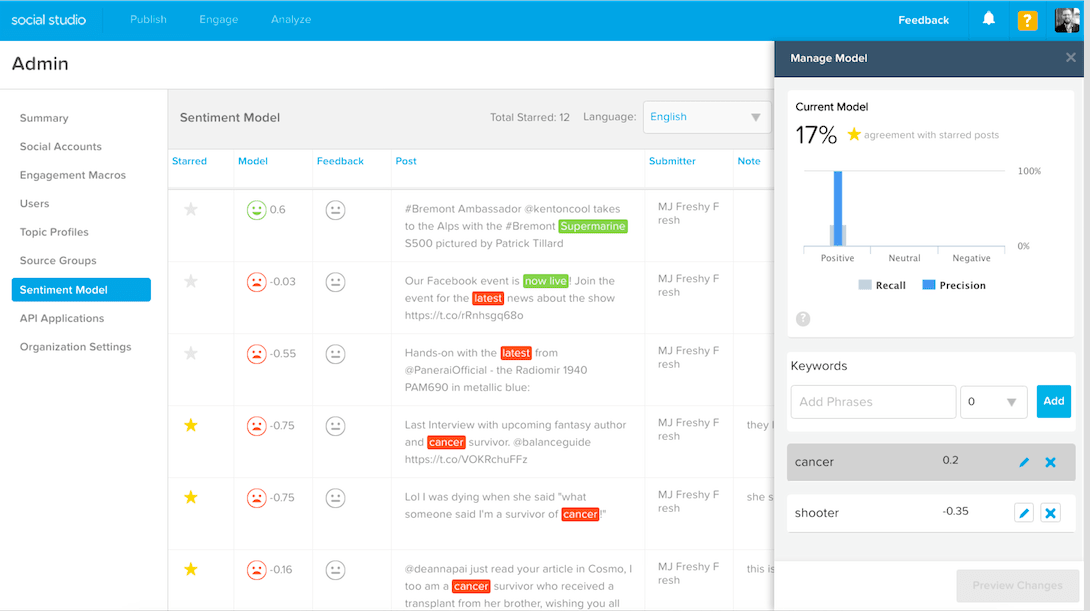 Einstein Language Insights
Detect and classify what language a post was authored in, giving marketers the ability to harness all conversations about a particular topic.
Slice and dice data into language segments.
Ensure that actionable social posts are routed to the right teams and brands to increase response rates.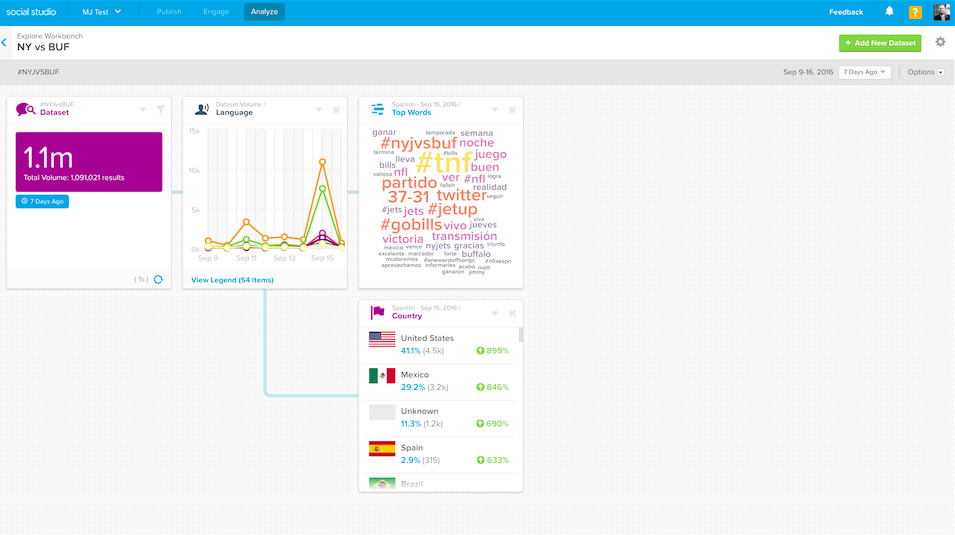 Einstein Spam Detection Insights
Identify known spam sites across the social universe and block out the noise.
Einstein Post Classification
Sort customer's social media posts into custom classifications, such as Product Mentions & Questions, Product Complaints & Praise, Intent to Purchase, Customer Service Request, and Legal & Compliance.
Automatically route posts to the right teams, based on custom classification, to increase response times and resolution rates.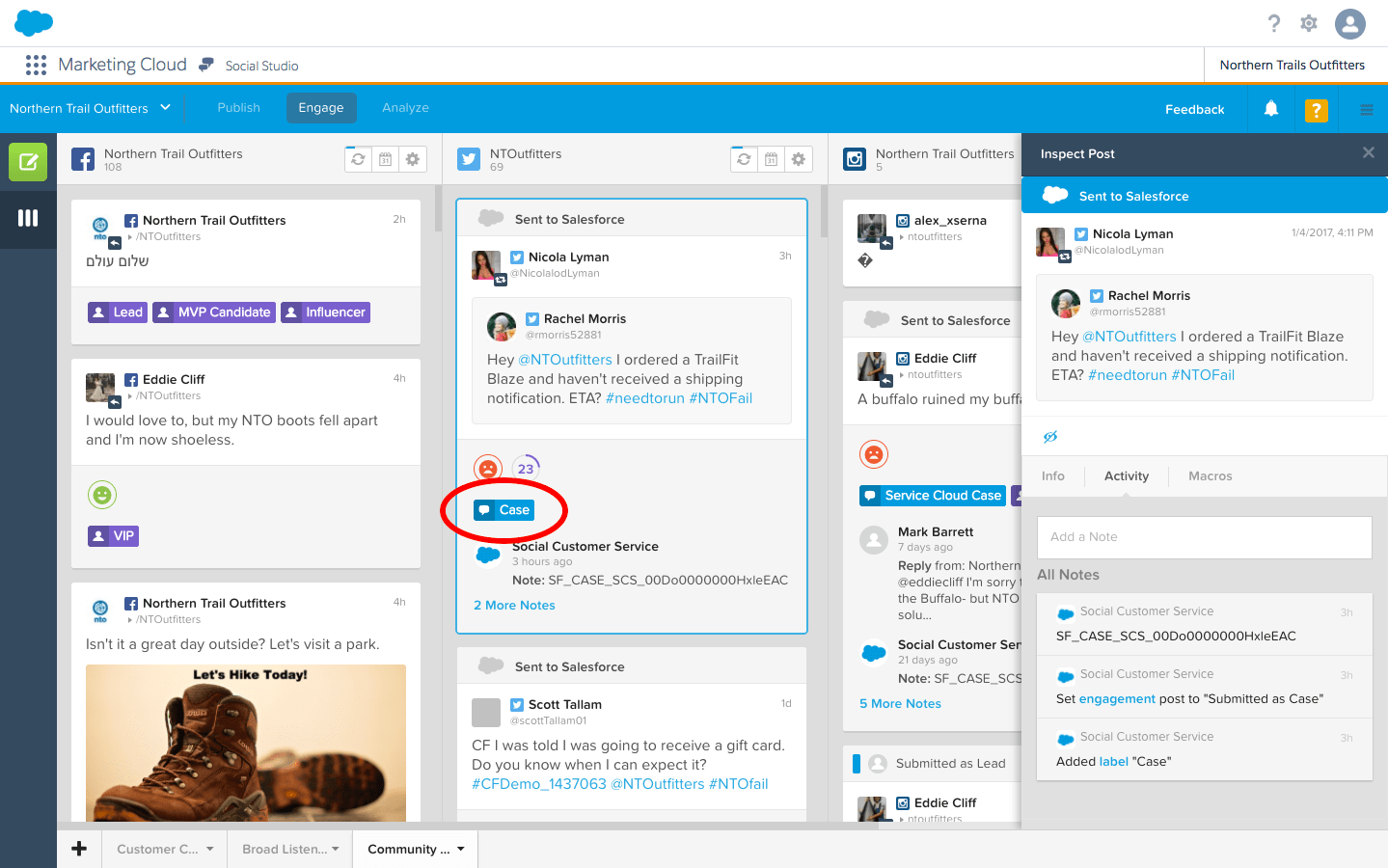 Einstein Influencer Insights
Score social user profiles based on how relevant their posts are to the keywords or topics you're tracking.
Identify influential users, celebrities and experts to follow or target for advocacy campaigns.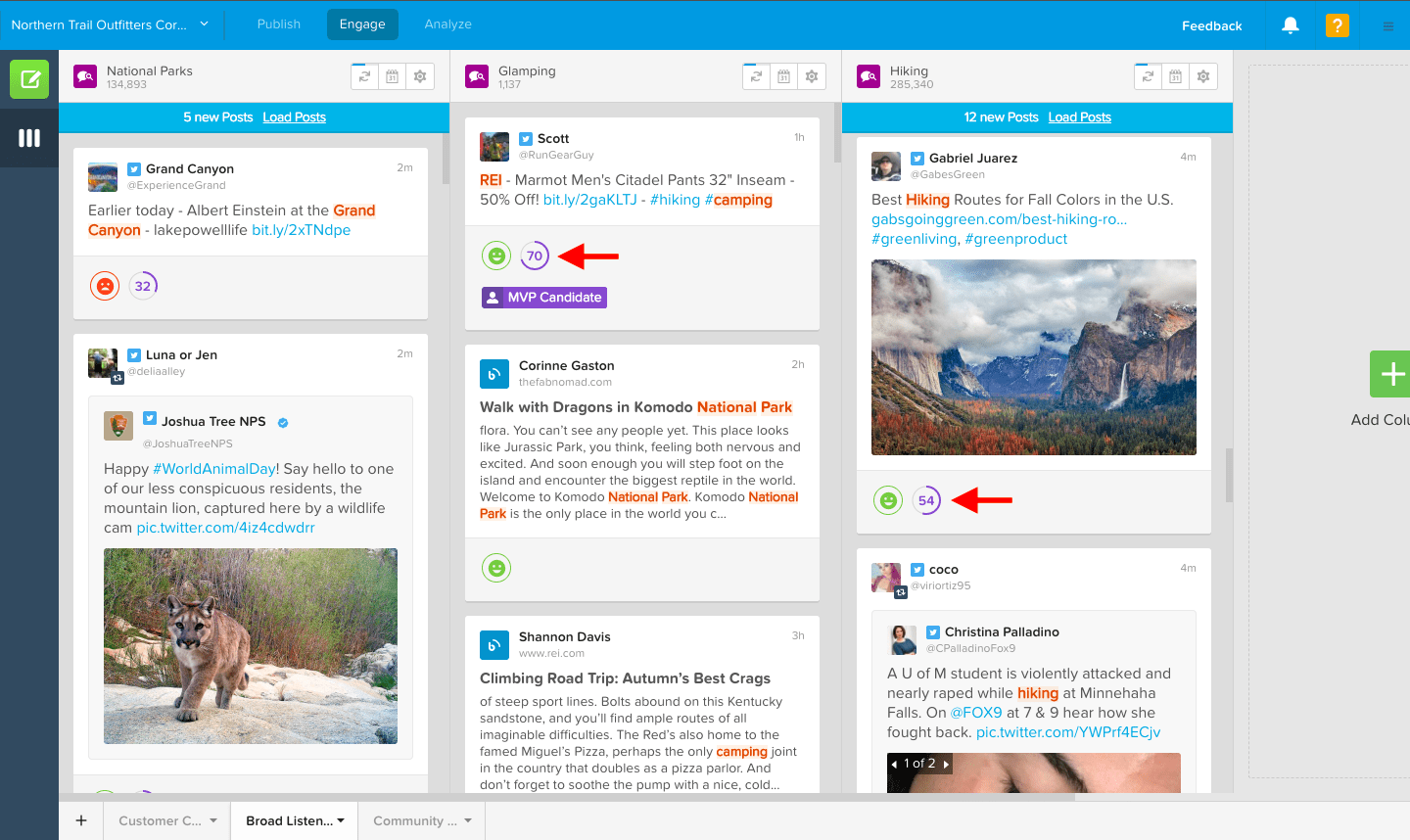 Discover new insights from images on social media using trained image classifiers that recognize food, logos, objects or even scenes that relate to or are relevant to your brand—even when your brand or name isn't mentioned
Automatically tag and categorize images to enrich data libraries and take appropriate actions.
Uncover brand and product interest or find product issues to turn social interactions into sales and service opportunities.
Identify where your logo is appearing to understand how your brand is being represented or measure sponsorship reach.
Organically find influencers who are using your products or associated with your brand.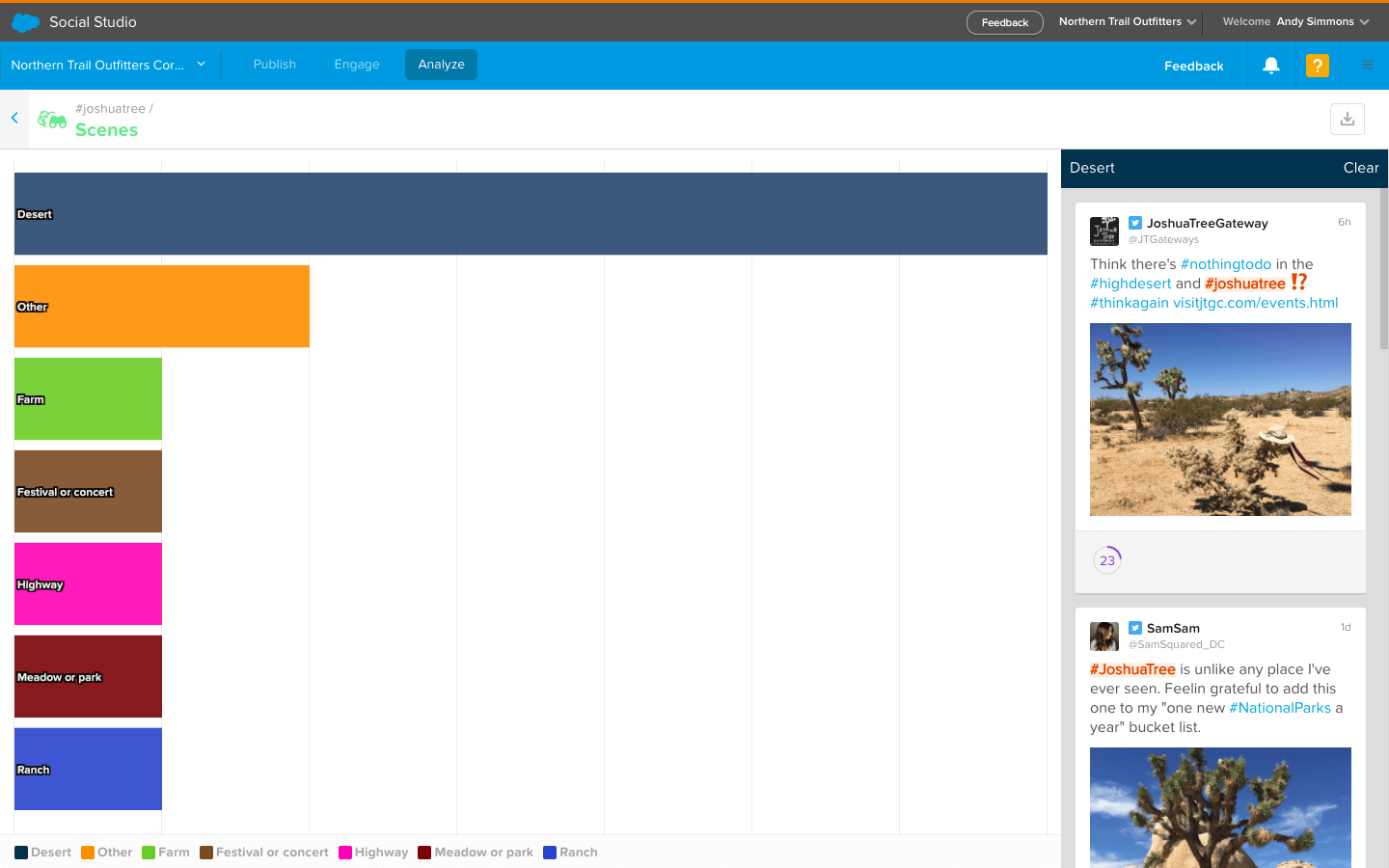 Salesforce DMP (formerly Krux)
In today's world, marketers are awash in people data from multiple sources, without the tools to harness and learn from it. In order to deliver more relevant consumer experiences, leading marketers and media companies need to capture, unify, and activate digital signatures across every device and every channel, in real time.
The Salesforce DMP (data management platform), as part of Marketing Cloud, helps to alleviate disparate customer data by serving as an intelligent marketing hub. Marketing leaders can now deliver breakthrough media, content, and commerce experiences to deepen consumer engagement, strengthen brands, and improve business performance.
Einstein Segmentation (Salesforce DMP)
Make sense of billions of granular customer data attributes to discover unique personas within your audience.
Discover and define the most valuable audiences automatically, using machine learning and pattern analysis to tailor offers and personalize your marketing message.
Einstein Journey Insights (Salesforce DMP)
Help marketers identify and act on the sequences and channels that lead to the highest conversion rates.
Capture all of your marketing data and time-stamp every customer interaction across every channel to see which customers are creating the most lift throughout the customer journey.
Community Cloud Einstein
The customer experience is crucial, which means that your products and your brand are only as good as the service and support you provide.
Customers have new expectations. They no longer want to call your support center or dig through service guides to get answers to their questions. To give customers the experience that they expect, Community Cloud Einstein empowers your customers and support agents to find the answers they need at any time, on any device.
Einstein Recommendations
Know the best files, records, and groups to follow based on your browsing history and social graph on Chatter.
Discover other community members with similar interests to get connected quickly.
Easily add members with shared work or interests to your groups.
Einstein Trending Posts
Keep members engaged by identifying and promoting popular content—ensure that important posts and hot-button conversations are seen, thanks to an intelligent activity feed.
Extract keywords and topic phrases from community members' posts to suggest relevant topics and articles.
Use these keywords and topic phrases to classify user-generated content for future engagement from community members, managers, and admins.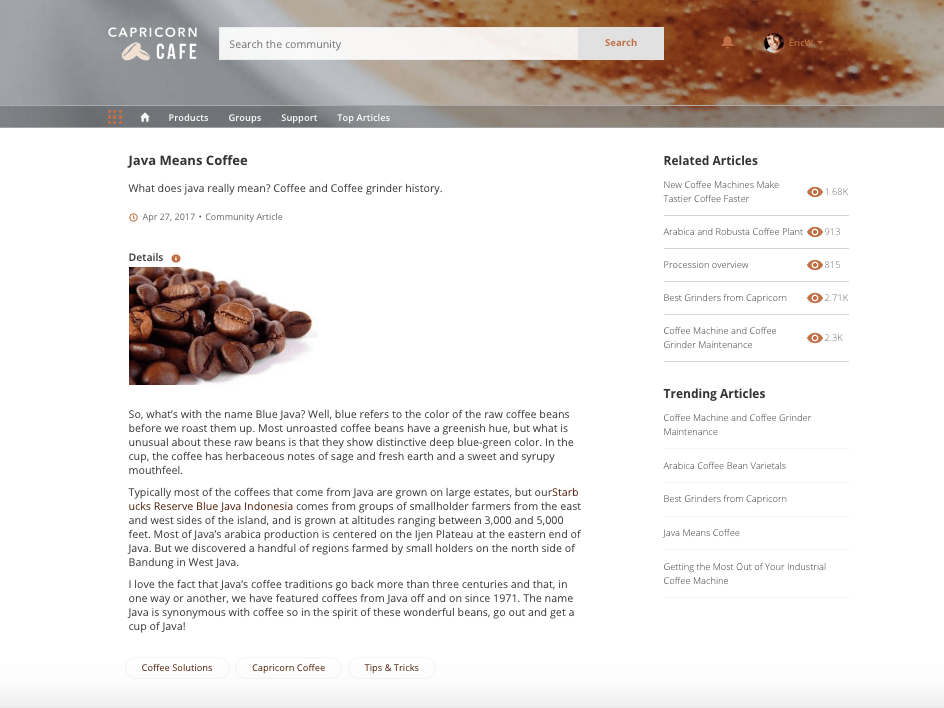 Einstein Analytics
Business users need insights about their customers so they can make the best decisions. Making data-driven decisions isn't always easy, however. Data can be locked away in fragmented tools, disconnected from workflows, or outdated by the time it reaches business users.
Einstein Analytics mitigates these issues by giving your users intelligent, mobile-first analytical applications designed for every business function. Einstein Analytics apps help users discover unbiased explanations from millions of data combinations, predict future patterns for each business process, and recommend the highest value actions. It's the only analytics solution that provides machine-augmented insights that are actionable in the context in which you work.
Einstein Discovery
Discover insights from millions of data combinations in minutes by automatically examining all possible variable combinations in a dataset.
Eliminate the manual trial-and-error process of traditional hypothesis-driven analysis.
To learn more about Einstein Discovery, check out the Einstein Discovery Basics module.
Read more about Einstein Discovery features:
Narrative Insights
Understand key insights with narrative explanations using natural language generation to make sense of the patterns in your data.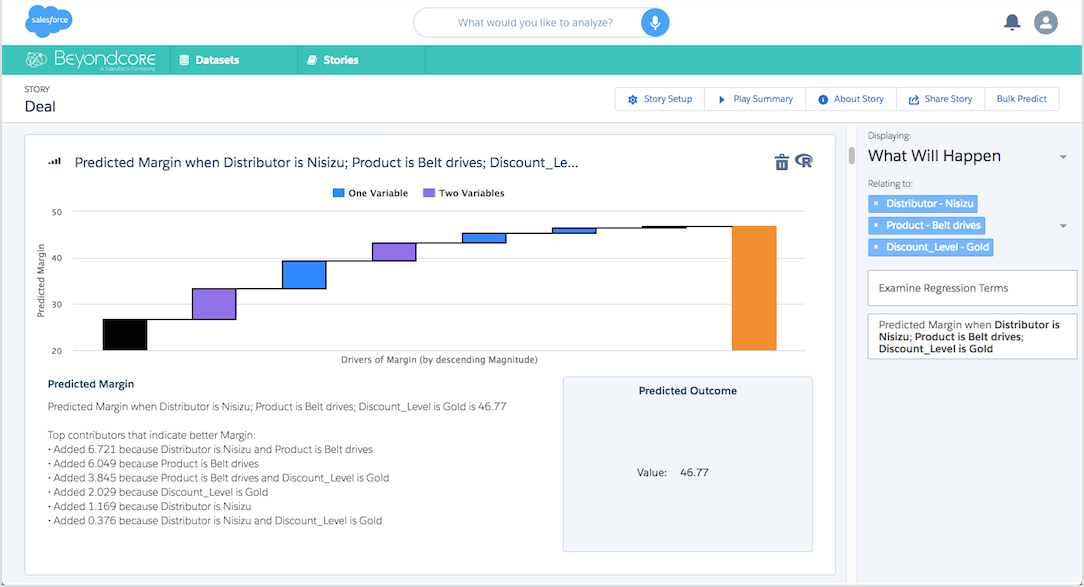 Natural Report Language Generation
Export narrative insights as natural language stories to Word documents and PowerPoint Presentations.
Automatically embed narrative insights as speaker notes in PowerPoint presentations to improve the strength of your analysis.
Continuous Feedback Loop
Interact with your data in real-time, adding human expertise to automated machine findings.
Smart Data Prep
Leverage Smart Data Prep capabilities for automated error detection and data cleansing.
Receive automated recommendations to clean, shape, and enrich your data before deriving insights.
Commerce Cloud Einstein
Your customers are moving faster than ever. They're interacting with your brand on multiple channels. You want to give them a highly customized, seamless brand experience no matter where or how they shop.
With the Commerce Cloud, you can represent your brand consistently by delivering unified and personalized consumer experiences across every touchpoint. Artificial intelligence is built in, so you can provide shopping recommendations, relevant products, and customized search.
Einstein Recommendations
Unique, personalized recommendations throughout the shopper journey, including mobile and desktop e-commerce transactions and in-store interactions with store associates.
Create data-driven customer journeys without having to hire a data scientist.
Increase revenue by showing shoppers the best products for them.
Eliminate the time-consuming activity of manually merchandising each individual page (such as PDP, home, profile, and cart).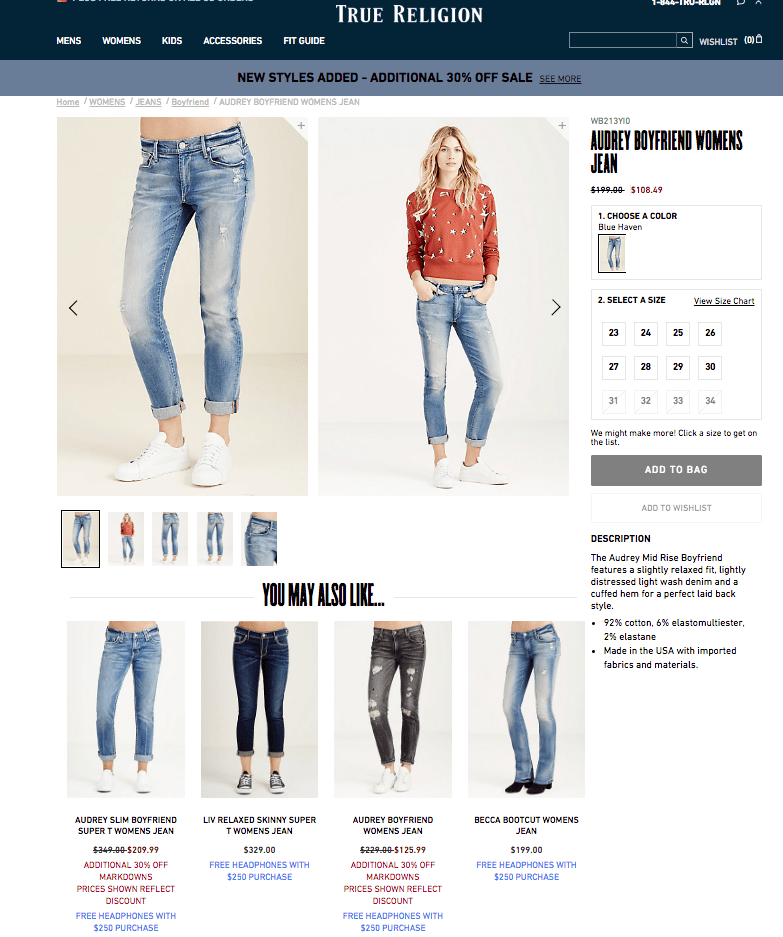 Einstein Commerce Insights
Einstein Commerce Insights is a shopper basket analysis dashboard. It enables retailers to understand which products are most commonly purchased together so that they can create the most relevant product sets and discount bundles.
Quickly understand your shoppers' purchase patterns with a highly visual dashboard.
Create data-driven product sets and bundles so that shoppers purchase more.
Take the guesswork out of merchandising to drive revenue.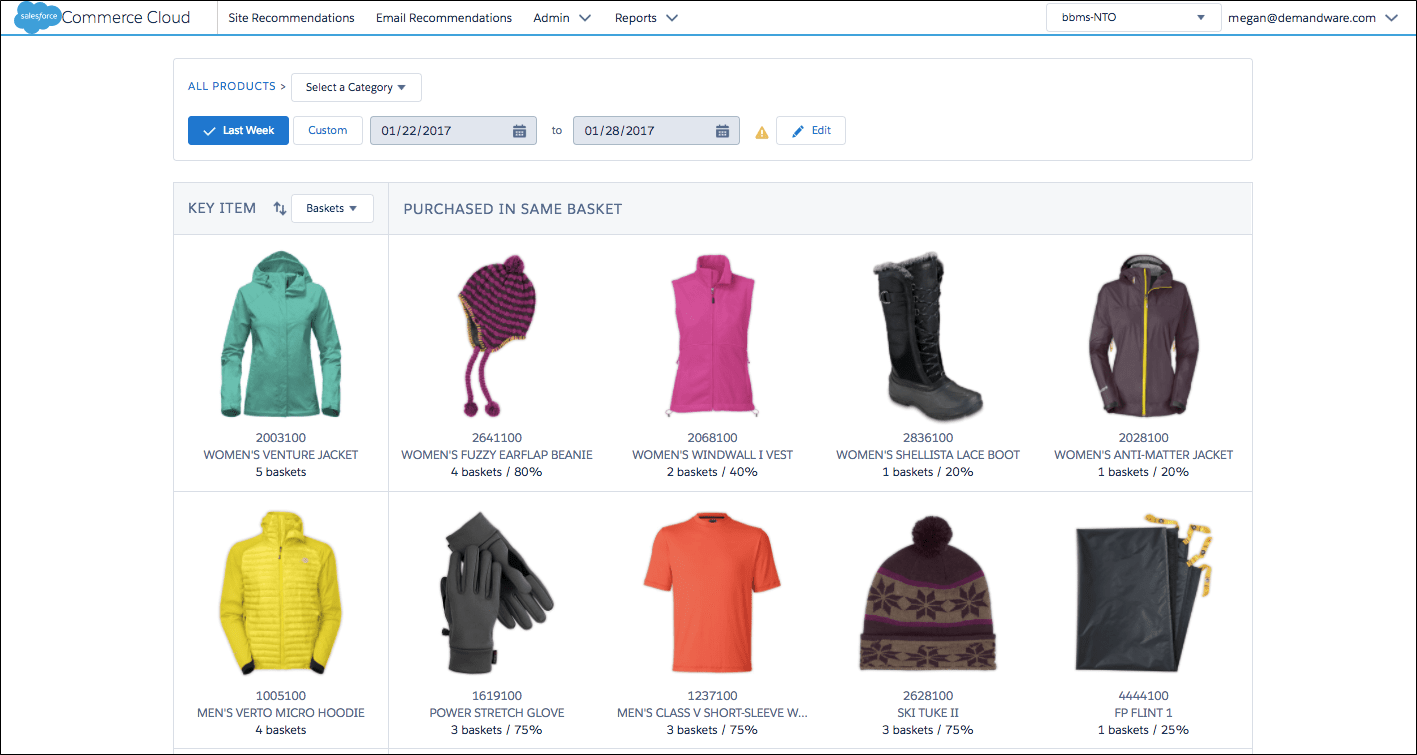 Einstein Predictive Sort
Einstein Predictive Sort uses customer data to deliver more tailored product sorts, decreasing the time a customer spends looking for what they want and increasing conversion. Predictive Sort personalizes the results of explicit search (search via the search box) as well as implicit search (browsing in the storefront catalog).
With minimal work, drive conversion by personalizing search and category pages for every shopper, anonymous or logged in.
Save time by enabling sort personalization within your existing business tools.
It Seems like You're Putting Salesforce Einstein Everywhere.
You bet we are! We're not just embedding intelligence into the Salesforce applications we're building. We're also extending intelligence to the Salesforce platform, so that anyone can build apps that bring AI into their business.
Enter Salesforce Platform Einstein, with new platform services that empower everyone to build AI-powered apps faster using the development services that the Salesforce community already knows and loves.
Einstein Platform
Salesforce Einstein for Developers and Data Scientists
Bring on the AI services and APIs!
Developers, you can use the PredictionIO as a Heroku service to build custom machine learning engines in a fraction of the time. Or use the Einstein Platform Services APIs to easily AI-enable your apps with image recognition and natural language processing.
Use the Einstein Image Classification API to train deep learning models to recognize and classify images. You can use pretrained classifiers or create your own custom classifier to solve unique use cases and deliver apps that can both monitor and automate processes, at a scale that is simply impossible for humans. With the Einstein Language (Beta) APIs, you can harness the power of natural language processing to analyze text and infer the sentiment or intent behind that text. And you don't need a data science PhD to do it, thanks to Salesforce Einstein. Boom goes the app.
Einstein Vision
Leverage the power of image recognition to AI-enable your apps fast. Easily build your own deep learning models for every use case including visual search, brand detection, and object identification with Einstein Image Classification.
Build smart apps via simple input and simple output, without being a machine learning expert. Einstein Vision is a fully managed service that abstracts the complexity of building deep learning models. All of the infrastructure and workflows needed to run and scale your models are managed for you.
Leverage the Einstein Vision pretrained classifiers such as Food, Scene, Multi-Label Image, or General Image with more than 1,000 everyday objects.
Train your own image classifiers to solve a vast array of image recognition use cases.
Access the Einstein Vision service via a standard REST API to implement image recognition using any programming language. It's accessible for developers of any level in a few easy steps!

Einstein Language (Beta)
Use the Einstein Language APIs to build natural language processing into your apps and unlock powerful insights within text. The language APIs include the Einstein Intent API and the Einstein Sentiment API.
The Einstein Intent API categorizes unstructured text into user-defined labels to better understand what users are trying to accomplish. Use this API to analyze text from emails, chats, or web forms to:
Determine which products prospects are interested in, and send customer inquiries to the appropriate sales person.
Route service cases to the correct agents or departments, or provide self-service options.
Understand customer posts to provide personalized self-service in your communities.
The Einstein Sentiment API classifies text into positive, negative, and neutral classes to understand the feeling behind text. Use this API to analyze emails, social media, and text from chat to:
Identify the sentiment of a prospect's emails to trend a lead or opportunity up or down.
Provide proactive service by helping dissatisfied customers first or extending promotional offers to satisfied customers.
Monitor the perception of your brand across social media channels, identify brand evangelists, and note customer satisfaction.

Ready to Get Your Salesforce Einstein On?
Now you've seen some of what Salesforce Einstein has to offer. Continue to explore topics of interest to you by checking out the Resources section below.
Resources
Copyright
Rights of ALBERT EINSTEIN are used with permission of The Hebrew University of Jerusalem. Represented exclusively by Greenlight.