Give the Green Light with the Wellness Survey
Learning Objectives
After completing this unit, you'll be able to:
Describe the value of the Employee Wellness Check.
Explain the types of surveys a business can send to employees.
Locate Wellness Survey data in the Command Center.
A top priority for Fetch is ensuring the health and wellness of all employees. Ellie and her team have struggled to coordinate COVID-19 communication and outreach with their large workforce. But now, with the Employee Wellness Check, she can finally connect with employees and check in on their health easily and efficiently, at scale.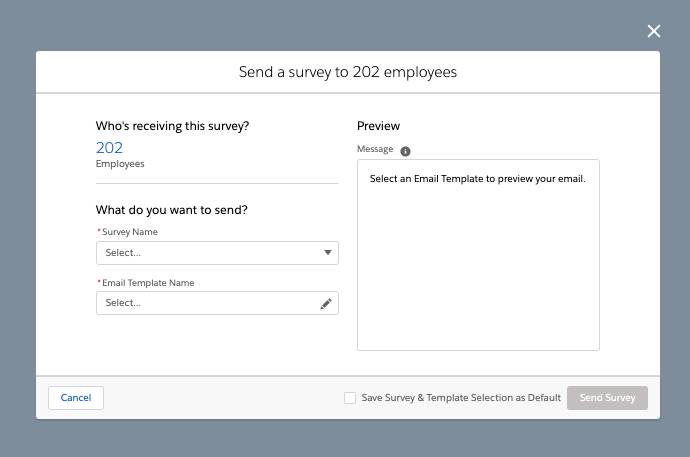 With 2 weeks to go before the office can reopen, Ellie sends the Return to Work survey to her team to get a sense of how they're doing. After asking for consent, the survey asks the employee if they're experiencing a list of symptoms associated with COVID-19. Based on their answers, employees are informed if it's safe for them to return to work or if they should continue working remotely. 
Survey results populate the Command Center so Ellie can stay updated on the health and wellness of each worksite's employees. 
Over the coming weeks, Ellie sends out the Continuing Wellness survey every week to make sure that her employees are still feeling well and ready to come back to work. The Wellness Check includes two out-of-the-box options and the ability to customize the survey and email templates. When an employee is cleared to come back to work, Travis can then send them a shift notification. If they haven't completed the survey or aren't feeling well, then they aren't available for shift requests. 
Since Fetch has two locations, Ellie creates two surveys that address the specific needs of each facility and group of employees. That way, she can plan the appropriate densities for each location, address the company's personal protective equipment (PPE) needs, and make sure her facility plan will keep employees safe.
Bring Fetch Back to Work
With plans in place for its team and facilities, Fetch is now ready to bring its employees back to the office and the plant floor. As the situation evolves, Ellie uses Work.com to stay informed about changing conditions and her employees' health and safety. Ellie is thrilled that Work.com lets her team get back to making top-notch treats and toys for everyone's furry friends. 
Resources