Discover Tableau Prep
Learning Objectives
After completing this unit, you'll be able to:
Describe what Tableau Prep is.
Identify key Tableau Prep capabilities.
What Is Tableau Prep?
If you've ever analyzed data, you know the pain of digging into your data only to find that the data is poorly structured, full of inaccuracies, or just plain incomplete. 
Data preparation is the process of manipulating data to make your data ready for analysis. This manipulation includes cleaning, shaping, and combining it with other data sources. Regardless of its source, most data needs cleaning and shaping to optimize its analysis. For instance, temporal data across columns is usually pivoted to allow for easier analysis in tools like Tableau.
The amount of time and energy it takes to go from disjointed data to actionable insights leads to inefficient ad-hoc analyses and declining trust in organizational data.
Tableau Prep changes the way traditional data prep is performed in an organization. By empowering analysts and business users to combine, shape, and clean data, Tableau Prep makes it easier to start analysis and reach insights faster using self-service data preparation.
Tableau Prep consists of two products: Tableau Prep Builder for building your data flows, and Tableau Prep Conductor for scheduling, monitoring, and managing flows across the organization.
Tableau Prep Builder Capabilities
Using Tableau Prep Builder, on your desktop or in the browser, you can:
Connect to data from multiple data sources.
Clean your data using operations such as filter, split, and rename.
Edit values directly on rows of data.
Combine data sources using unions and joins.
Shape your data using pivots and aggregations.
Create an output of your cleaned data for analysis in Tableau Desktop or Tableau Server/Online.
Output your cleaned data as a new table, or add to or replace data in an existing table. You can output your prepared data in several formats, including a Tableau extract (.hyper) file, a text (.csv) file, or an external relational database.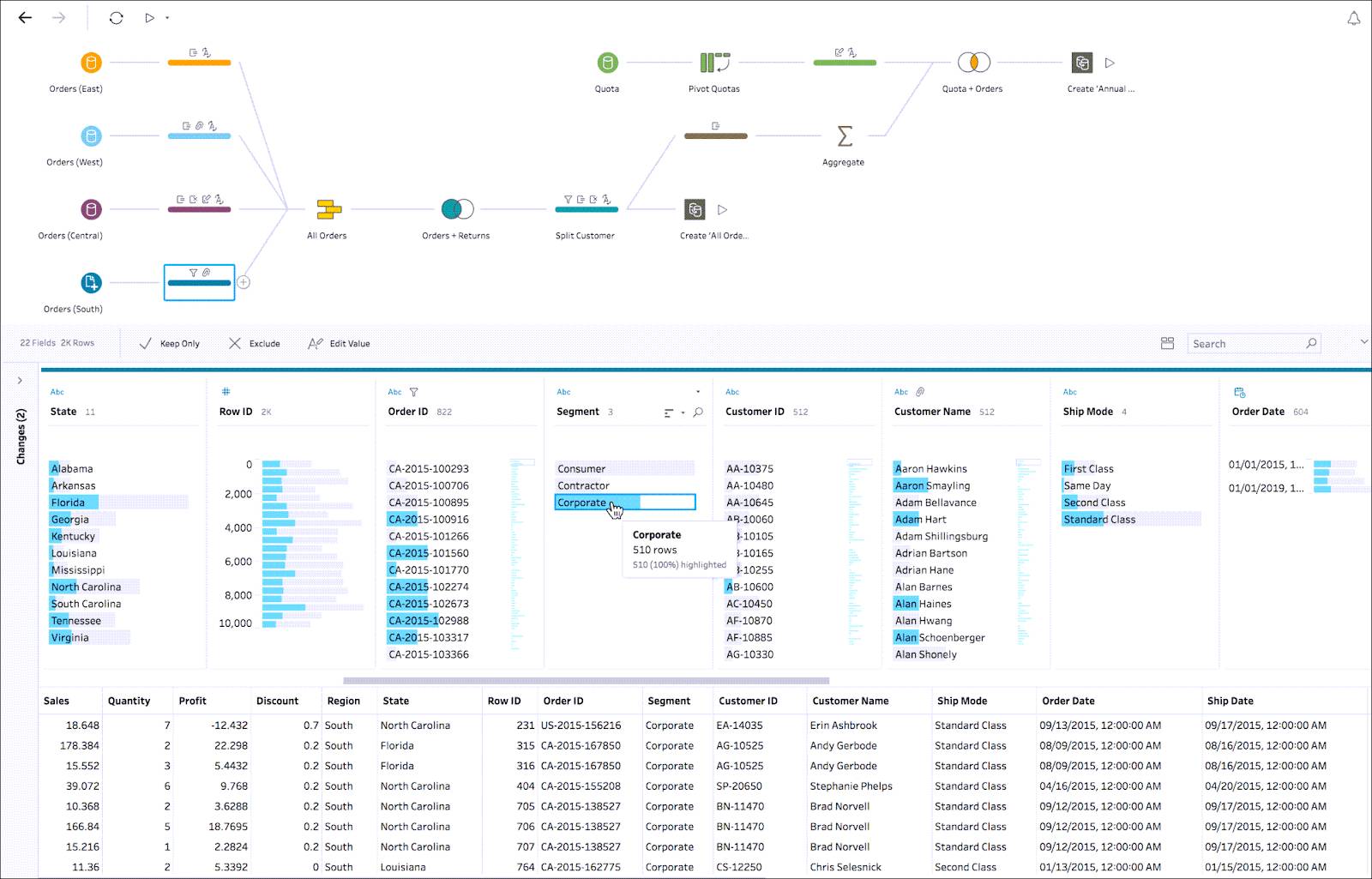 Tableau Prep Conductor Capabilities
Tableau Prep Conductor, available with the Data Management Add-on, enables you to share flows and manage them across the organization. Secure, manage, and monitor published Prep flows, and refresh flow output by running flows on a schedule. Automate your data prep processes so there's always fresh data that's prepped and ready for analysis. Using Tableau Prep Conductor, you can:
Keep Data Fresh Automatically
Schedule your flows to run when you need them.
Automate the tasks of running flows and create a repeatable process, so there's consistency in the delivery of prepared data.
Stay Informed with Alerts and Run History
View your flows' run histories, including successful or failed runs at a glance.
Keep track of the quality of your prep flows with standard alerts if a flow fails.
Create a Governed Prep Environment
Build rules and permissions around data sharing and refreshes.
Take advantage of existing permissions and infrastructure in Tableau Server or Tableau Online to control who can publish, view, and run flows.
Increase Data Discoverability
Use simple management capabilities, including keyword tagging, moving flows between projects, and setting user permissions, to help users across the organization find relevant, prepared data.
Why Prep Your Data Using Tableau Prep?
In addition to enabling self-service data prep, Tableau Prep also simplifies prepping your data. 

Visual and Direct
Tableau Prep provides a visual and direct way to prep your data.
Three coordinated views present a holistic picture of your data which leads to deeper understanding.
Drag-and-drop functionality requires no scripting or programming.
Direct and immediate experience helps you instantly see the result of your actions.
Smart Features
Work smarter and work faster by using Tableau Prep's smart features. 
Fuzzy-match algorithms for common data prep challenges such as finding and fixing spelling errors.
One-click operations to do things like remove punctuation and trim spaces.
Simple and fast operations that, for example, insert reusable flow components to reduce repetitive cleaning tasks.
Smart SQL pushdown to determine the optimal execution strategy that makes the most of database investments.
Integrated Within the Tableau Platform
Tableau Prep is integrated with the other Tableau products in the Tableau platform. This enables you to prepare your data and stay within the naturally iterative, nonlinear flow of how you work. 
Get up to speed quickly, since the Tableau data connectors, calculation language, and governance structure are the same as other Tableau products.
Easily open your flow output with Tableau Desktop or Tableau Server/Online to stay in the analytics cycle for faster speed to insights.
Share flows and flow output to reduce friction and bridge the gap between analytics and data preparation.
Monitor flows with the same tools available on Tableau Server/Online today. See the health of flows across the entire server so you can address any issues quickly. Always know if your flows are healthy with proactive alerts.
Show Me More!
Want to see Tableau Prep in action? Check out how a home and garden center uses Tableau Prep to prep their data in this short video.
With Tableau Prep, you can create a self-service environment where everyone in your organization can work with prepped and up-to-date data.
Resources