Customize Sales Cloud for Your Business
Learning Objectives
After completing this unit, you'll be able to:
Display a new field in Sales Cloud.
Describe what it means to customize an org.
Create a list view and customize it for your business.
Find the best place to learn about Sales Cloud.
SalesforceIQ CRM to Sales Cloud Setup
Patsy knows that in order for her pies to fly off the shelves, she needs customers to buy them! And once they get customers in the door, getting an email address or phone number allows them to reach out about new products, follow-up on past orders, and make retaining their customers a top-priority. In both SalesforceIQ CRM and Sales Cloud, this information is associated with an Account, Lead, or Contact.
Once she has all of the information she needs, Patsy's team can make sure each contact and account is data rich and up to date. To learn more about setting up accounts and contacts, Patsy and her sales team decide to check out the Trailblazer Community. These groups of passionate and knowledgeable customers and Salesforce experts answer any questions about set up and avoid common errors when getting started.
Customize Your Org
For Professional and Enterprise edition orgs, admins can customize Sales Cloud to suit their business. This may mean adding fields on a record, changing the page layout of a record detail page, or otherwise finding just the right settings to suit your needs. Patsy's team prioritized outreach and delivery and made sure to customize her org to reflect that. Although it seems a little intimidating at first, once Patsy watched the getting started video she was on her way to a customized pie-friendly org.
Since users don't need an admin to create list views for them, let's step into the shoes of one of her sales reps, Charlie. Charlie is a senior hand pie slinger and wants to set up custom list views. Why? That way he can slice and dice his information just like he did in SalesforceIQ CRM. Here's how he'd do just that.
Click the App Launcher icon, navigate to the Sales app and select the Accounts tab.
From the list view controls , click New.
Name the list New This Week.
Click Save.
So far, the list view is showing us all the accounts, regardless of their type or location. Use the filters panel is now available to further refine the list view.
Let's set up some filters.
Click Add Filter.
From the Field drop-down menu, select Stage 8.
Select the equals operator.
For Value, select Qualified and Demoed, then click Done and Save.
Great! The list has been pared down to qualified or demoed customers. Charlie can now see exactly the type of customer he needs to contact without having to manually search their entire customer database. This will save him valuable time and make his outreach more effective.
Learn More with Sales Cloud Trails, Trainings, and Help
Patsy and her team don't stop there. Mastering Sales Cloud won't happen in a day and thankfully, they have more than a baker's dozen ways to get the information and training they need. For starters, Patsy and her team can use Trailhead for an easy, fun way to learn Salesforce. To improve her Sales Cloud skills, Patsy dives into a trailmix, a sort of playlist of topics, that includes Sales Cloud basics, analytics and dashboards, selling pointers and everything in between. We've included Patsy's Sale-mix at the end of the module so you can join her on the way to sweet success. Patsy knows Salesforce has so many options of customizing, reporting, and analyzing data and she wants to make sure to take advantage of them all. To take her skills to the next level, she signs up for the Salesforce Admin certification to master it's advanced capabilities and achieve pie proliferation perfection.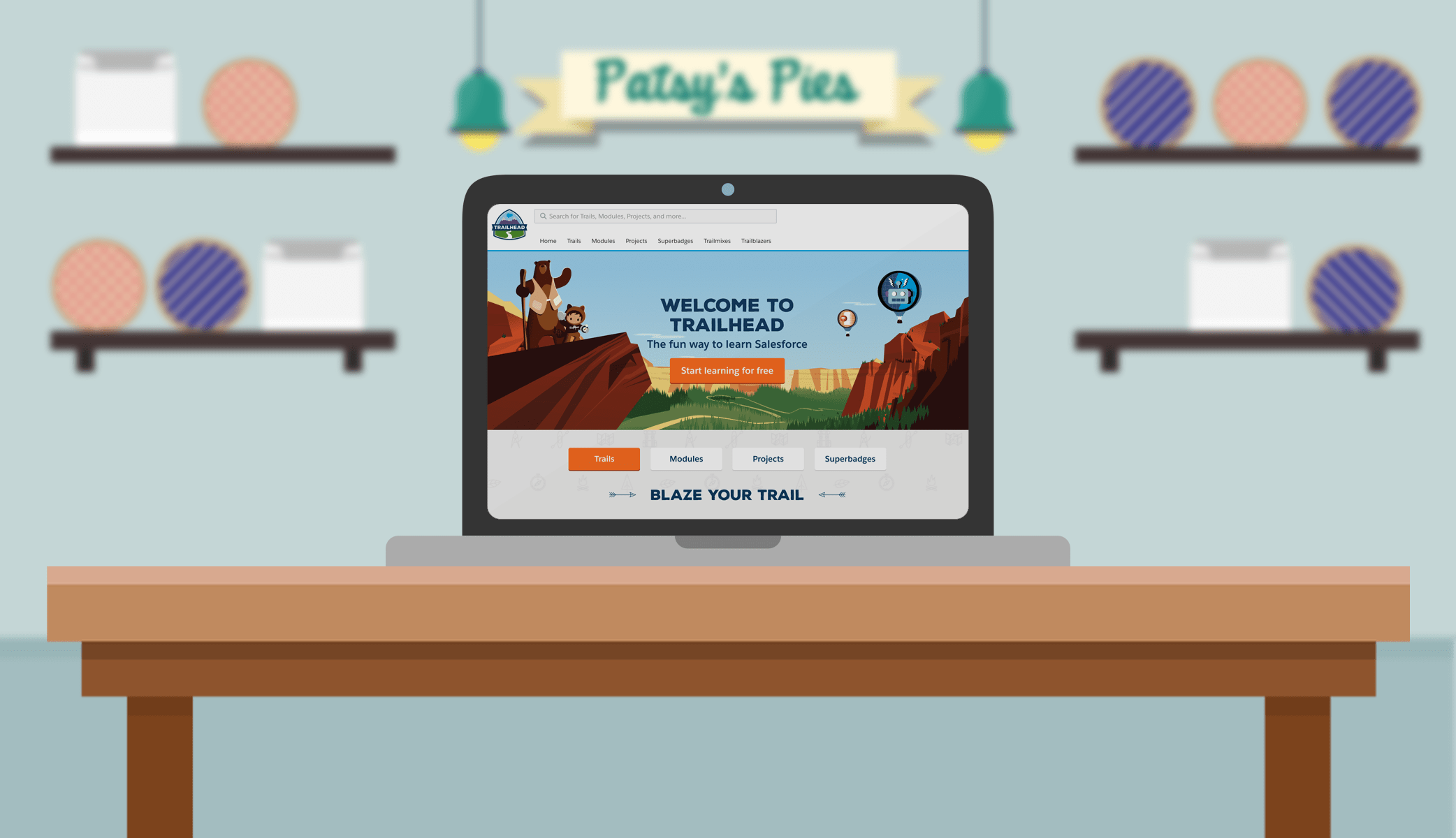 For hands-on help with migration, our experts at Salesforce conduct weekly webinars to familiarize you with Sales Cloud. Although Patsy followed directions carefully and successfully moved her data over, she doesn't need to tune in, but she knows that the resource is there to help her if she needs it. And don't worry: If something just-in-time is what you need, Salesforce Help and Training is just a click away and includes quick fixes, in-depth explanations, and the latest information on Salesforce products and features. With all of that support, Patsy's ready to bring her baked goods to Brooklyn and beyond. Her sales team has all they need to collaborate, connect with customers, and convert every lead that comes their way.