Get to Know the Marker Layer Builder
Learning Objectives
After completing this unit, you'll be able to:
Use the Marker Layer Builder to answer business requirements.
Explain the similarities between a Salesforce report and a marker layer.
Define a marker layer.
Introduction to the Marker Layer Builder
The Salesforce Maps Marker Layer Builder is a powerful interface that analyzes your Salesforce data for geographical visualization. The Marker Layer Builder is similar to Salesforce reports, which often answer questions about your Salesforce data like:
Who are my highest value prospects?
Which products are my top sellers?
Which marketing campaigns have been the most successful?
With Salesforce Maps, marker layers are created to answer Where questions, such as:
Where are my highest value prospects?
Where are my top-selling products being sold?
Where are the most successful marketing campaigns?
Creating a marker layer follows the same process as creating a Salesforce report: Take the question, ask additional questions, take note of the requirements, and then map those requirements in the Marker Layer Builder. While any user with the appropriate permissions can create a marker layer, we recommend that ownership of the Marker Layer Builder be restricted to one or a select group of people. Throughout this badge, this person will be referred to as the Salesforce Maps administrator.
Let's look at an example of a sales blitz that Cloud Kicks, a custom shoe company, recently kicked off. To meet quotas, the sales team is expected to visit each high-value prospect at least once in the next 30 days. They ask Linda Rosenberg, a Cloud Kicks Salesforce Maps admin, to create a marker layer that displays the highest value prospects for each sales rep. 
To ensure she can deliver data that will be beneficial to users, she asks some follow-up questions to help create the marker layer. 
| Linda's Follow-Up Questions | Answers from Sales |
| --- | --- |
| What Salesforce field is used to determine value: Quantity or Revenue? | Value in this case is determined by revenue rather than quantity. |
| Should the results be grouped by total revenue? For example, all prospects less than $50,000, prospects between $51,000–$100,000, and prospects greater than $1,000,000? | Group prospects by potential revenue range from less than $100,000 to greater than $1,000,000, using denominations of $50,000. |
| Once a prospect has been visited, should they be removed from the returned results? | Visits are tracked as events and should be removed when returned results are refreshed. |
Linda decides to use the following criteria to create the marker layer showing each sales rep's highest value prospects.
Criteria

Visible Fields


Select the Lead Base Object
Filter By Owner & Scope: Select "My Leads", this will show all leads owned by the logged-in user
Field Filter: Add "Lead Status" not equal to "unqualified"
Filter by Activity: Show Leads without an event within 30 calendar days
Markers: Group markers different colors based on potential revenue

Tooltips: Select Business Name and Projected Revenue
Linda starts with the lead base object and uses her criteria charted above, to guide her through filters and tabs of the Marker Layer Builder.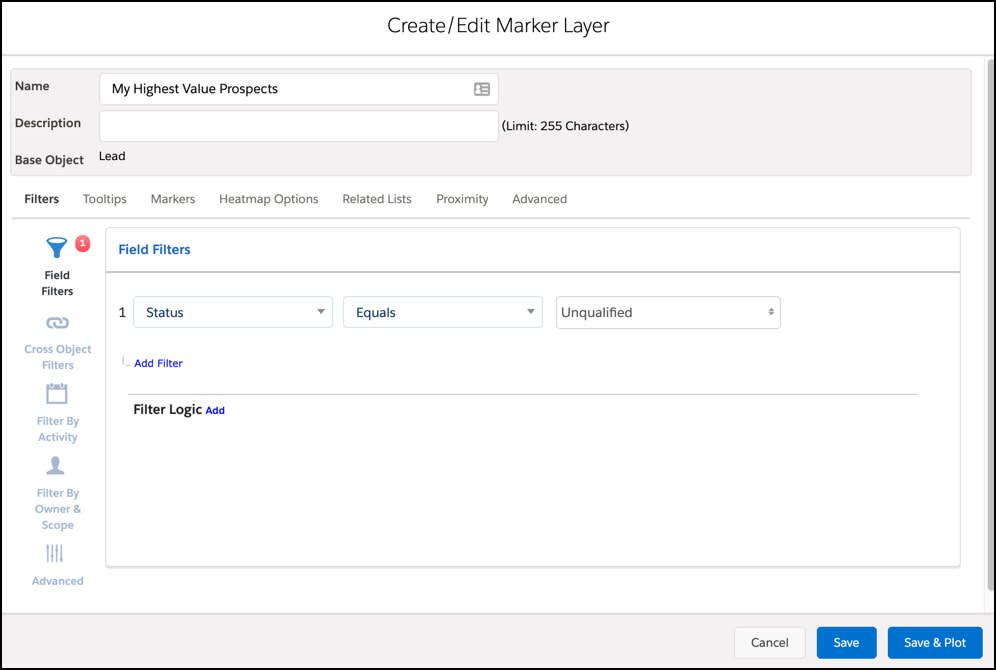 Once complete, she saves the marker layer and stores it in a folder accessible to the sales team. The sales team can now select that marker layer to view their data and plan their sales blitz. 
What Is a Marker Layer?
As previously mentioned, a marker layer is similar to a Salesforce report. In their simplest form, Salesforce reports are a list of records (like opportunities or accounts) that meet user-defined criteria. But reports can be much more than simple lists; you can also filter, group, and do math on records. 
Since reports and marker layers are similar, we can define a marker layer by making a few adjustments to the statement above. In its simplest form, a marker layer can be a list. More specifically, it is a geographical view of records (like opportunities or accounts) that meet user-defined criteria. This criteria is defined in the Marker Layer Builder, which allows you to get the data you need through filters and groupings. 
Once you plot a marker layer, some key benefits include:
Visibility—Marker layers give you easy access to key data insights, which helps you make better decisions.
Time savings—You don't have time to manually dig through all your many objects, records, and fields to pull information about key accounts. Marker layers give you a quick way to answer both simple or complex questions about your data.
Flexibility—With marker layers you can pull data from all your standard and custom objects and fields. You have many powerful options for tailoring marker layers to the specific needs of your end users.
At Cloud Kicks, the sales team selects the marker layer called "My Highest Value Prospects" to plot data on the map and target accounts they have not visited in the past 30 days. Now they can view records geographically to plan sales calls based on location and proximity. The marker layer also has a legend of potential revenue to ensure they prioritize visits to leads with the highest revenue potential.  
So now we've talked about the Marker Layer Builder. In the next unit we review marker layers in more detail and provide examples of commonly used marker layers. 
Resources