Explore Additional Layer Options
Learning Objectives
After completing this unit, you'll be able to:
Create shape layers.
Visualize business and property data.
Explain the business case for favorite locations.
So far you've learned about marker layers, but did you know that there are other types of layers that can be used to display data in Salesforce Maps?
In this module you learn about three additional layers: shape layers, data layers, and favorite locations.
Shape Layers
Each sales manager at Cloud Kicks is responsible for a team of approximately eight account executives. Managers are responsible for regions that consist of four states. For example, the Southeast region includes Georgia, Florida, North Carolina, and South Carolina. The management team wants to make changes to the distribution of territories based on the overall volume of opportunities in each region. To capture this information, managers plot a marker layer displaying their team's opportunities by volume. The next step involves visualizing a boundary around each state in a region and capturing the aggregate dollar amount of all opportunities. Salesforce Maps can help with that requirement in a number of ways, including:
Shape layers: Allows users to visualize territories based on zip codes, cities, counties, states, and other geographic areas like voting or school districts.
Draw on map: Used with the shape layer builder to manually draw a shape on the map, allowing users to refine their shape by adding or removing specific zip codes.
Drawing boundaries: Allows users to manually draw a shape on the map using a polygon, rectangle, or circle drawing tool.
Linda uses the shape layer builder to create territories for the sales management team. She creates a shape layer for each region.
For the Southeast region, she creates a shape around Georgia, Florida, North Carolina, and South Carolina. She names this shape layer Southeast Region and stores it in the sales management folder.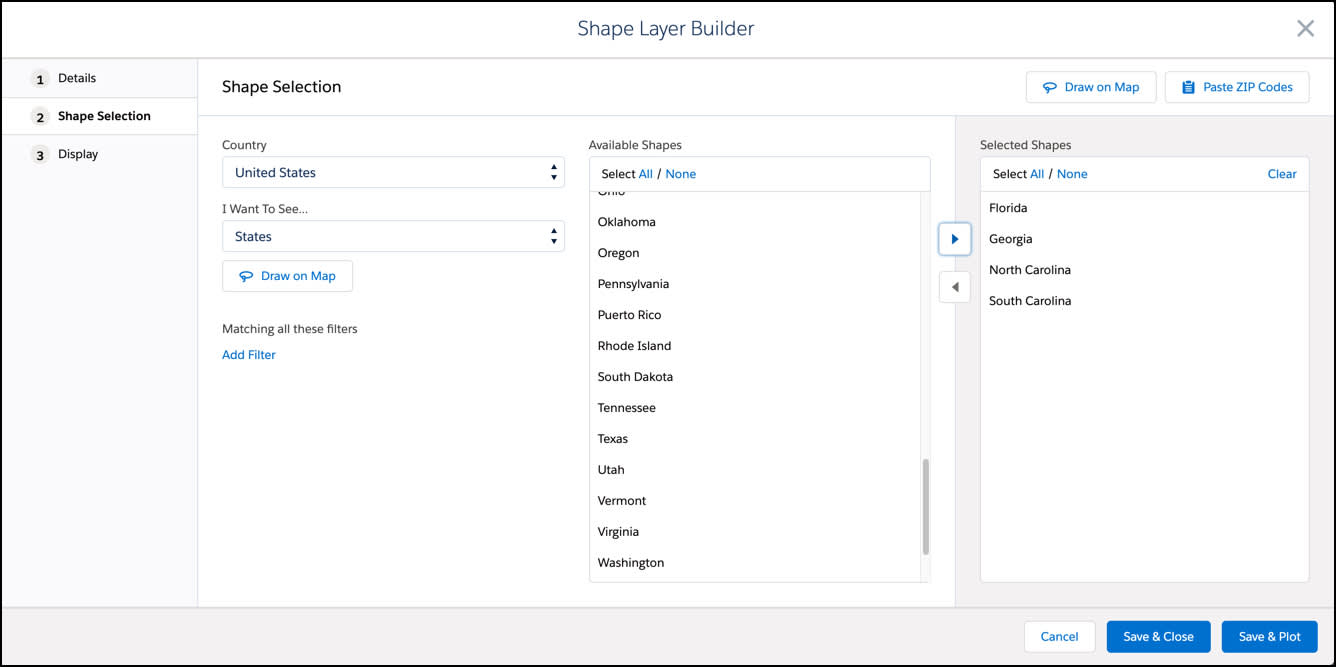 Now the sales management team can plot the shape layer to view their territories and overlay an opportunity marker layer to display all open opportunities. By selecting each shape, they can see the aggregate dollar amount of all opportunities in each state and start making changes to territories based on business requirements.
Data Layers
In addition to visualizing Salesforce data with marker layers and visualizing territories with shape layers, Salesforce Maps allows users to visualize non-Salesforce data by creating data layers to display business and property data. These layers can display business or property data from different data sources such as: US Business Data, universities and colleges, private schools, census data, and many more. In addition, specific datasets can be displayed, for example:
Business datasets can include overall revenue, company name, and contact information.
Property datasets can include house size, age, value, and date information.
Let's look at how Salesforce Maps can help the sales team at Cloud Kicks use business data to find shoe stores that are not in Salesforce and add them as potential leads. 
Linda Rosenburg creates a data layer using the following criteria. 
All business establishments in the United States that sell shoes and have total sales revenue of over 2M.
Linda uses the North American Industry Classification System (NAICS) to find all shoe stores in the United States. She names this layer Shoe Stores in the US and then adds the following filters:
Topic: NAICS: Level 1 - Sector Code equals 44
Topic: NAICS: Level 3 - Industry Group Code equals 4482
Topic: Sales: Total (USD) greater than 2000000

She stores the data layer in the sales team folder. Now, the sales team can plot a marker layer displaying their current accounts in Salesforce as well as a data layer displaying all shoe stores in the United States.  
Then the sales team can target any account that is not in Salesforce and add them as a lead by selecting the Click2Create® (C2C) button under the actions tab in Salesforce Maps.
Favorite Location
How often do you use a mapping application on your phone to get directions to your house or your office? Do you have your home or office address saved in your phone or do you enter it every time?   
In Salesforce Maps, addresses you use often can be added as a favorite location. This is especially helpful if you are creating a route or schedule and you normally start and end your day at the same location. When creating a favorite location, we recommend storing this layer in your personal folder since it may include personal information like a house address.  
The following steps can be used to create a favorite location.
Select your personal folder.
Click Create a Favorite Location.
Name your favorite location based on the address you are adding, for example: Home.
Enter the address and click Save.
Once complete, this favorite location can be plotted on the map. When creating a route or schedule, add your favorite location as your start and end location for each route. Alternatively, you can add a favorite location to the routes/schedule default setting so it automatically loads when you create a route. 
Conclusion
Well done! This badge walked you through the steps Linda took to create marker layers, shape layers, and data layers for Salesforce Maps users at Cloud Kicks. These layers answer questions for each use case, giving Cloud Kicks a geographic view of data to increase user productivity and revenue. At Cloud Kicks, marker layers were created for insight into Salesforce data, shape layers provided answers to territory questions, and layers of non-Salesforce data helped sales users prospect and save time planning visits by using favorite locations.
Now that you know more about Salesforce Maps layers, you can start geographically evaluating your data for fresh insights. 
Resources