Find Your Way Around AppExchange
Learning Objectives
After completing this unit, you'll be able to:
Search for and filter solutions.
List the factors that influence personalized recommendations.
AppExchange is a flourishing marketplace, with tens of thousands of listings and new ones added regularly. It's good to have ample choice, but not to get bogged down in it. 
Maria Jimenez is a Salesforce admin for Ursa Major Solar, Inc., a solar components and systems supplier. Maria knows her way around AppExchange. Her advice: When you're looking for the best solution, a little planning goes a long way.
Log In
First, Maria logs in to AppExchange. That's a smart move. Logged-in users are rewarded with personalized recommendations.
Search for a Solution
The Ursa Major team wants to streamline order fulfillment. They're happy with their fulfillment vendor, but dream of a day when they can ship orders and track packages from within Salesforce. This is a common business challenge, and Maria is confident that she can find a solution on AppExchange. 
AppExchange customers who have a well-defined idea of what they need start with search.

Maria opens a web browser, logs in to AppExchange, and positions her cursor in the search field. AppExchange lends a helping hand by displaying a list of her recently visited pages. To see details, she can select an item from the list.
None of Maria's recent items fit her needs because she's looking for something new. She submits search terms and is rewarded with a list of relevant results. 
The search results page groups solutions by type, with types listed in alphabetical order: Apps, Bolt solutions, and so on.
Filter Search Results
With a simple search, Maria went from thousands of possible options to hundreds. That's a lot of results—to be honest, a few too many. Finding the right solution is still like finding a needle in a haystack. She needs to get rid of the haystack by applying search filters. Filters tell the search engine, "Show me this, but don't show me that."
You can filter results by:
Solution type
Price
Salesforce edition
Customer rating
Language
By default, all filters are selected. That explains why Maria's search returned so many results. She deselects the filters she doesn't need, leaving only Apps, Enterprise, and English checked. She clicks Apply Filters, and the search results page updates to display a shorter, easier-to-digest list of results—English language apps for Enterprise Edition. 
Maria quickly finds the right app and is off to share the details with her team.
Explore Personalized Recommendations
During some down time between meetings, Maria returns to AppExchange. She clicks the Recommended for You tab to see a curated, personalized list of solutions.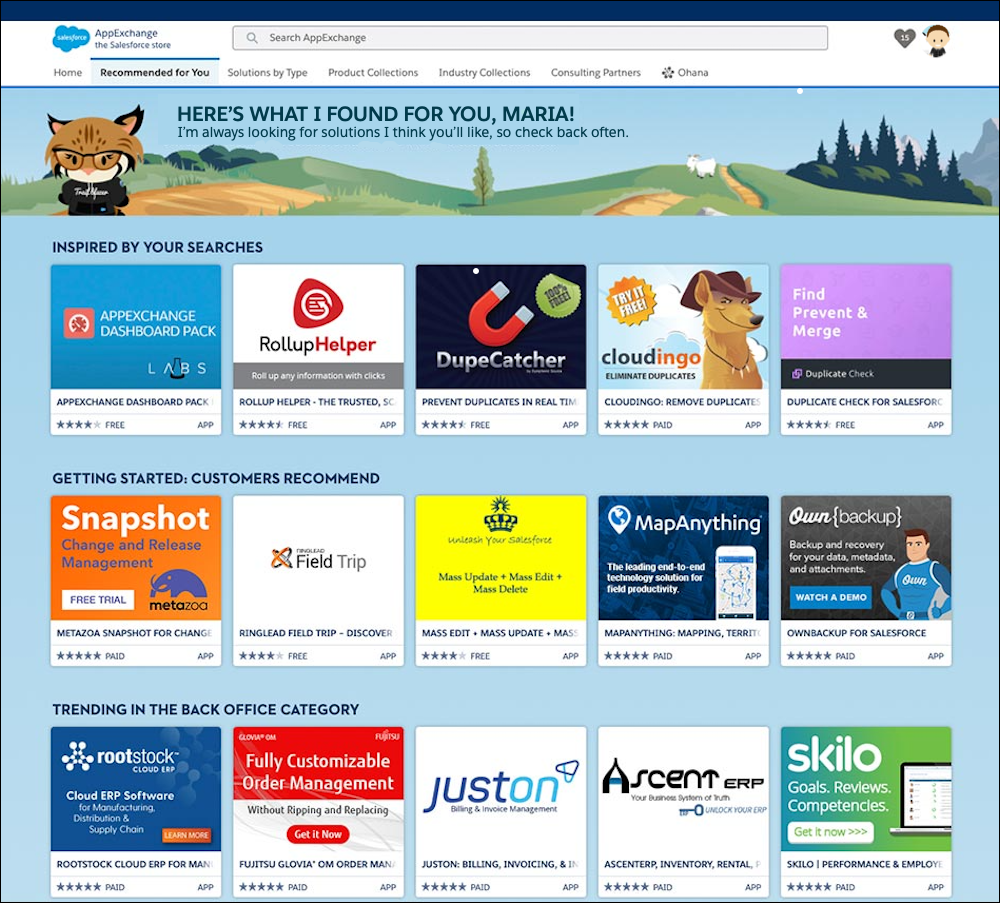 The recommendations are based on where you're located, what you've installed, the community profile info you've shared, and more. For example, think about a business that's focused on reinventing project management. As soon as the business's admins search for or install an online appointment scheduling app, recommendations surface for relevant, complementary apps. These recommendations also take into account what other customers like you have searched for or installed.
Maria scrolls through the page, noticing that the solutions are grouped into three categories.
Inspired by Your Searches
Customers Recommend
Trending
Inspired by Your Searches
When you search within AppExchange, you give Appy, your AppExchange guide and personal shopper, an idea of what interests you. Then, Appy finds solutions she thinks you'll like and bubbles them up to you as recommendations.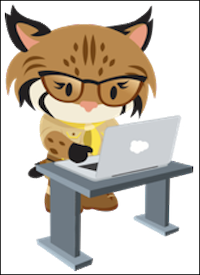 The more you search, the more inspiration you give Appy, who continues to refine the recommendations. She's always looking for solutions you might like, so check back often.
Customers Recommend
AppExchange is more than a marketplace; it's also a community of Trailblazers. We define Trailblazers as pioneers, innovators, and lifelong learners. They inspire others with their constant innovation, by transforming the customer experience, and by growing their careers. Trailblazers drive change. 
As our customer, you're part of that community. When you created a Salesforce account, you told us a bit about who you are and what type of Trailblazer you are. We saved those details to your profile. It includes details such as your product interests and which Salesforce editions you use. 
Customers Recommend features personalized recommendations that factor in your shared profile information, what's installed in your org, and more. 
Imagine you work for a Paris-based ecommerce company with 15,000 employees. Your company uses Commerce Cloud, Enterprise Edition, and an inventory management app. Appy surveys what customers like you have installed and notices that 60% of them also use a highly rated shipping app. She shares that discovery with you in the Customers Recommend section.
Trending
Trends reflect what's popular in the moment. Wearable tech and chatbots are current technology trends. On AppExchange, the trending solutions are the ones with the most customer installs. 
Maria reviews this section and finds a personalized list of most-installed solutions. 
Extend Salesforce Products
If we could time travel back to the San Francisco apartment where Salesforce started, we'd see a group intent on building a CRM platform to transform how companies run their businesses. That platform is the foundation that our other products, such as Sales Cloud, Service Cloud, Marketing Cloud, and Tableau CRM, run on. 
AppExchange solutions not only extend the platform, but also extend Salesforce products. When you need a solution to pair with a specific product that you use, check the Product Collections tab. That's where you find recommended solutions that fulfill your business needs.
Meet Industry Needs
Every industry has unique needs. The capabilities of a healthcare clinic are different than those of media outlets. To find solutions designed for your industry by industry experts, visit the Industry Collections tab.
Solutions are available for these industries:
Communications
Education
Financial services
Government
Healthcare and life sciences
Manufacturing
Media
Nonprofits
Professional services
Real estate
Retail
Travel, transportation, and hospitality
Navigate to an industry collection page to view solutions for that industry.

Next, we explore how to apply different solution types to business challenges. 
Resources