Discover AppExchange Solutions
After completing this unit, you'll be able to:
Define AppExchange.
List AppExchange solution types.
Describe the benefits of using AppExchange solutions in your projects.
What Is AppExchange?
At Salesforce, we've always pushed to give customers and developers the ability to build applications that run on our platform, and they've always seized the opportunity.
In 2006, we launched AppExchange. It's the first-of-its-kind marketplace geared toward helping customers find everything they need to run their businesses in the cloud.
People like you—admins, developers, and other Salesforce users—use AppExchange solutions to make your business processes more efficient and your teams more productive. 
AppExchange Is More Than Apps
Today, apps are ubiquitous. More than 88% of Salesforce customers have installed at least one app. But AppExchange has evolved far beyond apps. It's a marketplace for:
Apps
Components
Bolt solutions
Lightning Data
Flow solutions
Consultants
Collectively, these solutions span just about every industry, department, and line of business. 
AppExchange solutions have several things in common. They:
Extend Salesforce functionality.
Can be distributed to others.
Run on the Salesforce platform.
Accelerate solution development.
The Need for Speed
By far, what our customers request most is speed. Not speed in the sense of page load times, but rather the ability to build and deploy solutions faster. Solutions on AppExchange speed up your time to market because you don't have to start from scratch.
Customers also want to find the right AppExchange solution quickly. This isn't a trivial topic—you can't install a solution that you can't find. This module explores every solution type, highlights when to use each type, and shows you how to quickly find the solution you need. 
Let's get started.
Apps: Specialized Applications

An app is a ready-to-install collection of items that work together to serve a particular function. If you have a smartphone, you're already familiar with apps. You might use an app to manage your to-do list or stream music. 
Apps let you do things on your smartphone that the phone doesn't do on its own. It's the same with Salesforce. Apps allow you to do things with Salesforce that aren't supported out of the box, such as automating customer billing and generating contracts. 
To create apps, developers combine custom objects, applications, tabs, components, and more into a single app package. Every app on AppExchange lists what it contains. Some are packed full.

Others are lean.

Components: Building Blocks

Apps have their advantages, but sometimes you don't need a whole application. You just need a piece of functionality to make an app or web page more useful. That's where components come in handy. 
Components are building blocks that you can put together to build bigger things, such as apps. You can also use components to customize web pages. Building apps and customizing web pages are very different tasks. That's why we have two component types: components and web components. 
Components are modular building blocks. You can use components to build other solutions, such as apps and Bolt solutions—no coding required. Components allow you to add functionality without having to develop it on your own. 
Web components are user interface elements. To understand web components, it helps to understand the Lightning Experience user interface. In Lightning Experience, everything on a page—buttons, tabs, and so on—is a Lightning web component. To augment or customize a page, you add web components to the page.
Salesforce developers create some components, but partners create most of the components listed on AppExchange.
Here are a few examples of how our customers use components.
Track Salesforce logins and feature usage.
Automatically manage email opt-outs.
Kick off processes.
Find and merge duplicate records across all Salesforce objects.
Add a calendar to a page.
Bolt Solutions: Industry Solutions

Sometimes you need to get to market yesterday with an industry-specific solution. The solution must work with a Salesforce product, such as Sales Cloud or Service Cloud, and have business logic and automation built in. Last but not least, it has to have a customizable, eye-catching user interface. When you need all that, you need a Bolt solution.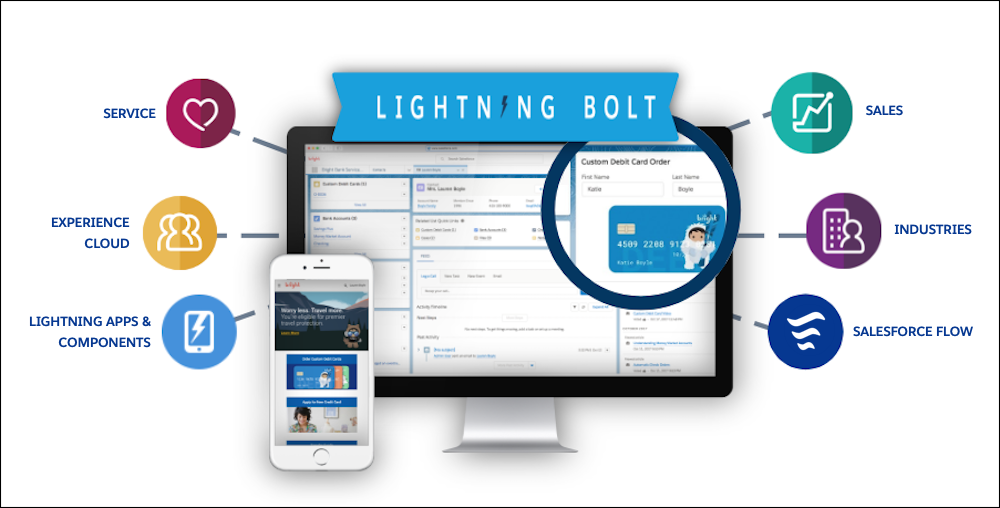 Bolt solutions are complete industry solutions that are quick to deploy on Salesforce. 
Here are some examples of what Bolt solutions can do.
Deliver a complete customer onboarding experience.
Jumpstart the creation of a community or website that seamlessly integrates with Salesforce CRM.
Create a portal for franchisees to access the latest version of logos and other brand assets.
Unlike ready-to-install apps and components, Bolt solution deployment requires the services of the partner who created the Bolt. They help you install and customize the solution to suit your needs.
Lightning Data: CRM Data Enrichment

Sometimes you don't need extra functionality. You need high-quality data that completes the picture of what's going on in your customer's world. You need Lightning Data. 
You can think of Lightning Data as a special type of app. It connects your Salesforce org to a data feed and automatically enriches your CRM data. 
Behind the scenes, the Lightning Data Engine provides an automatic and perpetual connection between your org and a third-party data feed. This ensures that all of your data is as current as possible.
There's a wide variety of industry- and business-specific data available on AppExchange. You can choose one or combine multiple. 
Our customers use Lightning Data to power critical business processes such as:
Market analysis and go-to-market strategy.
Lead scoring and routing.
Marketing segmentation, especially in account-based marketing (ABM).
Artificial intelligence (AI) and Einstein features.
Flow Solutions: Process Automation

Sometimes you need to automate a business process, and you'd like to avoid from-scratch integrations and coding. That's when you need a flow solution. Flow solutions automatically do things, such as update data, send emails, and interact with external systems, on behalf of the user.
"Flow solutions" is an umbrella term. Under the umbrella there are two solution types: flow actions and flow templates.
Flow actions are prebuilt, stand-alone, functional elements that perform an action within the context of a flow. Take, for example, credit card validation. That's one activity in a multistep payment processing flow.
Here are more examples of flow actions.
Send an SMS message.
Conduct a credit check.
Update account info.
A flow action is one piece of a bigger picture. Flow templates represent the big picture. In our payment processing example, a flow template not only validates your customers' credit cards, but also saves their payment info, and collects payments. 
Flow templates are prebuilt, end-to-end, configurable business processes tailored to match specific industry use cases. That statement is bursting with important info. Let's unpack it.
Prebuilt
Experienced Salesforce partners use Salesforce Flow to declaratively create flow actions and templates so you don't have to implement your process automation solutions from scratch. 
At the core of Salesforce Flow are two point-and-click builders that make it easy to model business logic without writing code.
Flow Builder: Create flows that can have user input, guided user interactions, rich branching logic, and can operate on several records at once.
Process Builder: Automate repetitive processes such as assigning work, sending emails, and automatically updating records when the process criteria is met.
Partners use these tools to create rich, automated flows that can: 
Contain complex business logic.
Connect a process to, and perform actions on, disparate systems.
Provide beautiful visual workflows that guide end-user interactions.
Work with every Salesforce app, experience, and portal.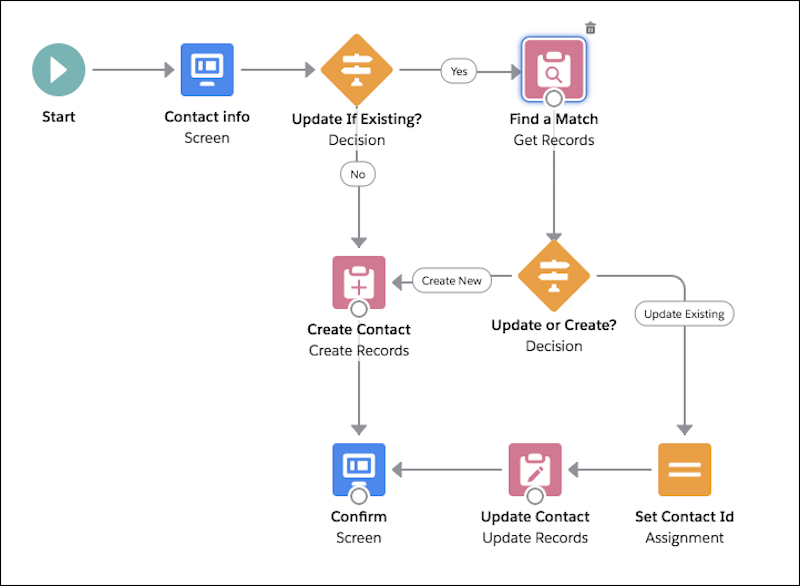 To learn more about Salesforce Flow and the tools used to build flows, complete the Salesforce Flow module.
End-to-end
Templates map out a complete business process flow, from start to finish. They include the steps involved to reach particular outcomes.
Configurable
In a way, templates are similar to apps in that they give you an end-to-end experience. However, unlike apps, templates aren't meant to be used as is. You typically have to configure flow templates to meet your business needs. Think of flow templates as configurable business processes. 
Use templates as starting points for your custom process flow. First, save the template as your own flow. Then, customize it to meet your business needs. For example, change the logic or add flow actions.
Tailored to Industry Use Cases
The Salesforce partners who create flow templates are industry experts. They embed their industry intelligence into the template to help ensure your success.
Flow template examples:
Add branded, mobile-ready surveys to your flows.
Create orders from quotes.
Validate, capture, and save customer payment methods.
To launch your custom process automation solutions faster, start with flow solutions. 
Consultants
There's another type of help you can find on AppExchange: consultants. Consultants are specialists with deep industry knowledge and proven Salesforce expertise. They join forces with our customers, many of whom don't have the in-house resources or solution knowledge to achieve their goals on their own.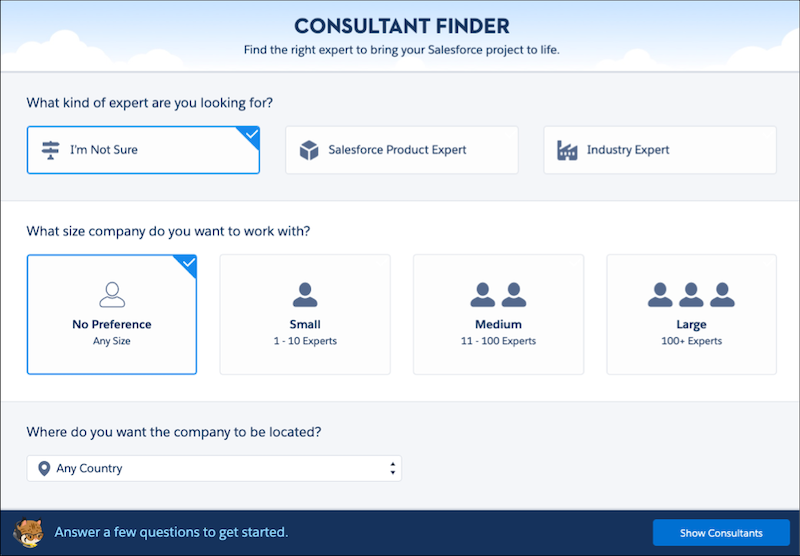 Consultants demonstrate their expertise by keeping their Salesforce certifications up to date and by assembling portfolios of successful projects. For example:
Launched a case management solution for a top healthcare company, saving them 20% in bookkeeping overhead.
Built an integrated customer community for a large multinational corporation, significantly improving their customer satisfaction.
More often than not, the guidance, expertise, and support of one of our consultants drives customer success. Together, our customers and consultants can accomplish more and accomplish it faster.
Extend the Power of Salesforce
AppExchange solutions are the fast and easy way to extend core Salesforce functionality. There's something for every business challenge. 
Type

Description

Apps

Complete, specialized applications

Components

Building blocks used to add functionality to pages, apps, and Bolt solutions

Bolt solutions

Industry solutions paired with partner services

Lightning Data

Third-party data to enrich your CRM data

Flow solutions

Flow actions: Stand-alone elements that add functionality to process flows

Flow templates: Prebuilt, end-to-end, configurable, business processes tailored to match specific industry use cases

Consultants

Experts who possess deep industry knowledge and proven Salesforce skills

All AppExchange solutions share a few important qualities.
Easy to install: Thousands of solutions install in just a few clicks.
Seamless to set up: Integrate and configure solutions with clicks not code.
Peer reviewed: There are more than 80,000 peer reviews of AppExchange solutions.
Tested for security: To get listed on AppExchange, every solution passes a rigorous security review.
Still not convinced? Take a test drive. Many of our partners let you try before you buy. This is a great way to validate that the solution you're interested in meets your needs. 
You and other top Trailblazers use AppExchange to get more out of Salesforce and their business. 
Resources