Use the Salesforce for Slack Integration for Service
Learning Objectives
After completing this unit you'll be able to:
Explain how service teams use the Salesforce for Slack integration to customize alerts.
Describe how service teams collaborate with product and technical teams.
Stay in the Know with Customized Alerts
The integration helps your service team collaborate with product and technical teams to help you better serve customers. 
Meet Anca. She's the lead support agent at Simple Enterprise. To organize her work, Anca set up a Slack channel with custom alerts for high-priority cases only, using the Salesforce object alert. 
Share Salesforce Records in Slack
A new account, Edge Communications, just logged a high-priority case. Anca's alerted in Slack, and moves quickly to resolve it.
It's time to impress this customer with how quickly and effectively they're able to resolve the issue.
Anca lets them know the bug is affecting 10 users who are using Mac computers. It's urgent since Edge Communication is trying to submit tax documentation before the end of the quarter. As she works, she's able to share the relevant Salesforce records directly in Slack, and send the Slack conversation back to records using the Add to Salesforce action, so that all of the communication on the resolution is properly tracked. 
With this speedy collaboration, the technical team is able to quickly resolve the issue, and Edge Communications meets its deadline without any more hiccups. The resolution can be referenced back in Salesforce so in the future the team has all the information they need at their fingertips. Anca saved the day with great customer service using the Salesforce for Slack integration.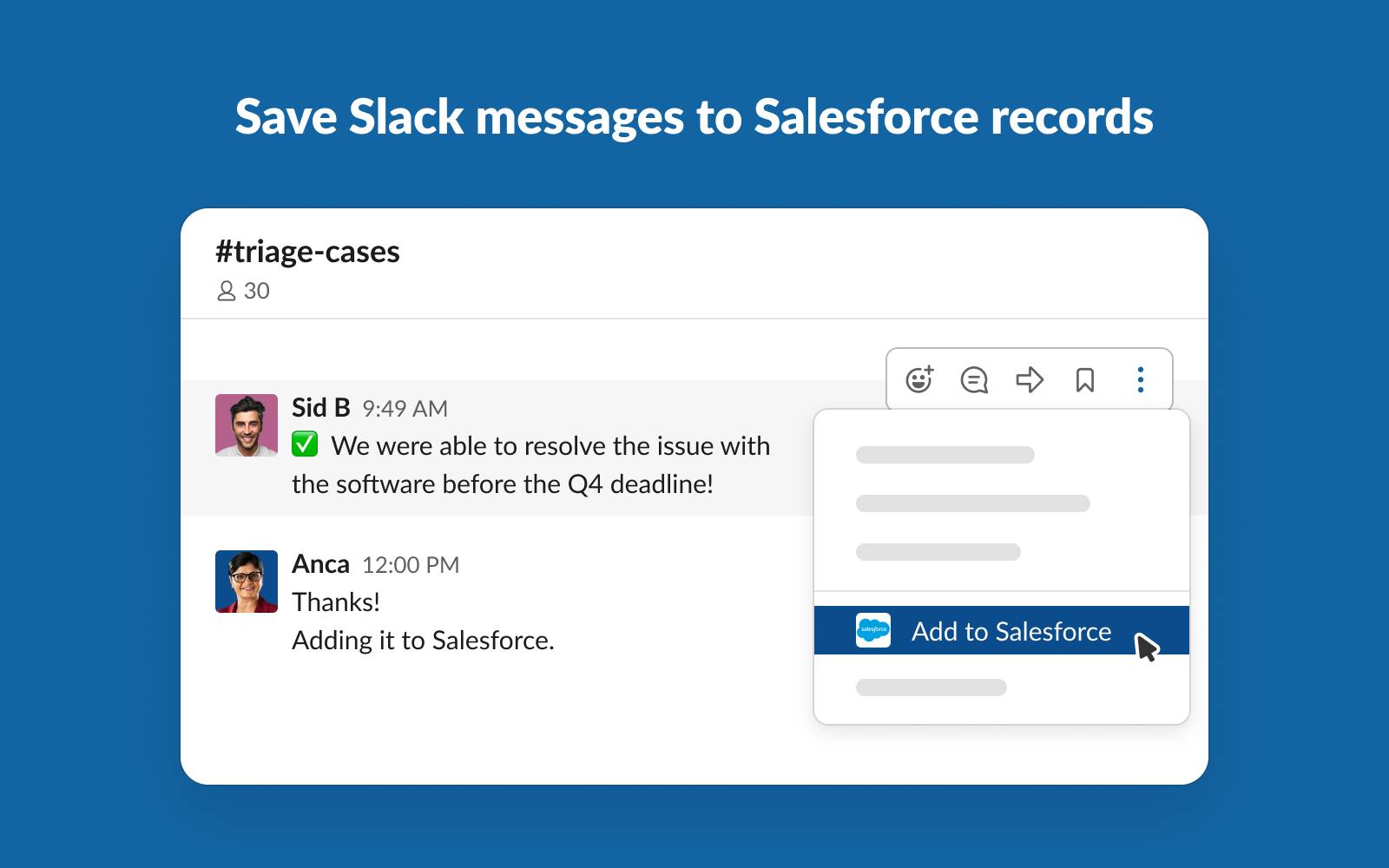 This sure makes this whole collaboration thing easy, and easy collaboration = happy customers!
Sum It Up
In this module, you've been introduced to how sales and services teams can use the Salesforce for Slack integration for convenient collaboration. You now have a better understanding of how teams use the integration to keep everyone on track and stay in the know. 
Next, explore how Salesforce admins can install and set up the integration with Integrate Salesforce with Slack. Then, refine your collaboration skills with Collaborate Using the Salesforce App in Slack. 
Resources