Become a Tree Champion
Learning Objectives 
After completing this unit, you'll be able to:
Identify personal ways to support the conservation, restoration, and growth of trees.
Describe the larger impact your actions will have.
Introduction
With the urgency of climate change, individuals and businesses are becoming more conscious of ways they can act to prevent the worst of climate change.
The World Economic Forum (WEF) considers climate change to be the global issue. In fact, 154 of 169 of the UN's Sustainable Development Goals are aligned with tackling climate change.
WEF's Global Risk Report includes these sobering points that indicate just how off-track we are. 
Climate change issues are the top-five long-term risks to our planet in terms of likelihood.
With current targets, we could see 3.2° Celsius of warming by the end of the century.
The current rate of extinction is tens to hundreds of times higher than the average over the past 10 million years—and it is accelerating. 
Thankfully, many companies are now prioritizing climate change mitigation as they build their corporate sustainability strategy.
As an individual, there are many ways you can help the planet. We invite you to consider promoting trees as part of a broader climate change response. You can also tap into your company's existing sustainability programs, or offer to lead an effort where one doesn't exist!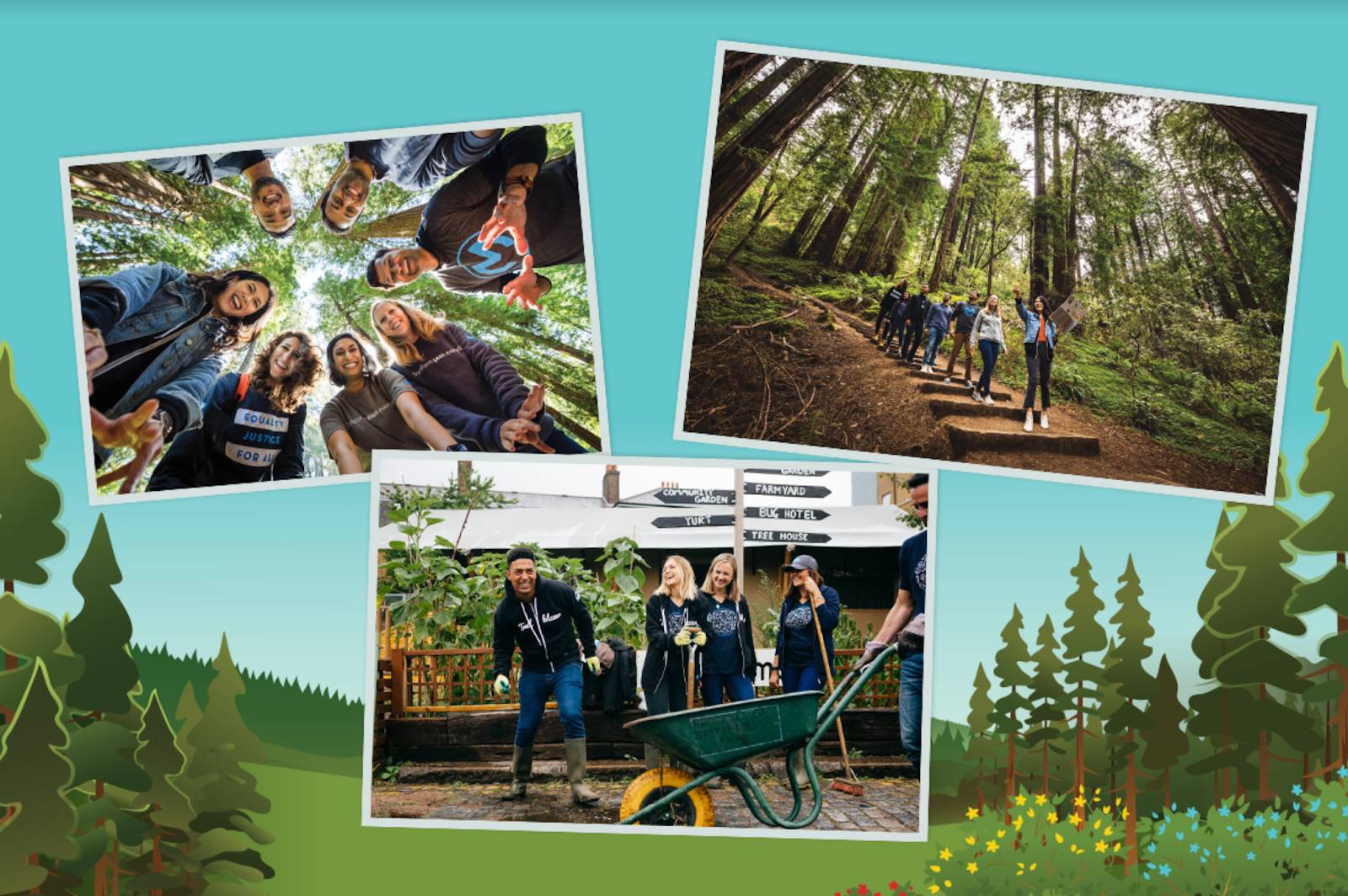 Support Trees for Climate Change 
Your voice matters! You can help drive this critical work at work and home. It's important that you spread the word about what people are doing to make a difference. Tell your colleagues, your housemates, or your family and be part of the change.
Volunteer
There are many organizations that need your help and support. Check to see if your company offers volunteer opportunities. At Salesforce, Earthforce is our group of more than 9,000 passionate employee volunteers who are dedicated to promoting and celebrating environmental responsibility, both at Salesforce and in our communities. But even outside of work, you can find volunteer opportunities that match your interests. Check out opportunities with the Nature Conservancy or the U.S. Forest Service.


Voice Your Opinion 
Forests depend on people, like you, who appreciate all that they provide to our current generation and can provide to future generations. You don't need to run for elected office or be a CEO to have influence. Take action in these ways:
Talk to your friends and neighbors about what is important to you, and what you think would help improve the community while lowering its environmental footprint and boosting benefits to people and nature. 
Attend community events, or host your own. When citizens get involved in their local communities, it elevates the quality of living for everyone. Look for opportunities to attend public council meetings where you can advocate for environmental responsibility. Participate in or organize community events that promote trees and green spaces in your neighborhood.  
Let your elected officials and policy leaders know about the most pressing forest-related issues of the day—and solutions to address them, such as the TREES Act, or the EU Green Deal.

Consume Sustainable Forestry Products
As we work to protect our forests, it's important to make sure our consumption of goods isn't sabotaging our efforts. Not all wood is harvested the same, so it's important to select products that are ethically and sustainably sourced. Look for products certified by programs such as the Forest Stewardship Council (FSC), or Programme for the Endorsement of Forest Certification schemes (PEFC). These labels certify a variety of wood-based products, from furniture to paper and coffee cups. Although exotic woods such as Ipe, Brazilian Cherry, or Cumaru might sound enticing, these types of wood travel farther distances and contribute to rainforest deforestation. The most sustainable option of all? Using less or upcycling local wood that has been salvaged or reclaimed.

Incorporate Sustainable Eating Habits
A healthier diet with less meat means less land is needed for agricultural purposes. By eating more plant-rich foods, you can help reduce the amount of land cleared for agricultural and farming purposes and reduce carbon dioxide emissions. Switching to a plant-based diet could cut 70% of food-related greenhouse gas emissions.


Plant a Tree or Garden
What better way to start a change than by planting a tree in your own yard? Find a tree species native to your region that you like, then visit your local nursery to purchase and plant your own tree seedlings. Your budding tree would make a great anchor for a garden. A more sustainable garden uses minimal energy and water to maintain, minimizes additives like fertilizers and pesticides, composts its waste, and mostly includes plants that feed people, bees, or both.

Donate
Check to see if your company supports any global tree organizations or reforesting programs. You can also search Salesforce's list of tree projects and help support ones that inspire you. While the cost varies depending on region and project, a $1 donation typically covers the planting of one tree. One tree in a forest can capture an average of .62 metric tons of carbon dioxide over its lifetime. That's equal to the carbon emissions from driving a car 1,500 miles. Just imagine the impact a gift of a tree will have, especially when the amount gets multiplied into acres! 
Ask if your company offers a donation matching program. At Salesforce, we have a generous program—each employee is eligible for a Salesforce match up to $5,000 (with a minimum $50 donation) for eligible organizations every fiscal year. This doubles an employee's impact. We recommend our employees give to respected tree conservation programs, such as Plant-for-the-Planet. 
Next Steps
Promoting trees is one of the most powerful actions we can take in the global race against climate change. We know there's no time to waste.
Salesforce's tree journey is just starting, and we already know it isn't enough. Our vision in launching 1t.org is to catalyze change on a much bigger scale by demonstrating, enabling, and advocating for it. As we work to meet our commitments and set the world on a more just path, we encourage every company, every community, and every person to join us. Together is the only way we can meet the challenge of this moment and preserve our planet for generations to come.
Resources