Meet Trailblazers Like You
After completing this unit, you'll be able to:
Find Trailblazer Community Groups.
Explain the value of attending Trailblazer Community Group meetings.
Start a Trailblazer Community Group.
Whether you're new to the Salesforce ecosystem or you've been in the mix for years, there's a community of customers ready to help you succeed. By the end of this module, you will know how to take full advantage of Trailblazer Community Groups, Salesforce Student Groups, and Trailblazer Community Conferences; you'll understand how they will help you create an incredible professional network, learn from peers and mentors, and blaze new trails in your career. 
Are you ready to join a Trailblazer Community Group to meet peers who live in your city, work in similar roles and industries, and share your interests? Let's get started.
Trailblazer Community Groups are split into three pillars: Role, Industry, and Ohana. 
Whether you're a Salesforce Developer looking to connect with peers in your city, a Salesforce Admin hoping to expand your skills and network, or a university student aiming to build your tech and business skills with Trailhead, Trailblazer Community Groups have your back.
Job Role Community Groups
Role-based groups are all about helping professionals within a core customer segment connect and share best practices for their specific job functions—like Salesforce Admins, Salesforce Developers, Marketers, and Students.
Administrator Groups: Share best practices to deliver productivity and innovation with Salesforce, from managing users to building custom apps with clicks.
Developer Groups: Share ideas and best practices for building smart and fast apps on the Salesforce platform.
Salesforce Student Groups: Learn about Salesforce technology, meet Salesforce leaders, and start building your career in the Salesforce ecosystem.
Marketers Groups (B2B and B2C): Discuss best practices for communications, campaigns, marketing technology, and more.
Industry Community Groups 
In Industry Groups, customers from diverse roles and backgrounds within the same industry come together to share best practices related to their customers' expectations, industry regulations, and competitive environments. Examples of industries represented include:
Communications
Consumer Goods
Financial Services
Government
Healthcare Life Sciences
Insurance
Media
Nonprofit
Retail
Travel & Hospitality
Ohana Community Groups
Those who are passionate about causes, such as equality, sustainability, or accessibility, come together to share inspiration and create positive action. One of our leading Ohana Community Groups is for women in tech.
Women in Tech Groups: These groups are for women, allies, and gender non-binary individuals who are part of the Salesforce ecosystem to meet and discuss ways to advance gender equality in the workplace and beyond.
Now that we have an understanding of the Trailblazer Community Group types, let's go over their associated Chatter Groups.
Each group has a private Chatter Group on the Trailblazer Community to encourage ongoing member communication and collaboration. You can use the search bar to find a Trailblazer Community Group using keywords such as role and city. Joining your local Community Groups is a great way to get started; go ahead and try searching for the name of the city you live in. Depending on where you are located, several groups should populate in the search results. If you're having a hard time finding a Community Group in your city then you can try searching for virtual groups by job role or industry.
Once you have found a group or two you should request to join the group. Trailblazer Community Group Leaders review membership requests on a regular basis. Once you're in, you'll have access to the group's feed, discussion, group files, and more.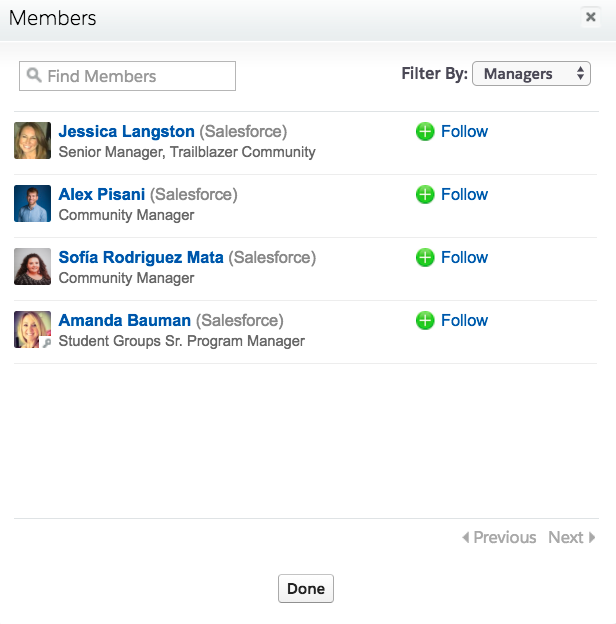 So far, you've learned what types of Trailblazer Community Groups exist and how they collaborate in Chatter Groups. Now it's time to join an in-person or virtual Community Group meeting.
You can see upcoming meetings on the Trailblazer Community Groups Meeting Platform at trailblazercommunitygroups.com. Most groups meet at least once every three months, though many choose to meet once a month.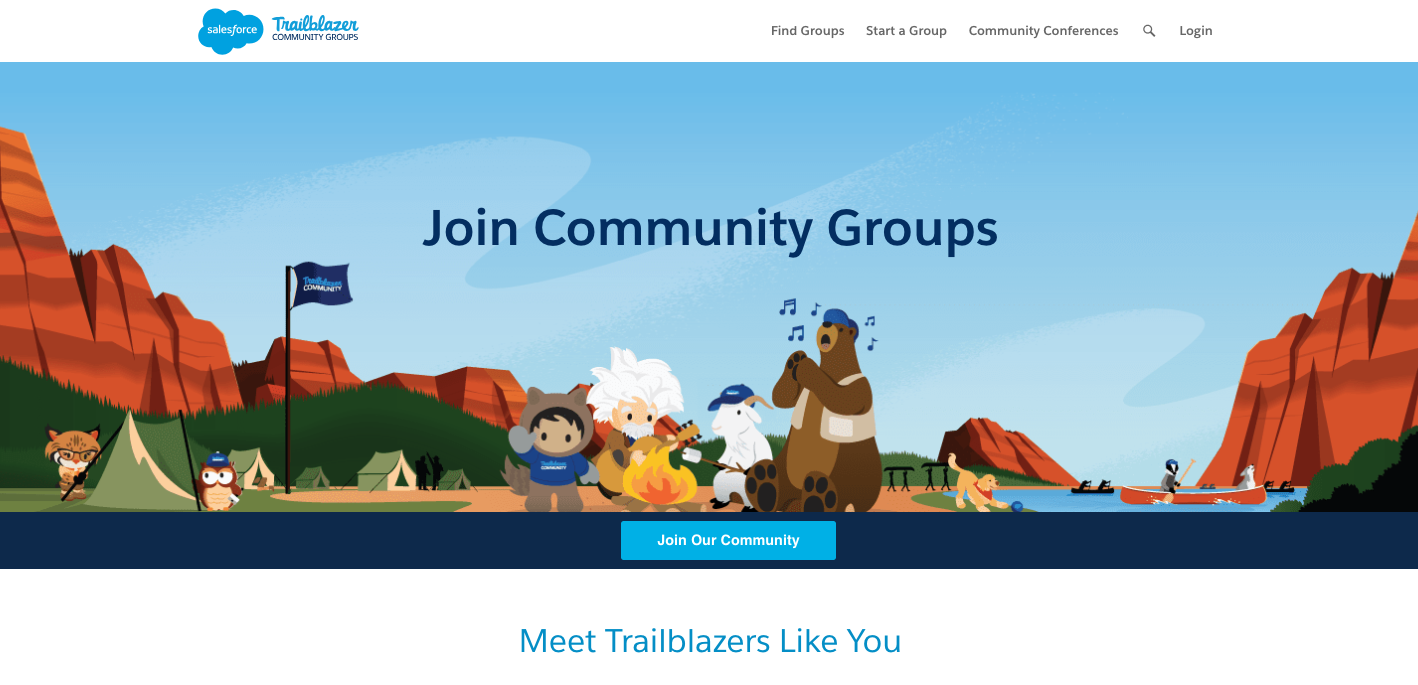 Can we let you in on a little secret? No matter where your travels take you, you can find and attend a meeting by searching on the trailblazercommunitygroups.com site. If work or vacation take you to Dubai, New York City, Paris, or Guadalajara, you can still connect with your Salesforce Ohana.
What Happens During Community Group Meetings? 
What can you expect to get out of Community Group Meetings? Each meeting is different, but what remains the same is an atmosphere of fun and learning. 
Most Community Group meetings consist of:
An agenda created by the Community Group Leaders
Helpful content
Guest speakers
Networking opportunities
Social activities
Of course, each Community Group adds its own flavor to the mix. Some Community Groups host workshops and hands-on activities, while others love icebreakers and social activities. Community Group meetings aren't just for people getting started with Salesforce; they include people at all experience levels. Some community members come to meetings to share their knowledge and expertise. It's also a great networking environment where job seekers and hiring managers can casually meet. 
There are also special Community Group meetings, like Global Gatherings and Event-in-a-Box meetings. Both of these are powered by Salesforce with useful content, swag, and supplies, but they are organized by Community Group Leaders. Global Gatherings bring the best of Salesforce events to local communities. For customers who are not able to attend Dreamforce or TrailheaDX, attending a Global Gathering hosted by a Trailblazer Community Group is a free and fun way to experience the best of Dreamforce and TrailheaDX, meet local peers, engage with great content, learn from each other, and inspire others. For Event-in-a-Box meetings, Salesforce product teams provide Community Group Leaders with materials, kits, handouts, and more to help community members learn about relevant features and new releases. As a member, you benefit from the specially curated content being shared at these meetings.
Perhaps there's a group you are interested in but can't find on the Trailblazer Community. Well, here's our advice: start your own Trailblazer Community Group! We want everyone to feel empowered to start a new Community Group, to offer their co-leadership to an existing one, or to adopt an existing Community Group that's transitioning its leadership.
Here are a few things to check off your list before you apply to start a new Trailblazer Community Group:
You are active in the Salesforce ecosystem and are excited to create an environment to promote sharing and learning with other customers.
You have subject matter knowledge to lead the Trailblazer Community Group you dream of. You might not be an expert in the subject but you're enthusiastic to learn more and are passionate about sharing the learning with others.
You've checked to make sure the Community Group you'd like to start doesn't already exist.
You can host at least four useful, informative, and fun in-person or virtual meetings a year.
You are ready to encourage members of your community to network, learn, share, and collaborate.
You reside or work in the location of your proposed Trailblazer Community Group.
You're excited to inspire fun among your members.
Were you nodding your head as you read through those? Are you nodding your head now? Great! The Trailblazer Community team at Salesforce would love to hear from you. You can self-nominate by completing this form: Become A Group Leader. 
Our team reviews requests weekly, and, upon approval, they help new Community Group Leaders get started with resources, tools, and an awesome network of other Community Group Leaders.