Strengthen Campus Connections with Community Cloud
After completing this unit, you'll be able to:
Use Salesforce communities for more effective student outreach.
Employ Salesforce communities as a campus-wide information resource.
Salesforce communities are branded spaces for your students, faculty, and staff to connect, collaborate, and engage. Communities is a powerful tool that can transform the way members of your school community interact with each other and share ideas and information. To start, we compiled a list of features that are pivotal to building and maintaining a strong community.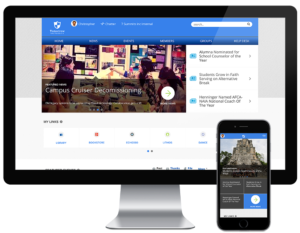 Here are some elements of a successful Salesforce Community.  
School branding for personalization and an instant sense of belonging
Groups for students and staff to connect based on shared interests or needs
A Knowledge base for a searchable FAQ
A file repository for easy access to popular documents
Chatter to ask and answer questions in real time and broadcast school news
Up-to-date postings to build trust in the community as a reliable resource
Many institutions are familiar with portals where students and staff can log in to access assignments, grades, and schedules. It's long been recognized that there's value in having a centralized place for people on campus to find information. Salesforce communities are a more interactive and engaging means to the same end. Is there a place for both tools at an institution? Yes, but the full value of a community won't be realized if it's treated like a portal. Keep reading to learn more about the unique features of communities that make them so much more than a home base.
Peer-to-peer connections are critical to strong student engagement and success, particularly for new students and transfers. Communities provide an environment for connections to spark and grow. They also give staff the data they need to understand what kind of support students need most so they can offer the right resources and assistance.
Students can use communities to self-organize into relevant affinity groups. They may connect based on courses they're taking, departments they're a part of, sports teams or clubs they've joined, or just general interests they share. Faculty and staff advisors can engage with student groups to answer questions, share links to resources, and provide real-time assistance without appointments or a delayed email reply. 
The reporting capacity of Salesforce Communities surfaces valuable information. For example, staff can run reports to see what topics are most popular in the community to help them understand what issues are most prevalent and what resources are most sought-after. When academic advisors at Cloudy College reviewed a report ranking topics discussed in a community group for first year students at Cloudy College, they noted the prevalence of questions about when tuition is due and how to navigate the financial aid process. With that information in hand, the advisors created knowledge articles clearly outlining answers to the recurring questions.
Communities help your community members help themselves by connecting members to vetted, searchable resources. Creating opportunities for your community to easily access answers to their questions without an email, a phone call, or an appointment drastically improves the user experience and frees up valuable time for everyone involved.
Salesforce Community Feature
What is it?
How does it help students & staff?
Knowledge Base

Articles created by experts (faculty, staff, and students) to answer frequently asked questions


Provides 24/7 access to answers
Content is easily searchable
Eliminates the need to contact a staff member or office
Information is reliable

Topics

Tool used to group related content


Makes content easy to search by keyword
Can be used to group articles, community-sourced answers, and posts

Chatter Answers

Social media-style posts in a searchable, browsable feed


Students and staff can ask and answer questions in real time
Content is easy to browse—users see what others are talking about
Users can vote for best answers
Unanswered questions can automatically be turned into a case

As we noted above, one of the advantages of accessing information via a community is the reliability of the content. Communities can help standardize processes by offering consistent and correct messaging to every community member. 
For example, as Cloudy College implements solutions to digitally connect its campus, they are also working to standardize the process for registering for classes. Once Cloudy College finalizes best practices on class registration, the Knowledge component can be used to inform the entire campus community how to correctly register for classes. 
A well-written knowledge article can accomplish several things.
Provide guidance and clearly outline a process.
Make the information readily available to everyone in the community.
Create a single source of truth. Every department, office, and student on campus has access to the same vetted information. There's no confusion about the process and it's easier to share and refer to the correct process across departments and offices.
Life moves fast in an education community. This is true for both students and staff. Having a single source of truth to consult helps unify community members and increases the rate of adoption of new or updated processes.
Another way a Salesforce Community can be used as an informative resource is to use it as a training tool for staff. Within a community, you can create file repositories and groups. File repositories hold relevant documentation about a particular process or topic. Groups—the same feature that allows students to self-organize and connect based on shared interests or organizations— can be used to create private, staff-only gathering spaces for training and onboarding purposes. 
Cloudy College uses groups to help advisors across departments connect and learn together. One such group is the Advisors for Transfer Students group. Each academic department at Cloudy has at least one advisor on staff who works with transfer students. The Advisors for Transfer Students community group allows these staff members to come together for trainings, Q&As, resource sharing, and more, despite the fact that they're spread out all over campus.
The group's repository is filled with helpful templates, checklists, and forms relevant to the transfer student experience. There are procedures, support resources, and advising strategies that are specific to transfer students. The group's Chatter feed is filled with examples of advisors supporting each other by sharing advice and engagement ideas that have worked well in individual offices.
This is just one way Cloudy College uses Salesforce communities to connect and educate their staff. Have an idea of your own for a group that could support and engage community members at your institution? Here's a quick walkthrough for creating a new group in your community.  
Follow these steps to create a new group in your community (Optional).
From the App Launcher, find and select Groups.
Click New.
Fill in the Name, Description, and Information fields as they apply to your group.




For Access Type, select Public or Private according to the level of visibility that best fits the purpose of your group (for example, the Advisors for Transfer Students group is Private).




Upload a relevant photo to serve as the group's profile picture and click Next.




Search for and Add new members.
To sum it all up, Salesforce Communities provide a space for students and staff to gather and collaborate, even when they can't be in the same room. They foster the relationships and connections that are foundational to authentic student engagement. Combine that with the 24/7 access they provide to informative resources, and the result is a campus of community members that are invested in each other's success and empowered to self-educate about the policies and processes that keep the institution running smoothly.