Summarize Data with Dashboards
Learning Objectives
After completing this unit, you'll be able to:
Explain what a dashboard is and how cards are used.
Identify different types of dashboards in Social Studio.
Create a dashboard.
Dashboards
Now that you are getting content through datasets like social accounts and topic profiles in Marketing Cloud Social Studio, there are two ways you can combine this information into a central place for you to review and analyze it: dashboards and workbenches. Dashboards provide a summarized overview of social accounts and topic profiles, while workbenches provide a deeper, more customizable view of social account and topic profile data. 
In this unit, let's look at how to use dashboards.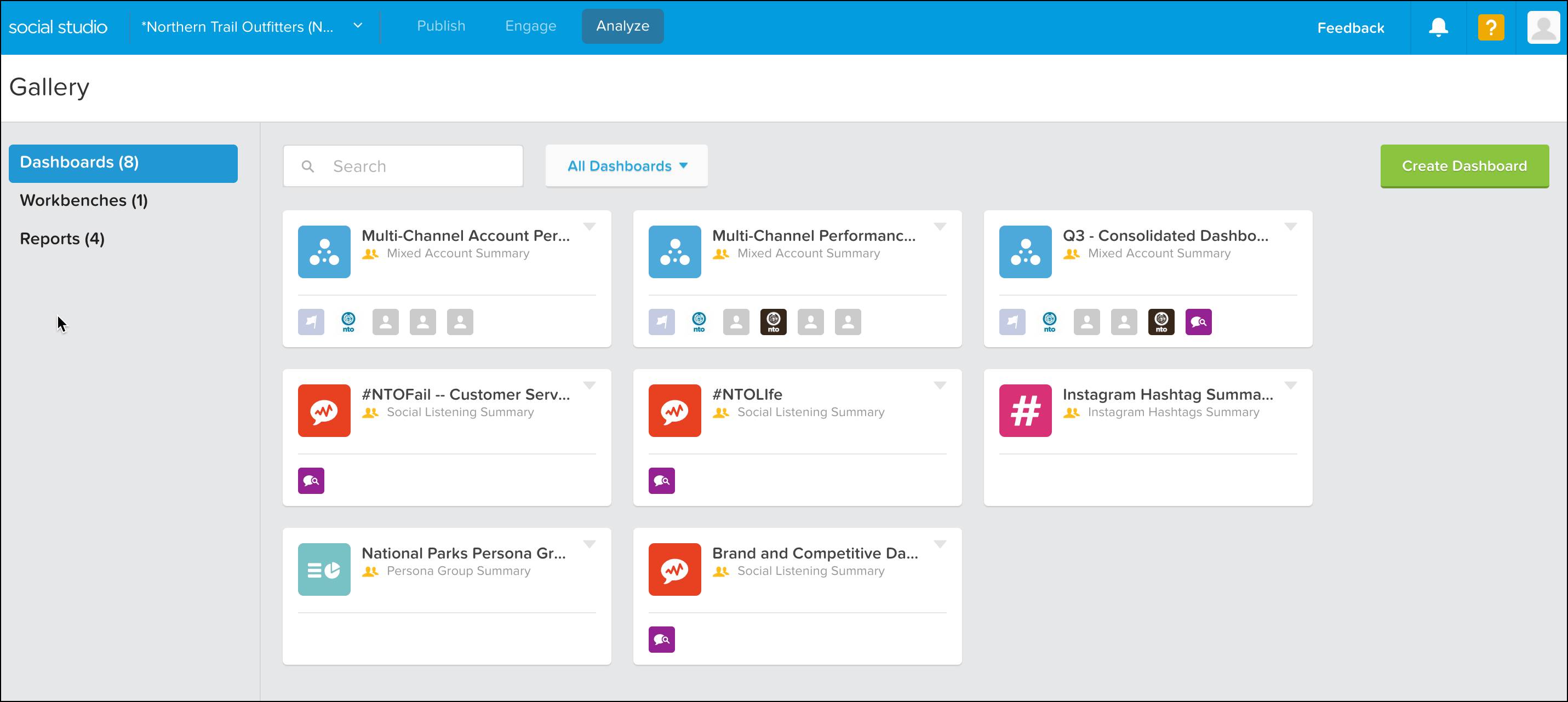 With dashboards you can: 
Monitor your brand's social accounts, competitors, and other social data.
Review a summary of key factors over time for a social account and topic profile activity.
View the performance of posts, topics, and sentiment trends.
See keywords that have emerged over days and months, or through a customized date range, up to 93 days.
Dashboards are actually a collection of cards called dashboard cards. Depending on the type of card, these cards display summaries of your social account or topic profile activity. You can click a card to access more detail. Check out more information about these cards through the Dashboard Cards link in the Resources section.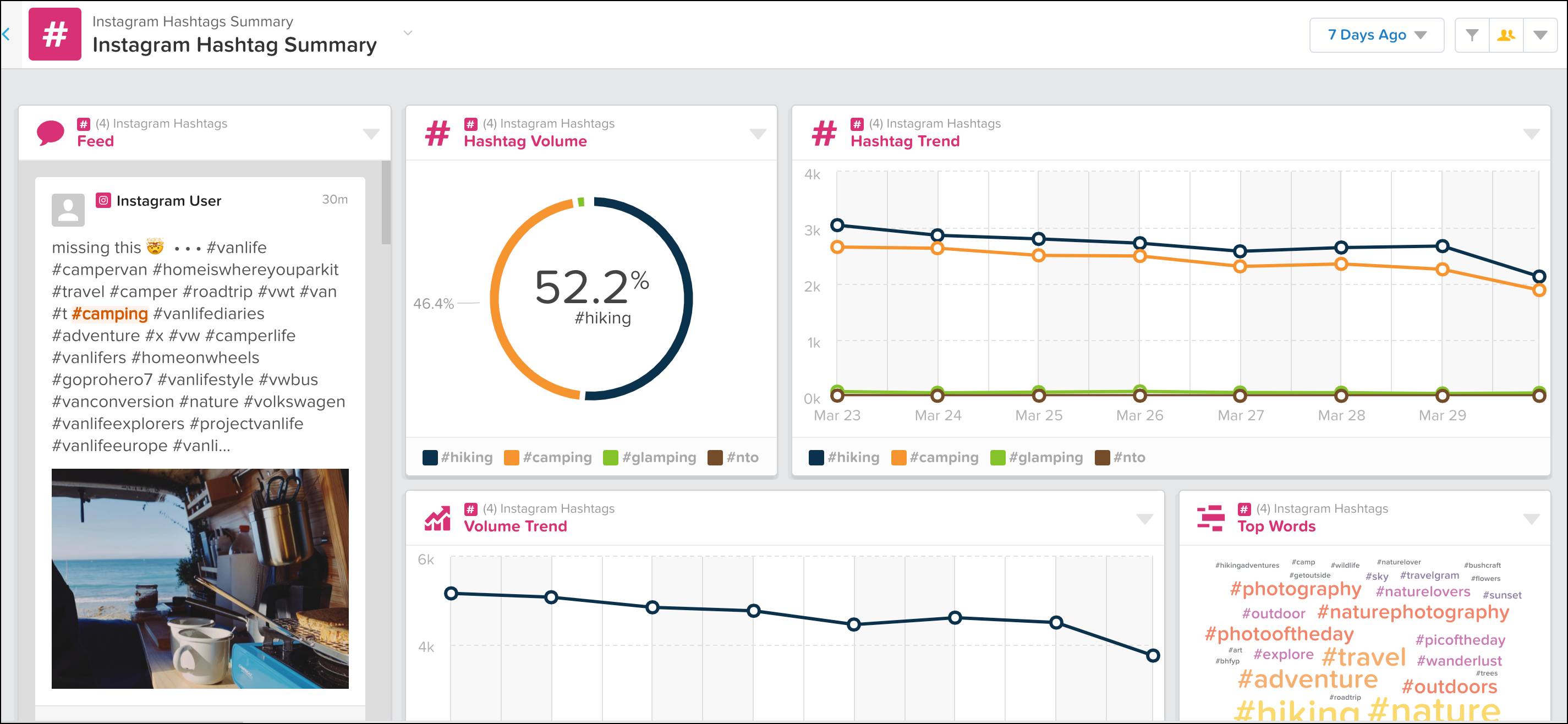 Types of Analyze Dashboards
When you create a dashboard, you can select from four types. Let's check out the different types and consider a few examples of dashboards you can create depending upon what's happening with your organization.
| Dashboard Type | Definition | Example Use Case |
| --- | --- | --- |
| Engagement Summary | This dashboard is a great place to start by viewing engagement data for up to 50 social accounts. The cards in the Engagement Summary Dashboard are specific and can't be mixed with other dashboard types. | Product announcement—use an engagement summary to monitor product announcements. |
| Social Account Summary | Select a social account type to monitor the activity in up to 50 social accounts of that type. You can edit this dashboard to add and rearrange cards, and export data. | Black Friday sale—use a social account summary if you run a promotion on a specific social account. |
| Social Listening Summary | To monitor the activity in a topic profile, create this type of dashboard and select the desired topic profile. You can also edit this dashboard, add and rearrange cards, and export data. You can include only one topic profile per dashboard. To see another topic profile, create another Social Listening Summary dashboard. | Acquisition—use a social listening summary to monitor customer responses to a specific topic profile about your acquisition. |
| Blank Dashboard Template | Use the blank dashboard template to customize your own dashboard. This dashboard type can contain either social accounts (up to 50) or one topic profile. You can use this template to combine both social accounts and topic profiles on the same dashboard. | Public relations crisis—use a blank dashboard template to customize a dashboard that provides immediate feedback on the situation. |
| Instagram Hashtag Summary | This dashboard monitors the performance of your Instagram hashtags. You can import up to 30 hashtags for each Instagram social account used in the dashboard. | Event Management—use the Instagram hashtag summary to monitor the usage of a hashtag you created for an event. |
| Google My Business Summary | The dashboard shows an overview of all the location pages from a Google My Business account. You can see the locations, average review numbers, and stars, plus an overall rating number. There are no limits to the number of locations. | Monitor Your Stores—use Google my business summary to monitor customer reviews for all your business locations. |
| Persona Group Summary | This dashboard creates persona groups based on contacts from a Salesforce org (such as Services Cloud). You can use an existing persona group or create a new one. Then select members from all contacts, contacts with open cases, contacts with closed cases, or contacts with recently closed cases. | Customer Service—use the persona group summary to track customers that have open or recently closed customer service cases to avoid sending out an unwanted post. |
Create a Dashboard
In this module, we assume you are a Social Studio administrator with the proper permissions to create a dashboard. If you're not an administrator, that's OK. Read along to learn how your administrator would take the steps in a production org. Don't try to follow these steps in your Trailhead Playground. Marketing Cloud isn't available in the Trailhead Playground.
Ready to create a dashboard? Navigate to your workspace and then follow these steps.
In Social Studio Analyze, click Create Dashboard.
Select the type of dashboard you wish to create. For the blank template, add a card by selecting the account type and then drag a card onto the dashboard.
Select the accounts or topic profile to monitor.
Click Apply. You created your first dashboard!

Now that your dashboard is ready, there's a lot you can do with it. 
Manage the Dashboard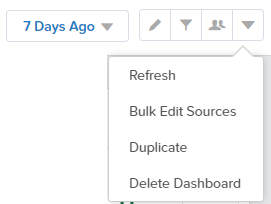 Customize the date range to view a variety of results.
 Edit the dashboard to add or remove cards, set specific filters for each card, rearrange and resize the dashboard cards.
 Filter the entire dashboard by languages, regions, media types, or more.
 Share the dashboard with other users in the workspace.
 Refresh, duplicate, or delete the dashboard. Bulk edit all sources for the dashboard data.
Manage Cards
Dive deeper into an individual card to inspect the data.
Export the card data as a CSV file.
Click on a specific post to view more details.
Consider a few examples of dashboards you can create depending upon what's happening with your organization. Absorb a summary of the data or dive deeper as you need.
Product announcement
Black Friday sale
Acquisition
Public relations crisis
You're now an expert on dashboards! Next, you learn about workbenches and how to use them.
Resources