Set Up Nonprofit Services in Program Management Module (PMM)
Learning Objectives
After completing this unit, you'll be able to:
Work with your team to define your programs and services.
Set up programs and services in PMM.
Getting Ready
Like so much in Salesforce—and life, really—preparation makes all the difference. Before you start to use PMM, it's a good idea to map your programs and services and how they will translate into the objects in PMM.

Let's see how our fictional nonprofit, No More Homelessness (NMH), is starting the work.
Defining Programs and Services
Like a lot of nonprofits, NMH has grown organically over the years as they've responded to their communities' needs. When they first started, they offered only emergency housing services, but now they provide a full suite of programs for transitional housing, food security, job readiness, and more.

When they decided to begin tracking their programs in Salesforce, all of NMH's program managers were clamoring to get their data in the system. But knowing how their programs were ever-evolving, Gordon Chu, the program director at NMH, decided to approach this thoughtfully. He plans to meet with his program managers, Anthony Hall and Gia Mason, to sketch out how they will define the PMM record values for NMH. (And he orders them all lunch from the deli down the street. Good on you, Gordon!)

The group's first instinct is to group everything in Salesforce into two big programs—emergency and housing programs, which Anthony manages, and hunger, health, and career programs, which Gia manages—but they take a step back to breathe and ask how they want to track their work. How do they measure it? What do they need to report to grantmakers and other donors? What would help them be more effective?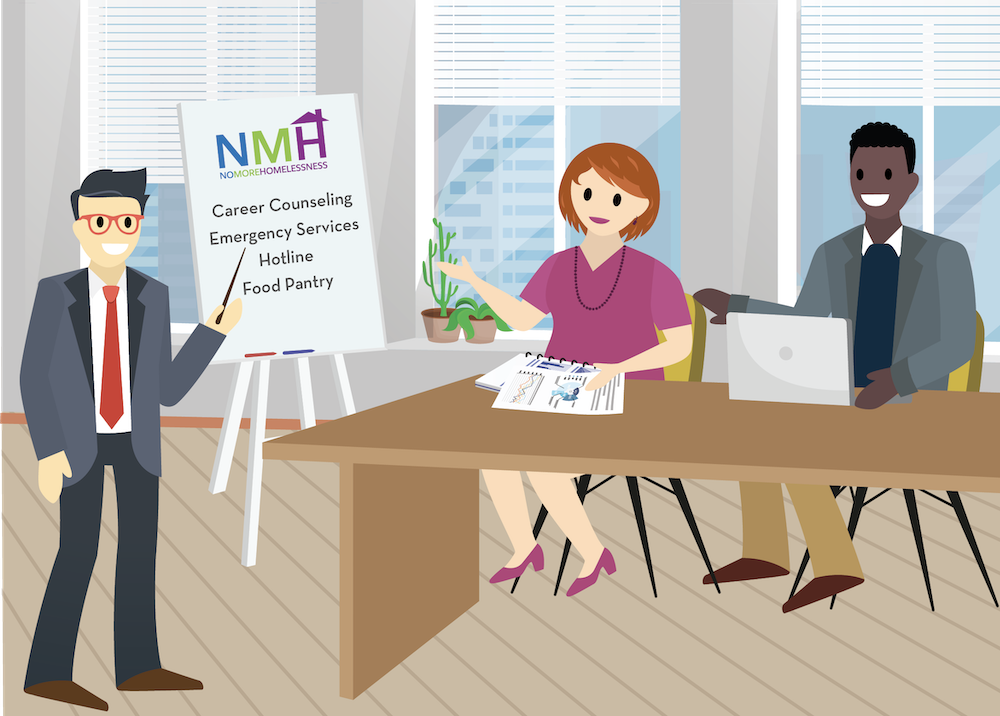 After a (friendly, but rigorous) debate, they decide to structure their data in Salesforce in six programs: emergency services, the housing assistance hotline, the food pantry, transitional housing, the women's program, and career counseling. Each program and service is a little different, so let's take a closer look at the food pantry program and its services as an example.

The NMH team identifies three services in the food pantry program, one for each kind of item it distributes: produce and fresh food, dry goods, and personal care items. Each service can have its own unique unit of measurement, but they decide to keep things simple and measure each of these services by the number of items distributed.

Gia also wants to report on groups of clients who visit the pantry based on the date of their first visit to see how many return and how their participation in the program evolves. This seems like a perfect way to use the program cohort functionality, so the team decides to create a new cohort each month to track the program engagements.
Setting Up Programs, Services, and Program Cohorts in PMM
NMH's awesome admin has set up Gordon, Anthony, and Gia with PMM:Manage permissions, which allows them to set up programs and services in the system on their own. Let's follow along with Gia as she sets up the food pantry programs, services, and program cohorts she oversees.

She starts by setting up the food pantry program.
From the App Launcher (  ) in the upper left corner, Gia finds and selects Program Management to open the app.
She clicks the Programs tab, then New.
Gia enters Food Pantry as the program name.
Gia selects Active as the program status because the program is ongoing.
For the short summary, Gia enters Pantry distribution of produce and fresh food, dry goods, and personal care items. This will show in Program list views and reports.
In the target population field, Gia enters People experiencing food insecurity or in need of personal-care items.
For the detailed description—which provides more context about the program's goals—Gia enters To provide healthy meals and basic toiletries to homeless and housing-insecure people. NMH collects and distributes food and personal care items from local stores.
Gia leaves the start and end date fields blank because this is an ongoing program with no planned end date.
There are values in the Program Issue Area list by default, and Gia will pick one of those options—Food and Nutrition—though her admin could update the available picklist values if needed.
Gia clicks Save.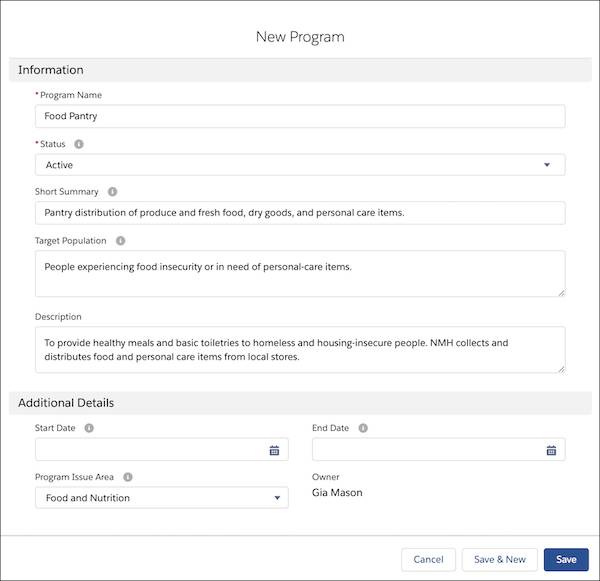 Now, Gia sets up one of the services under the food pantry: produce and fresh food.
Gia clicks the Programs tab in the Program Management app, then the Food Pantry program.
In the Services related list, she clicks New.



In the Service Name field, Gia enters Produce and fresh food distribution.
Because she started from the program record, the program name is already filled in. If Gia was creating a new service another way, she would have to associate it with a program.
Gia enters a description: Food pantry distribution of vegetables, dairy, and other perishables.
Gina enters Items distributed as the unit of service. This is how NMH quantifies food pantry services.
This is an ongoing service at NMH, so Gia selects Active as the status, then clicks Save.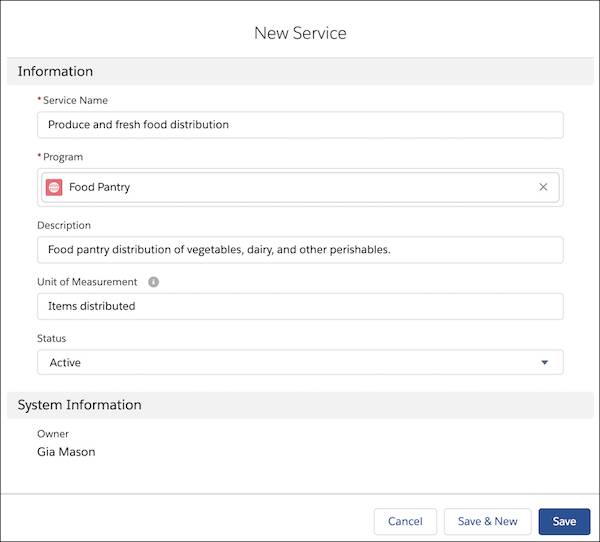 But don't forget about the cohorts! Remember, Gia wanted to track all of the food pantry engagements that start the same month. She sets those up next.
Gia clicks the Program Cohorts tab in the Program Management app, then New.
She enters a Program Cohort Name, following NMH's standard format for cohorts (time period - year - description): September - 2020 - Food Pantry First-time Visitors.
Gia selects the program cohort status Active.
She selects the Food Pantry program.
Gia enters a description of the cohort and its purpose: Food pantry engagements beginning in September 2020.
Gia sets the start date to September 1, but leaves the end date blank since she wants to track all the first-time visitors in September for as long as they are engaged with the program. Then, she clicks Save.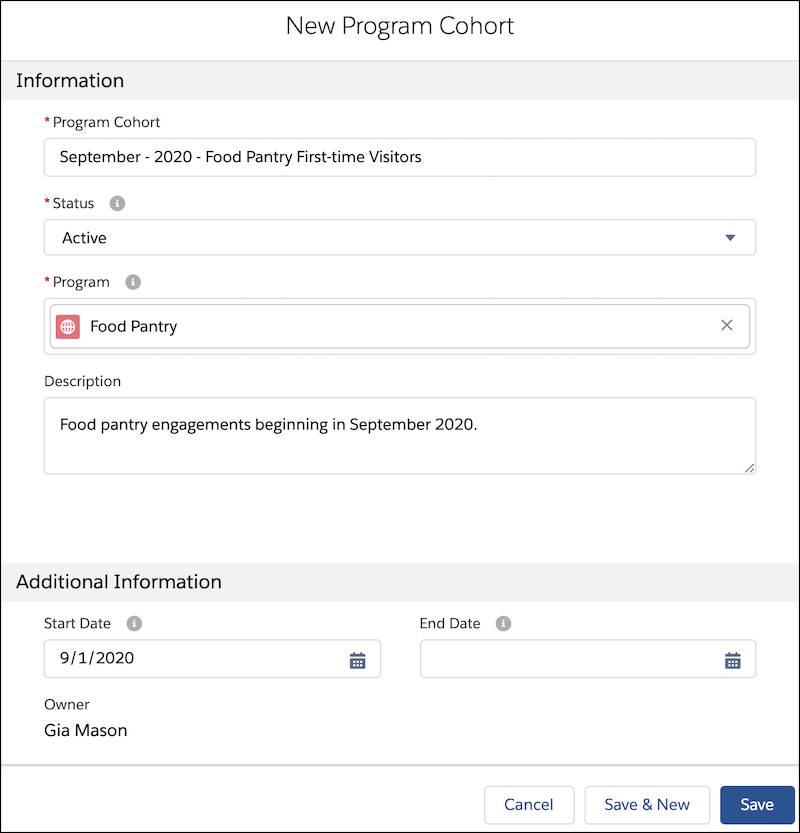 Programs and Services for Other Causes
Let's step away from NMH for a moment and talk about other causes. If you aren't a human services organization, the PMM data model can still apply to your organization.

Here are a few examples from different causes.
Cause


Program


Services

Environment

Creek Cleanup

Trash removed from the creek, measured in pounds

Watershed issue reports filed, measured in number of reports

Animal Welfare

Pet Adoption Transport

Placements, measured in number of placements

Transport to another shelter, measured in miles

Arts

Music in the Schools

Student instruction, measured in hours

Demonstration performances, measured in number of performances


How you set up your programs and services is totally up to you. Just keep in mind that you need to add a unit of measurement with each service to track deliveries and report on your program activities.

Let's head back to NMH. Now that the programs, services, and program cohorts are all in their Salesforce org, let's fast-forward to see how the staff uses them with the people they serve.
Resources